Live Coverage: The Investiture of Chancellor Jennifer L. Mnookin
The University of Wisconsin–Madison is celebrating the investiture of Jennifer L. Mnookin as its new chancellor and 30th leader. Follow along as we highlight some of the ways we'll #CelebrateUW together in the week leading up to the investiture on Friday, April 14.
---
FRIDAY, APRIL 14
In true Wisconsin-style, a post-investiture picnic featured (free) brats, Bucky Badger, and the UW Marching Band. Students, faculty, and staff filled Library Mall for the festivities, which included live music performances, poetry readings from students, and alum DJay Mondo spinning tunes.
The unseasonably warm day was the perfect backdrop to unveil Babcock Dairy's newest ice cream flavor, Mnookie Dough, named after Chancellor Mnookin's favorite ice cream. Fun fact: it's the first product made in the newly renovated Babcock Hall Dairy Plant.

The Scoop
Only a select few can claim the sweetest honor of having an ice cream flavor named after them. With "Mnookie Dough," Chancellor Mnookin now joins the select few Babcock Dairy legends, including Barry Alvarez and Chancellors Rebecca Blank and Biddy Martin.
More than 1,000 cups of Mnookie Dough ice cream were handed out during the picnic. The public can enjoy a scoop starting Saturday, April 15, at campus' Daily Scoop locations and Babcock Dairy Store (while supplies last).
---
The highlight of the ceremony came when UW Regents President Karen Walsh placed the medallion on Mnookin, formally installing her as chancellor. She ended her speech with an important messages to all fellow Badgers:
What I am calling for will make us stronger in the years ahead, but it will not be easy. Some might even call it impossible. But that cannot and will not deter us… Fulfilling our common purpose to do the impossible together for the sake of our state, our country, our students, our people, and our future is a solemn mission, and it is also a most joyful opportunity.
"The greatness of our university and of our state are indisputably linked. The strength of one rises on the strength of the other."
– Chancellor Mnookin
In a speech titled, "The Multiplier Effect," Chancellor Mnookin addressed the UW–Madison campus community, members of the international academic community, and representatives from the nation and elected officials. Mnookin spoke to the strength and promise of the Wisconsin Idea and the core institutional priorities of both free speech and belonging.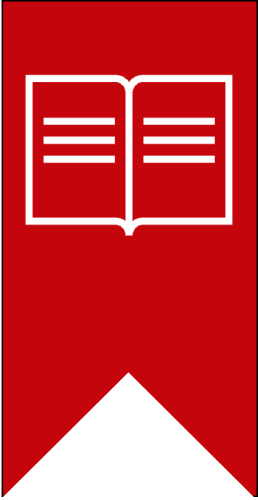 Pomp & Prose
The ceremony included a poetry reading from Wisconsin-native Aurora Shimshak. Shimshak, master of fine arts in Creative Writing student, wrote and performed her poem, "The Appleshaped Earth and We Upon It" that evoked life on campus.
The day's ceremony began with a welcome from UW System President Jay O. Rothman.  Brian D. McInnes / Waabishki-makwa, professor of nonprofits and philanthropy, also provided the Native Nations Welcome, where he discussed the importance of "the high ground" in Indigenous culture:
We've assembled here today at Dejope, a place in which people have gathered since time immemorial in support of learning, community building, major rituals of life and death, and the installation of new leadership. For such events, Indigenous nations have sought out locations referred to as the high ground – those metaphoric, physical, and even spiritual places – that offer a kind of long-range vision tat could see beyond the challenges of day-to-day life.

Wisconsin Governor Tony Evers addressed the audience in Hamel Music Center ahead of a series of "Wisconsin Reflections" from past UW–Madison chancellors, including Donna Edna Shalala (1988–1993), David Ward (1993–2001; Interim, 2011–2013), John D. Wiley (2001–2008) and Carolyn A. "Biddy" Martin (2008–2011).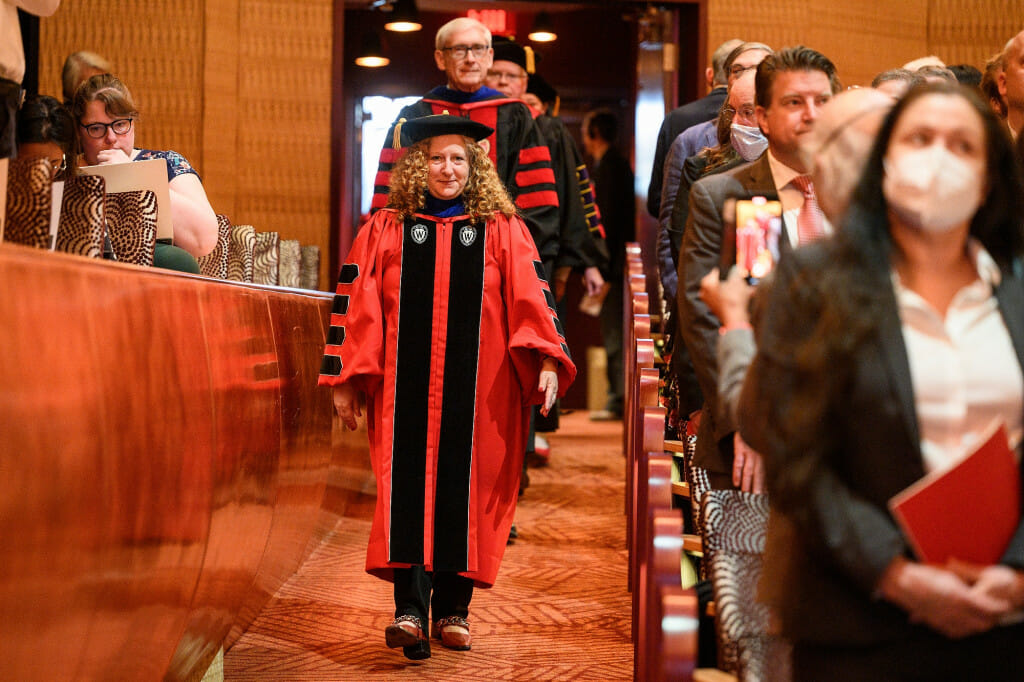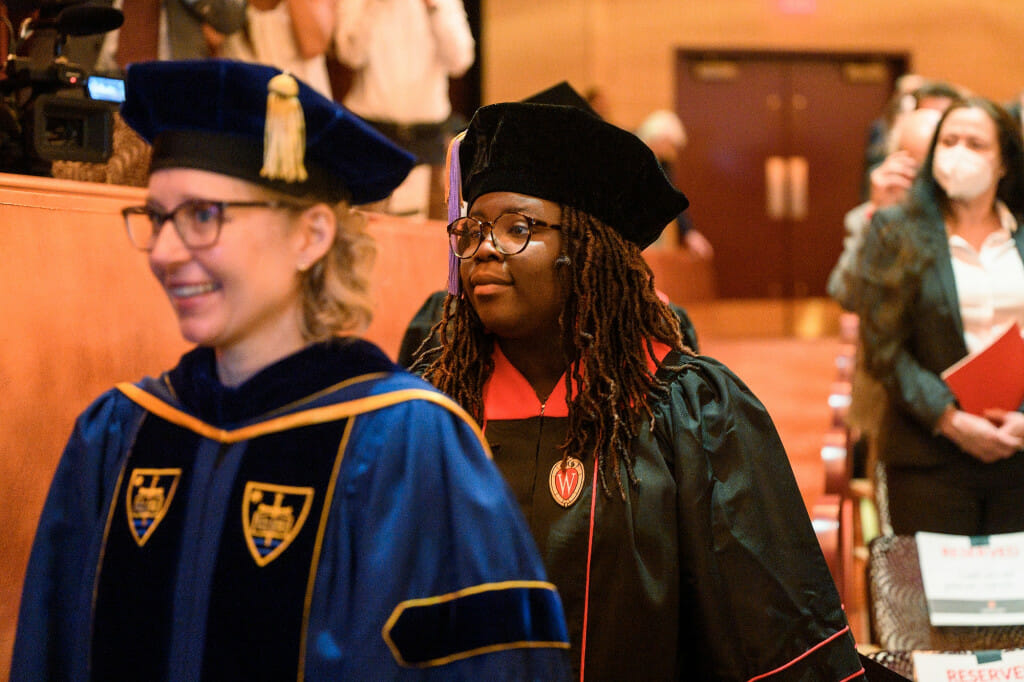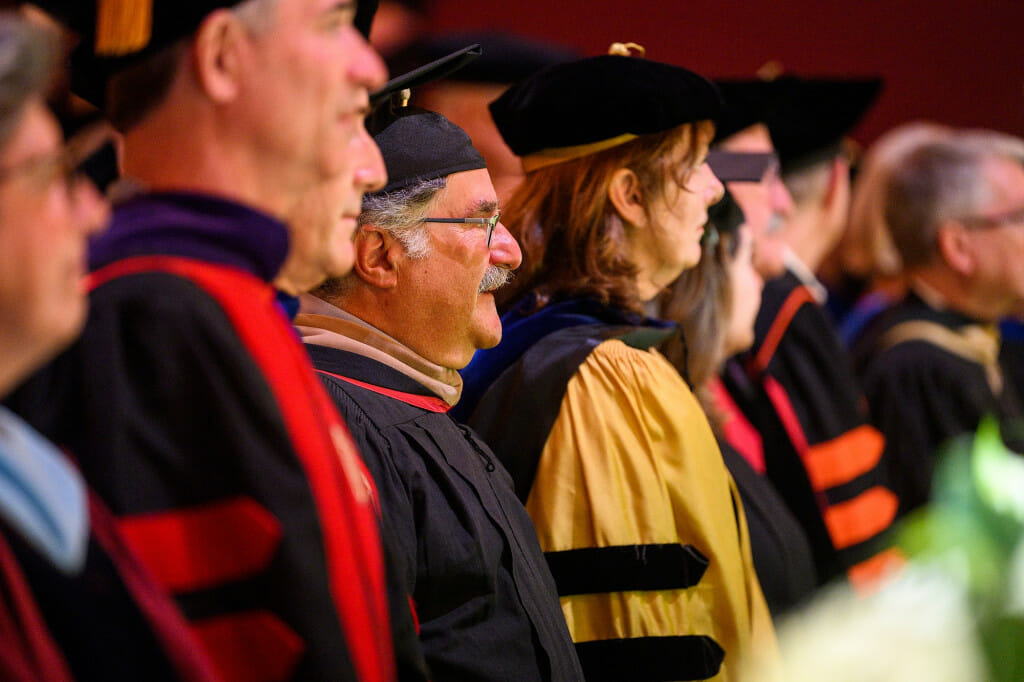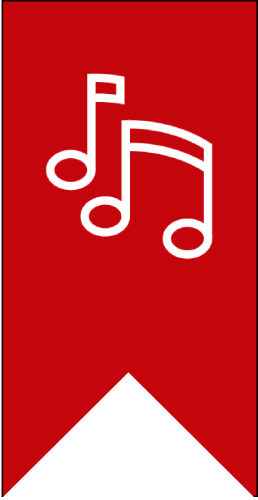 Play On
The Park Street Quartet provided the soundtrack to the ceremony's prelude and academic processional. The quartet is made up of students in the Mead Witter School of Music.
---
The stage is set for the investiture ceremony of Chancellor Jennifer L. Mnookin as the 30th leader of the University of Wisconsin–Madison. Watch the ceremony live. 
---
THURSDAY, APRIL 13
University of California, Los Angeles Professor Andrea Ghez joined an out-of-this-world panel to discuss groundbreaking intergalactic discoveries. Ghez talked about winning the 2020 Nobel Prize for Physics for the discovery of a supermassive black hole at the center of the Milky Way galaxy, as well as her friendship with Chancellor Mnookin when they were both at UCLA. "One of the things I love about Chancellor Mnookin is she is a problem solver," she said.
UW–Madison professors Francis Halzen and Susanna Widicus Weaver rounded out the panel.
---
An academic procession is a traditional ceremony in which university dignitaries march together in traditional academic dress. These processions are usually part of college and university commencement ceremonies, as well as other formal academic events.
Friday's investiture ceremony will begin with a procession that includes delegates wearing their academic regalia. Universities around the state, nation, and world, plus faculty, students, civic leaders, and elected officials, will be represented.
---
WEDNESDAY, APRIL 12
Varsity Hall filled with the smells of roasted spices as UW alum and host of the Emmy Award-winning show Wisconsin Foodie, Chef Luke Zahm, led a cooking demonstration with Chancellor Mnookin. On the menu: fried samosas with an apple butter dipping sauce. Eager students asked questions, answered impromptu cooking-related trivia questions and some even lent a helping hand while talking about the power of food.
"We all eat. It's this connective medium." – Chef Luke Zahm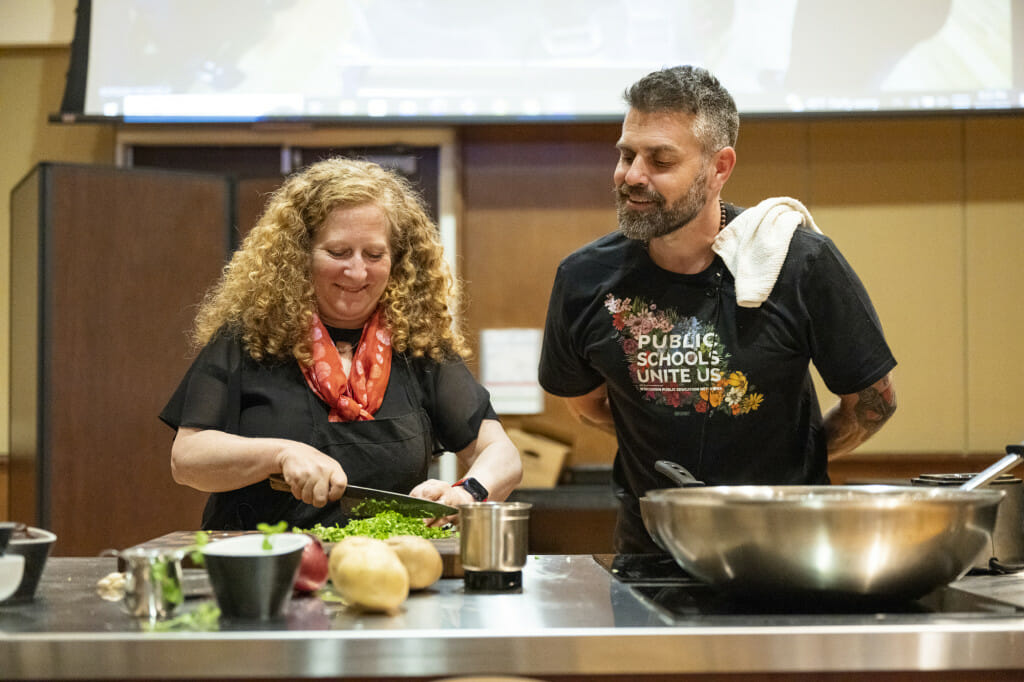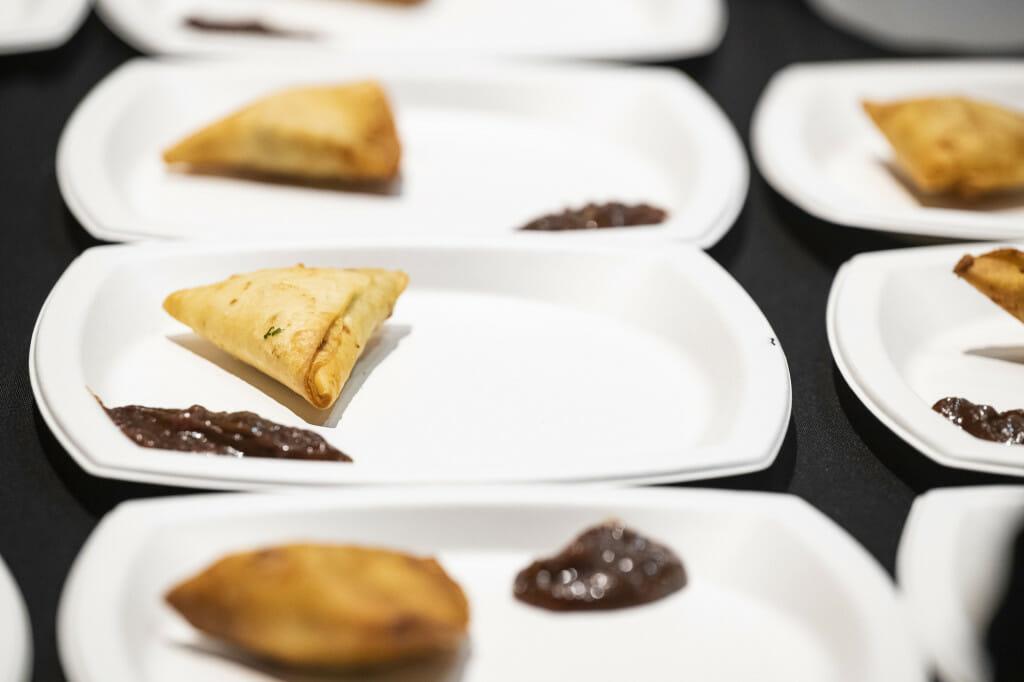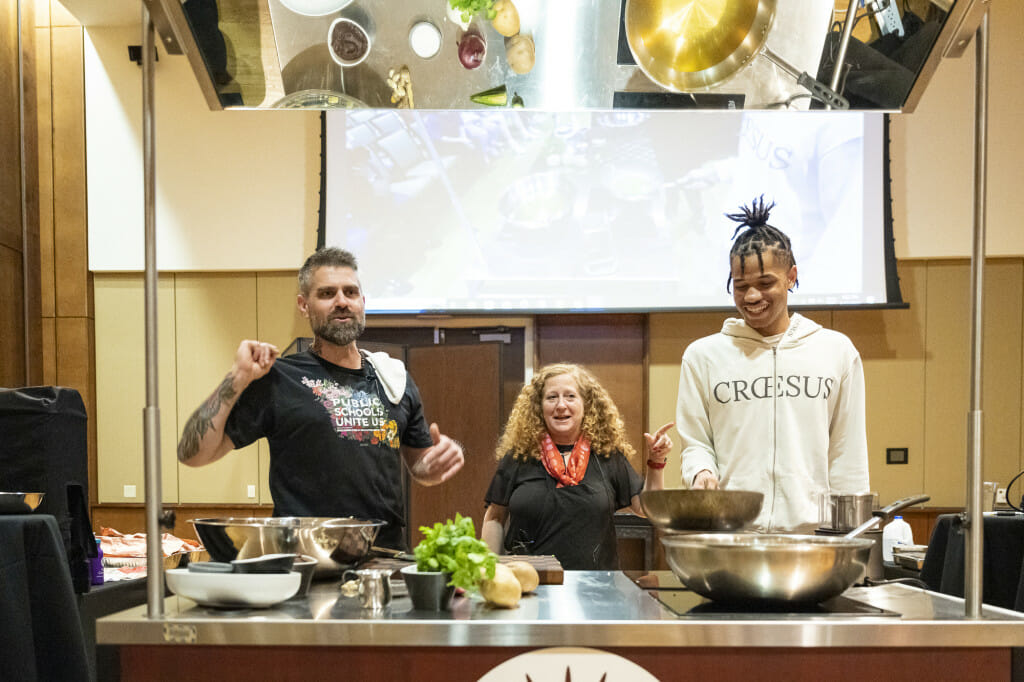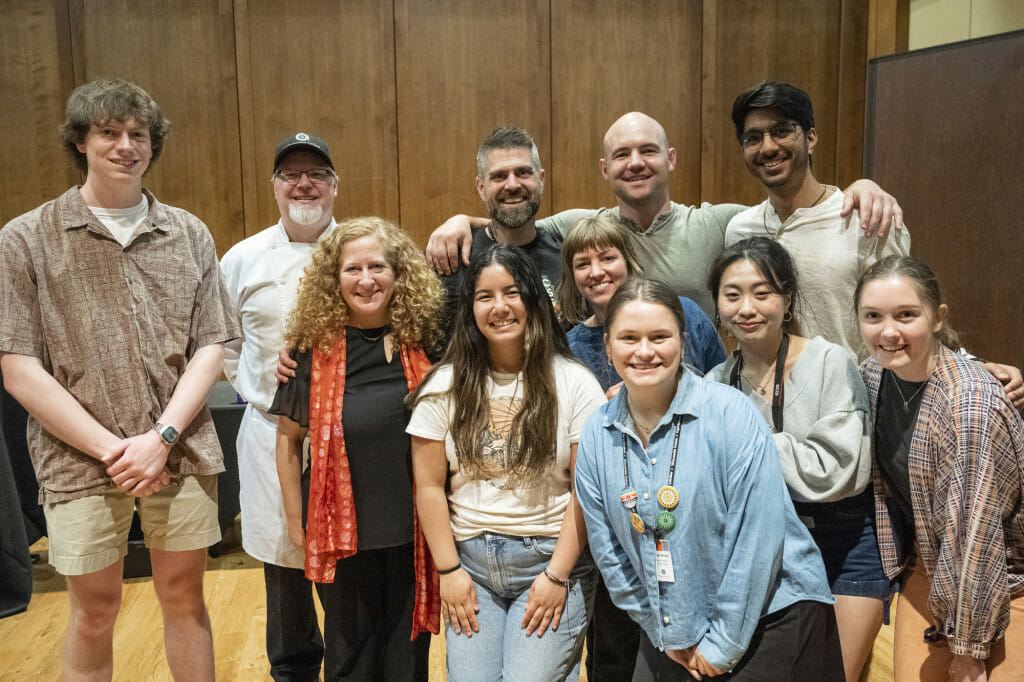 ---
"We're in the business, of information, of innovation, and of sharing so that others are capable of being innovative."
– Chris Walker, professor of dance and director of UW's Division of the Arts
"What drives you forward?"
Six UW–Madison faculty and alumni speakers came together to answer the question posed by Chancellor Mnookin during Wisconsin Ideas: Inspiration and Insights from Extraordinary Badgers. The lineup included:
Kathy Cramer, UW political science professor
Richard Davidson, UW professor of psychology and psychiatry and founding director of the UW's Center for Healthy Minds
Will Hsu '00, ginseng farmer and entrepreneur
Vanessa McDowell '03, CEO of the YWCA of Madison
Manu Raju '02, CNN reporter
Chris Walker, UW professor of dance and director
While responses from each of the speakers reflected their personal and professional experiences at UW, the common theme was clear: the university is a place that harnesses innovation and determination to make our communities, the state, and the world a better place.
---
Everyone had fun but the buckthorns at Bucky's Big Event, a service day where UW–Madison students, staff, and faculty did volunteer work. A big crew in Lakeshore Nature Preserve cut the invasive buckthorn trees and shrubs and hauled them away, while crews also volunteered for other jobs at several sites around Madison.
---
The medallion is sometimes displayed by the Office of the Chancellor at official university ceremonies and events. The medallion will be officially bestowed to Chancellor Mnookin as part of Friday's investiture ceremony.
In 2023, the chancellor's medallion, featuring the Numen Lumen, was recast. Two mechanical engineering undergraduate students in the College of Engineering took a mold of the original medallion and made a cast for a larger mold, five inches in diameter, out of pewter.
Numen Lumen
As UW–Madison's official seal and motto since 1854, the Latin phrase "Numen Lumen" is a renowned mark reserved for prestigious events. Literally, it means "God is the light," or, as UW's first chancellor, John Lathrop, who assisted in the creation of the motto, more broadly interpreted it to mean: "The divine within the universe, however manifested, is my light."
---
It's officially "Terrace Season!" The iconic tables and sunburst chairs made their first appearance this morning, to the delight of students, staff, and Chancellor Jennifer L. Mnookin, who was on-hand to help unload truckloads of chairs.
---
Wednesday morning began with a Ho-Chunk flag raising ceremony in front of Bascom Hall. A welcome from Chancellor Mnookin marked the start of the event. Ho-Chunk Nation President Marlon WhiteEagle shared remarks and raised the flag on the Nation's behalf. The flag will fly for one week, April 12-19, atop Bascom Hill.
The campus inhabits land that was the ancestral home of the Ho-Chunk people, land they call Teejop (Dejope, or Four Lakes).The flying of the Ho-Chunk Nation flag is part of the university's ongoing commitment to educate the campus community about Ho-Chunk culture and First Nation's history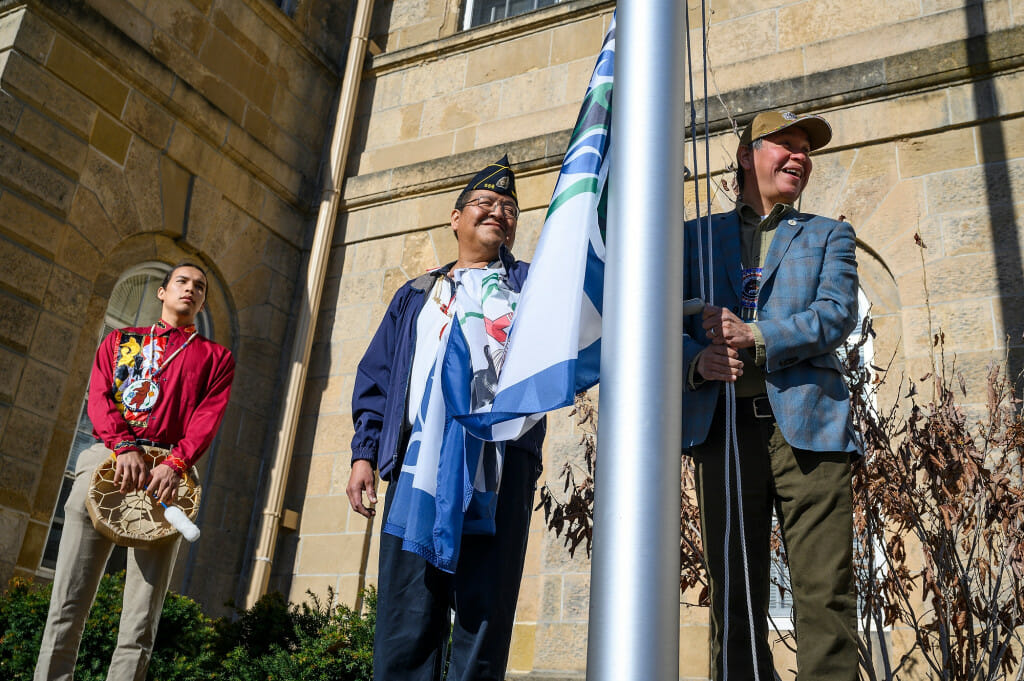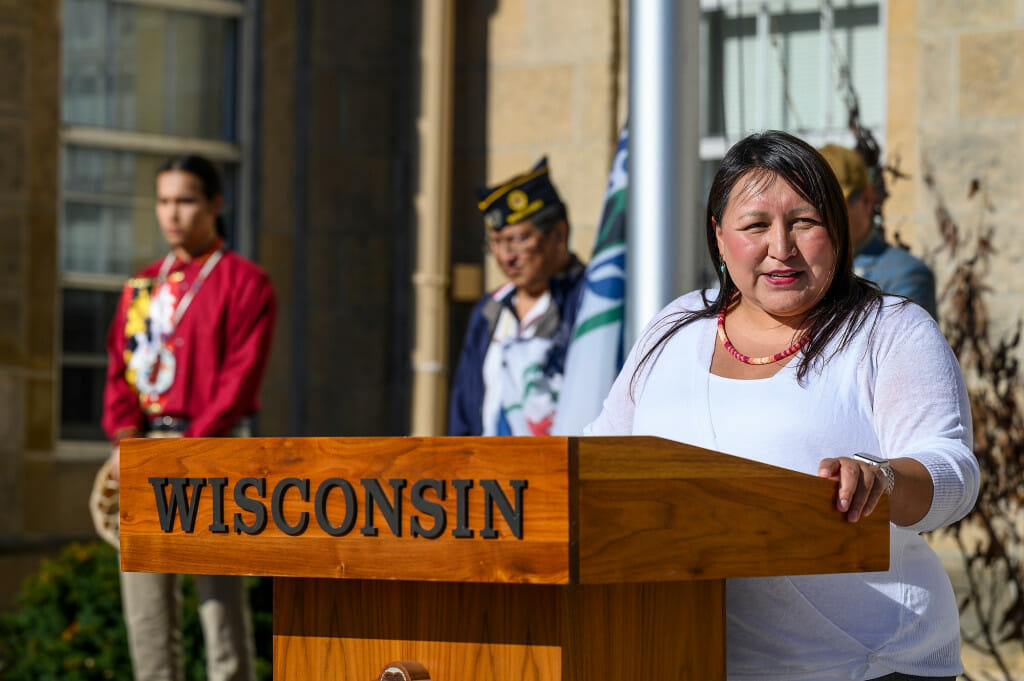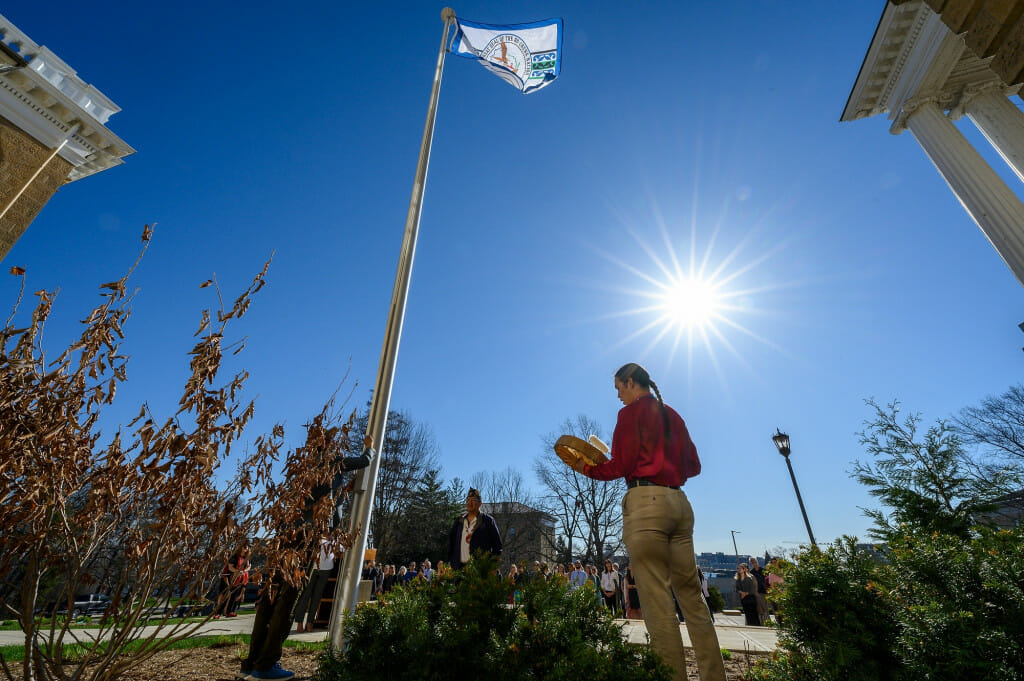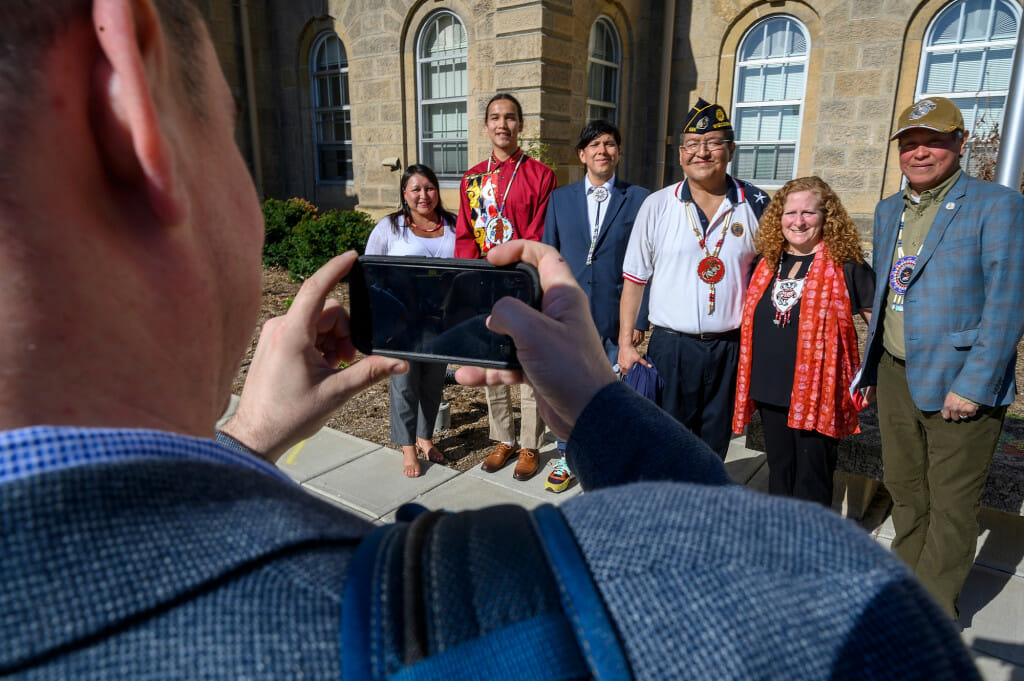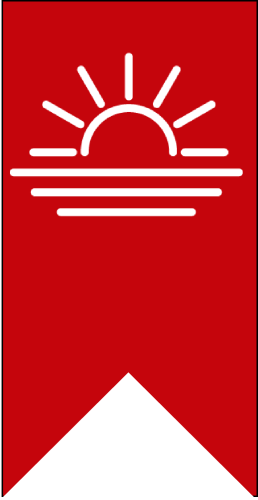 On Ancestral Land
The UW–Madison campus is home to many conical, linear, and effigy burial mounds that were created between approximately 2,500 and 1,000 years ago. The Ho-Chunk serve as caretakers of the mounds that remain.
---
TUESDAY, APRIL 11
The Kohl Center was rocking late Tuesday night during a recognition event for second- and third-shift employees, part of the festivities of Investiture Week. Chancellor Jennifer L. Mnookin, Bucky Badger and others stopped by to show appreciation to those who keep campus running in the evening and early morning hours.
---
Just like Commencement, the academic regalia worn during the investiture ceremony represent three levels of academic achievement. During Friday's investiture ceremony, the Chancellor, Provost and other leadership wearing either UW regalia or that of their alma mater. Here's what the gowns mean:
Bachelor's = Symbolizes the first degree and is made of black material with a closed front and long, pointed, open sleeves.
Master's = Also made of black material with a closed front. Unlike the bachelor's robes, the master's robes have long, closed sleeves.
Doctoral = Also black with an an open front and bell-shaped sleeves. Doctoral robes are embellished with velvet trim in the form of crossbars on the sleeves. In spring 2017, the gown designs were updated to include the University of Wisconsin–Madison colors and crest logo.
---
Campus got an investiture preview last week with two campus community painting events at Union South and Memorial Union. Students, faculty, staff, and community members were invited to reflect on UW–Madison 175 years from now by paining a single idea for the campus in the year 2198 on a mini art canvas.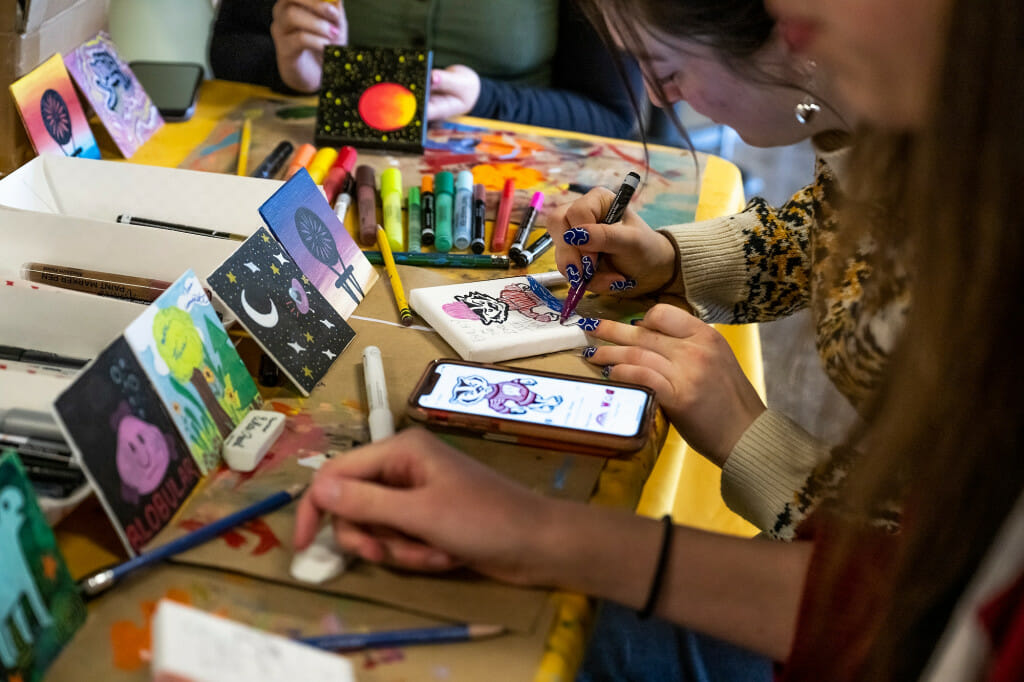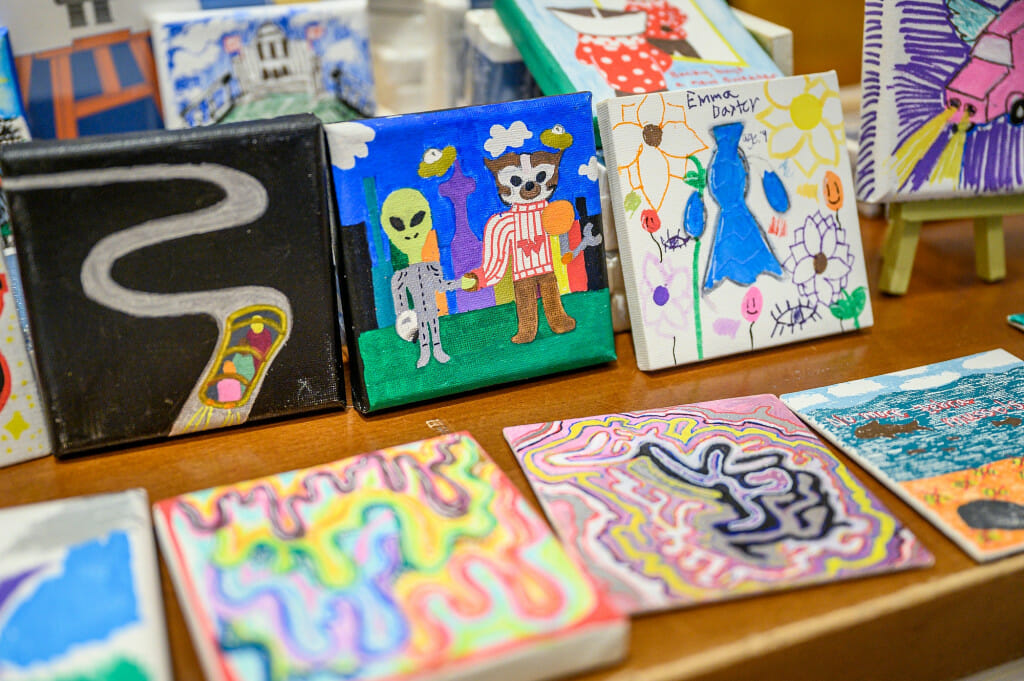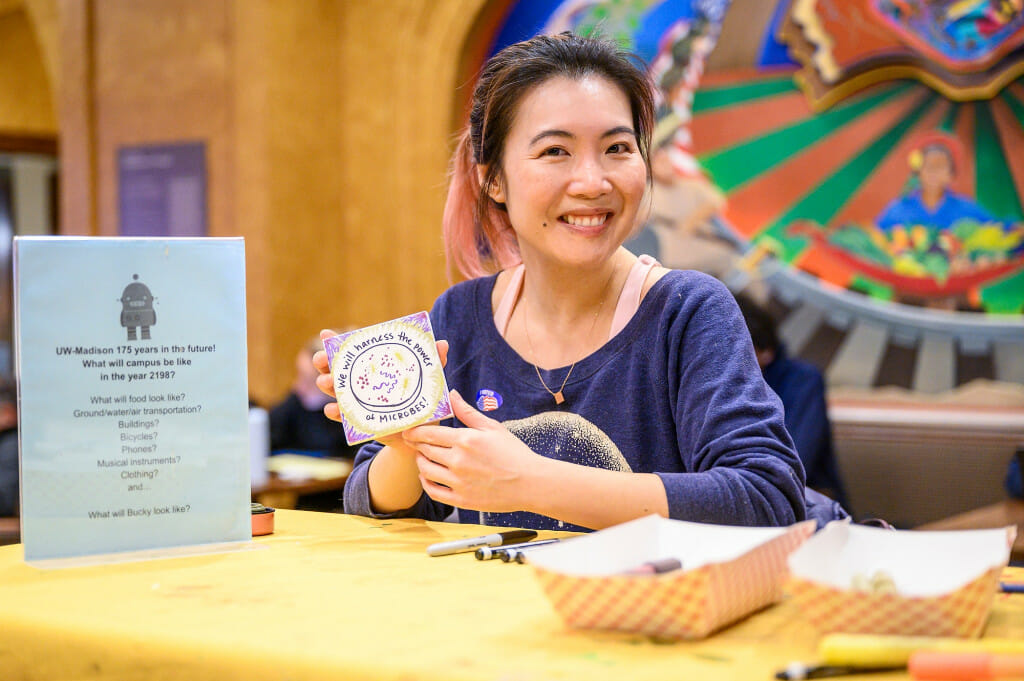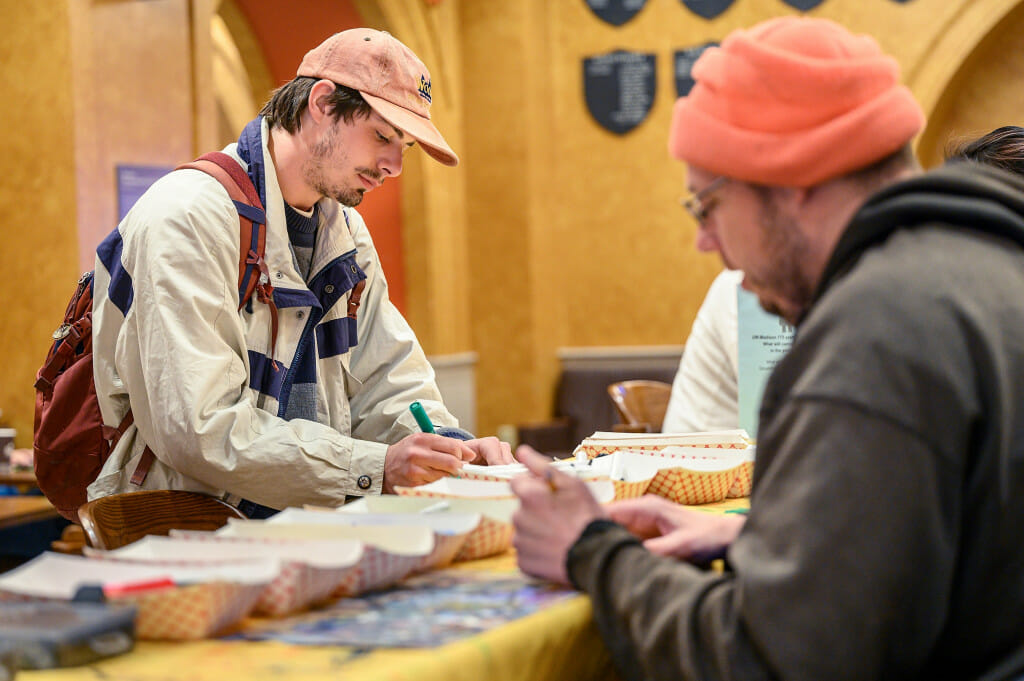 PICTURE THIS!
The mini canvases will be installed together as one collective mural to be displayed during the investiture ceremony, showcasing the diverse yet connected vision for the university in the century ahead.
---
MONDAY, APRIL 10
On Friday, April 14, Chancellor Jennifer L. Mnookin will be formally installed as University of Wisconsin–Madison's chancellor with an investiture ceremony, one of the oldest traditions in academia.
Haven't investitured before? No fear. Dean Eric Wilcots, from the College of Letters and Science has your guide to all (or at least some) things investiture:
Ready to investiture? See a full list of Investiture Week events at https://investiture.wisc.edu/ and follow along using #CelebrateUW!
---