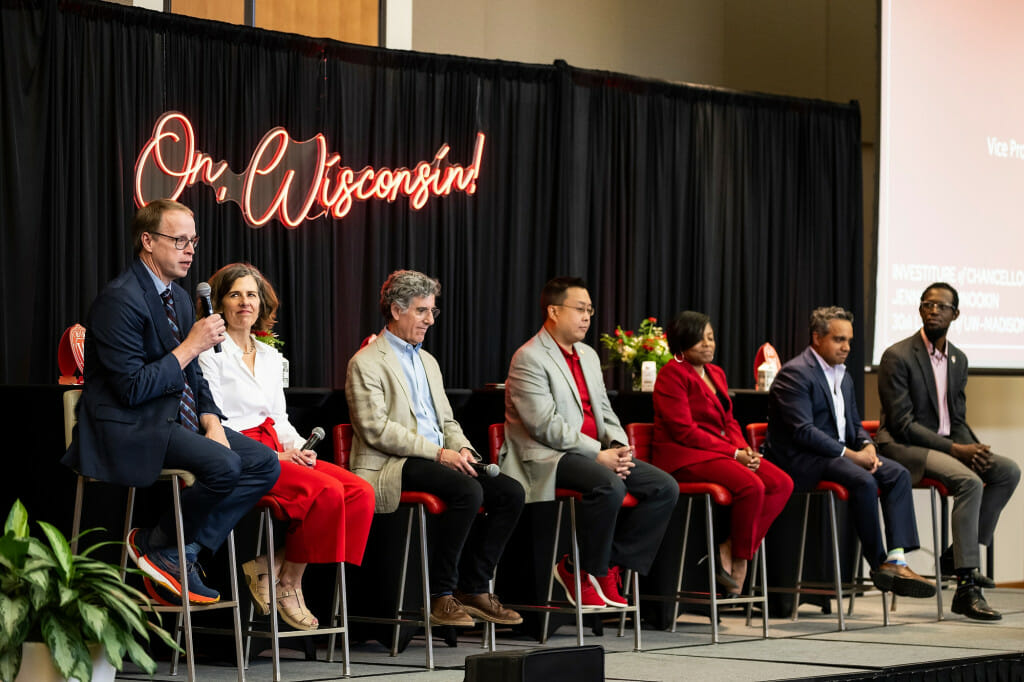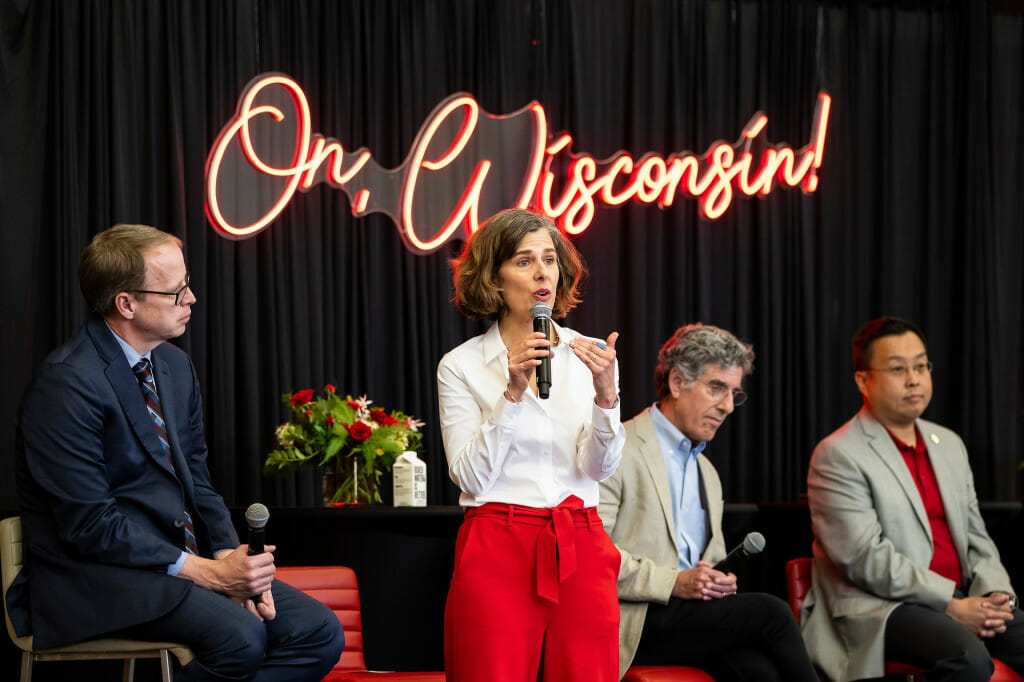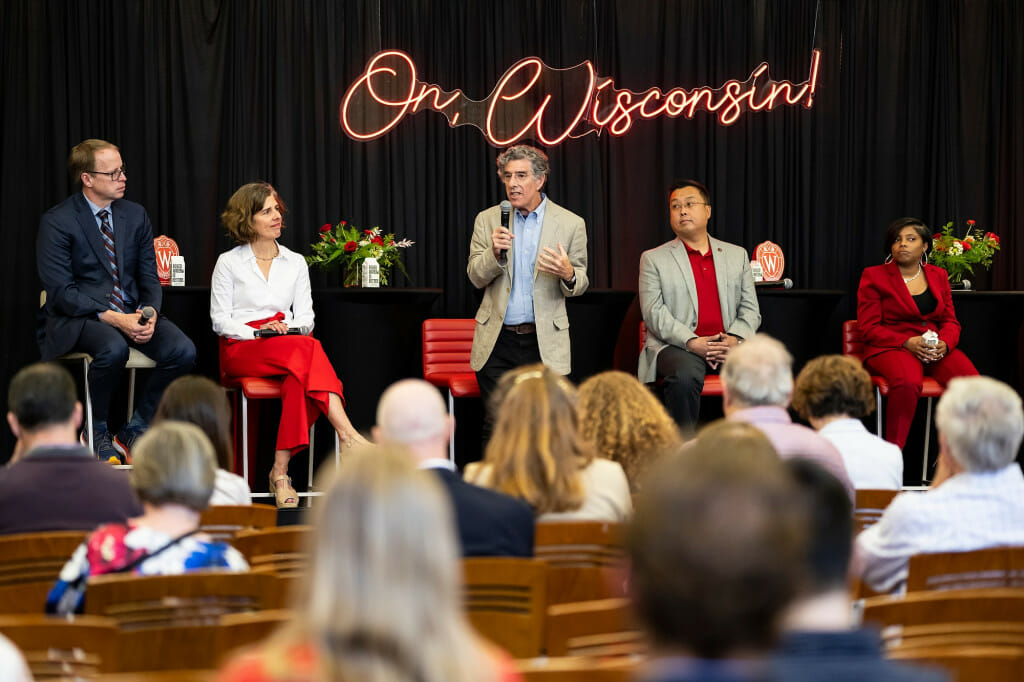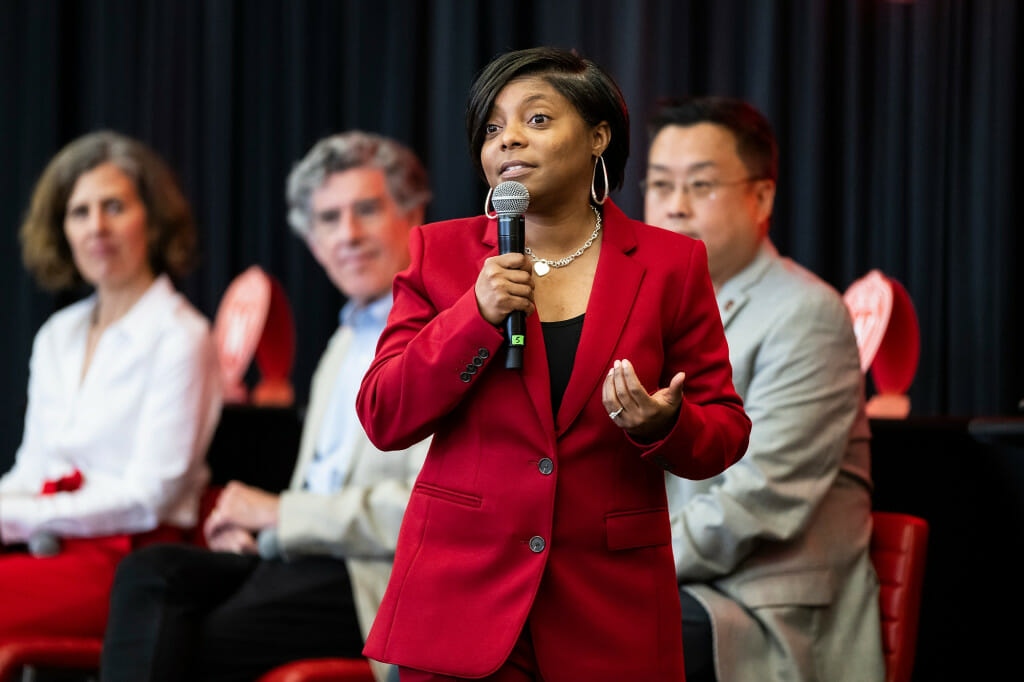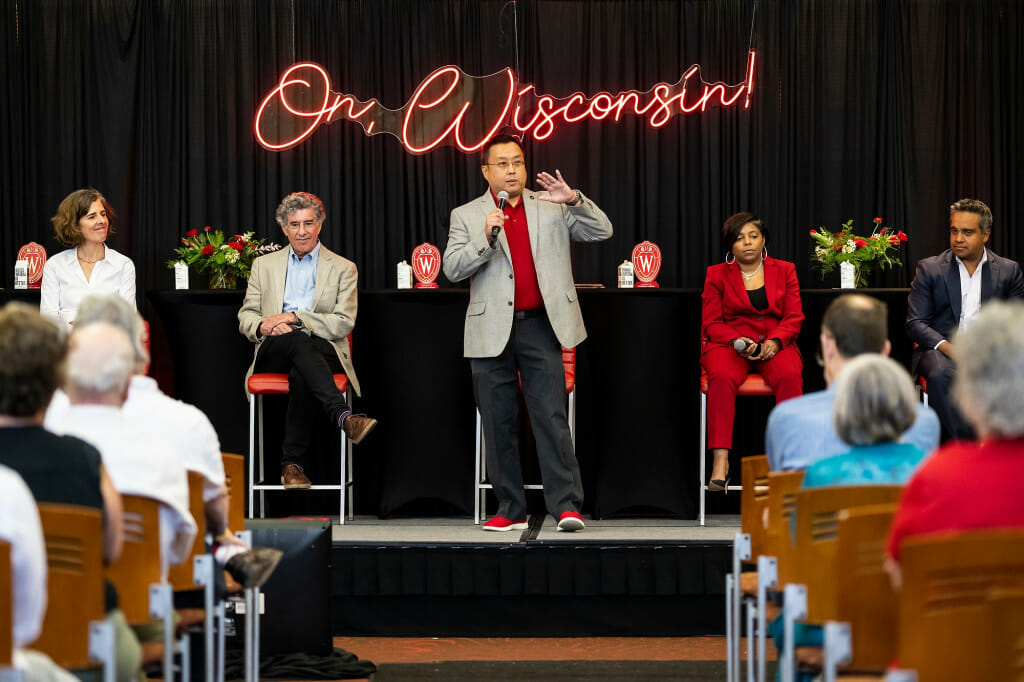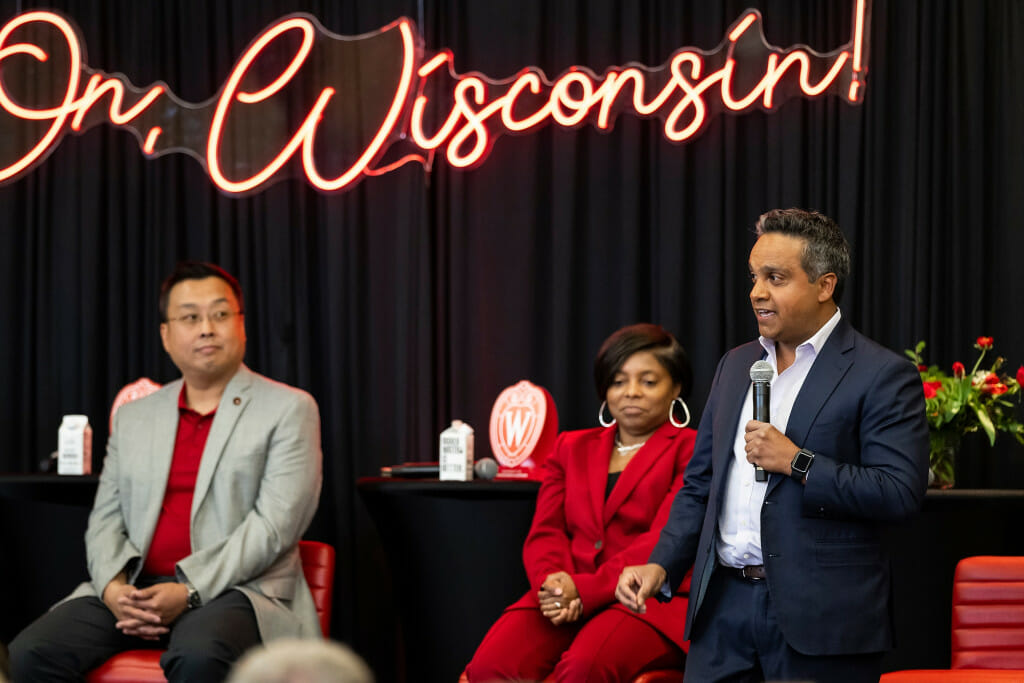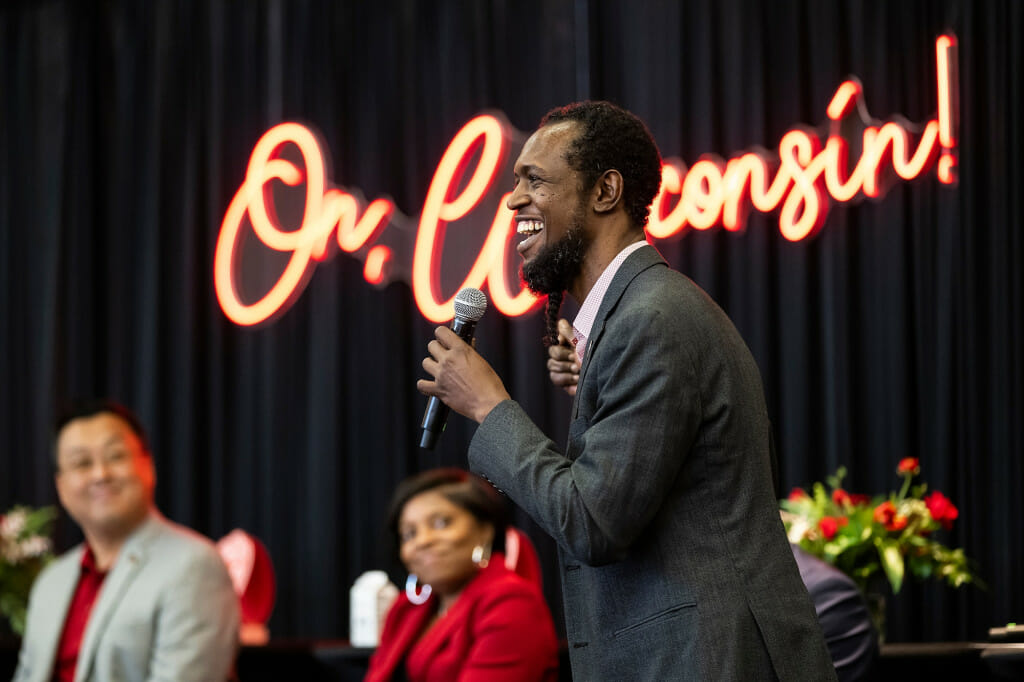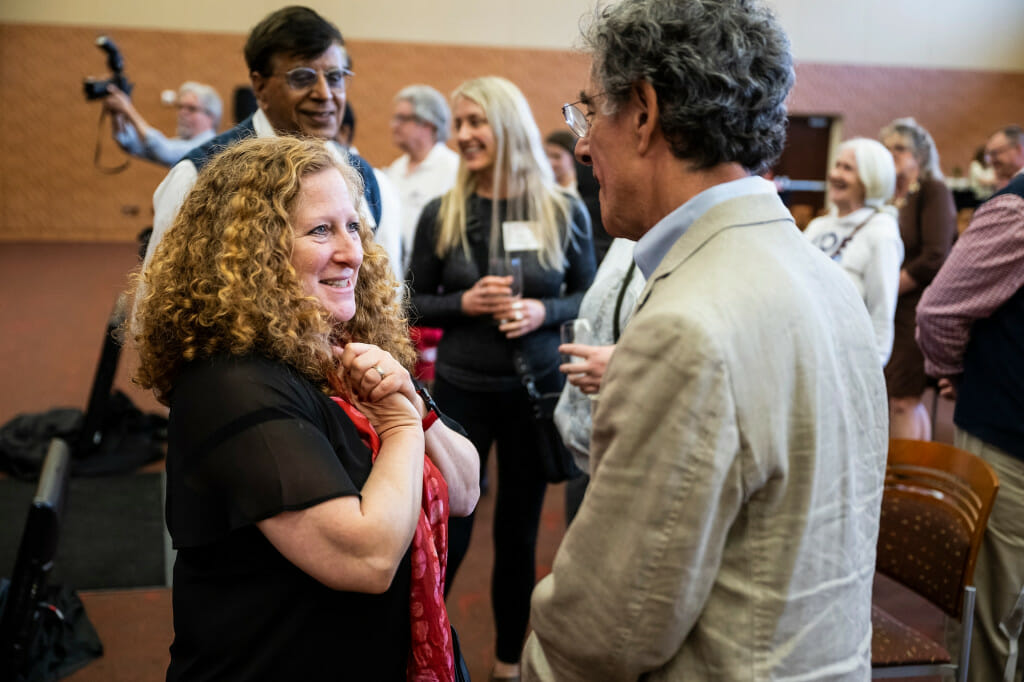 When Professor Chris Walker thinks about what makes being a Badger special, he thinks about how Badgerhood is a gift of learning, given from one generation to another.
"We're in the business, of information, of innovation," he says, "and of sharing so that others are capable of being innovative."
Walker was one of six University of Wisconsin–Madison faculty and alumni speakers at Wisconsin Ideas: Inspiration and Insights from Extraordinary Badgers. The April 12 event was part of the investiture celebration for UW–Madison's new chancellor, Jennifer L. Mnookin.
John Zumbrunnen, the university's vice provost for teaching and learning, hosted Wisconsin Ideas, and speakers included political science professor Kathy Cramer; Richard Davidson, professor of psychology and psychiatry and founding director of UW's Center for Healthy Minds; ginseng farmer and entrepreneur Will Hsu '00; Vanessa McDowell '03, CEO of the YWCA of Madison; CNN reporter Manu Raju '02; and Chris Walker, a professor of dance and director of UW's Division of the Arts.
Chancellor Mnookin asked each of them to speak about what motivates them. "What matters most to you?" she asked. "What captivates your imagination? What drives you forward?"
Cramer noted that she finds motivation in her field, even though many people would think it's depressing. "In the United States today, we're at a time of precarious polarization," she said. "We don't see each other as opponents but as moral enemies." But she finds inspiration in listening to those from different backgrounds and in trying to move people to listen to each other.
"I get to live an experiment in listening, both in my research and in my teaching," she said. "These experiences give me hope."
Davidson said that there are two trends that keep him working. One is bad: on a variety of measures, "wellbeing is going downhill globally," he said. Psychiatric disorders and loneliness are both on the rise. But the other piece of news is good: people can learn to improve their wellbeing. "The same mechanisms in our brains that encode suffering are the same mechanisms we can harness for good."
For Hsu, ginseng isn't just a business — it's also an analogy. Though many people don't know it, Wisconsin grows some of the most desirable ginseng in the world. Similarly, the state has created in UW–Madison a university with global appeal. "Like ginseng," he said, "the University of Wisconsin is one of our best-kept secrets."
The child of immigrants, Hsu studied business and became an entrepreneur before returning to his family's ginseng farm. He finds motivation in IDEA, which he describes as an acronym for Innovation, Determination, Execution and Assessment.
"The IDEA draws me to success," he said.
Striking a more somber note, McDowell described the motivation she found in her student experience, when she and other students of color who worked in the Office of the Chancellor were given fewer opportunities than their white peers. She went on to seek leadership positions in the Madison community and in her church, leading eventually to the top role at the YWCA of Madison — the first woman of color to hold the leadership in the organization's 108-year history. And since then, she has sought ways to empower others.
"I'm trying to figure out how to help marginalized communities to have more leverage," she said.
Both in his time as a student and later as CNN's chief congressional correspondent, Raju found inspiration in UW's tradition of sifting and winnowing. The search for truth, he said, is what motivates him every day. "You take risks, you fail, you learn from your failures, you keep going, and you never take 'no comment' for an answer," he said, adding he finds motivation in "the desire for truth and to get answers."
Walker wrapped up the event with a story of his journey from Ocho Rios, Jamaica, to UW–Madison. He described the moment when he discovered that dance could be an academic discipline, when he found a book called Dance: A Creative Art Experience by Margaret H'Doubler 1910, MA1924, UW–Madison professor who created the nation's first university dance department in 1926.
"I became very familiar with the W of UW Press," he said. "From then on, I felt connected to this place."
Wisconsin Ideas was presented to both a live audience at UW's Gordon Dining and Events Center and via livestream to an online audience. It's one of many investiture events presented between April 11 and April 14, including two more livestreams. An astronomy presentation called Discovery Past, Present, and Future: Black Holes, Neutrinos, and Life in Our Galaxy takes place on Thursday, April 13, at 1:30 p.m., and the investiture ceremony itself on Friday, April 14, at 10 a.m.