Survey finds UW-Madison alumni starting companies across the state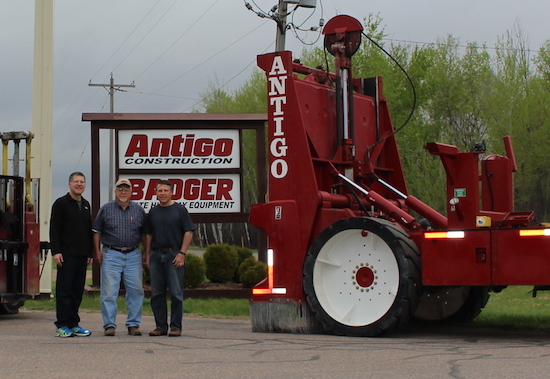 Matt Shinners (left), BA political science and economics '87, president of Antigo Construction; George Shinners (center), BS psychology '61, MS industrial relations '64, CEO of Antigo Construction; and Chris Shinners (right), BS electrical and computer engineering '88, president of Badger State Highway Equipment.
Photo courtesy of Antigo Construction Inc.
A survey just completed by the Wisconsin Alumni Association shows a substantial level of business startups among graduates of the University of Wisconsin–Madison.
About 90 percent of the 2,451 respondents said they had formed a company, and more than 600 respondents listed more than one company. Among 2,500 startups, 808 were located in Wisconsin.
"This is good news for the state economy," says Aaron Olver, managing director of UW–Madison's University Research Park. "Although only 1.3 percent of the surveys were completed, the survey was focused on people who had started businesses, and thus was not relevant to the whole alumni population."
University Research Park has more than 120 tenants, including a large percentage of UW–Madison startups.
"We know that UW–Madison is a research powerhouse that is creating jobs in the Madison ecosystem," says Olver. "But this survey tells us that UW–Madison has a robust effect on economic development across the state. We have found more than 800 unique Wisconsin companies in more than 200 communities in 51 of the 72 counties, and this only reflects the one in four recipients who opened the survey email. If this is a good snapshot of this population — and statistically it seems to be — the actual number of Wisconsin startups is probably closer to 3,200."
Map based on data collected in April 2015. Does not represent all Wisconsin companies founded by UW–Madison alumni.
Responses to the survey were anonymous but asked for information about the companies started, including the number of people employed.
George Shinners, who earned a bachelor's in psychology and a master's in industrial relations from the university, says its effect on his career has been unmistakable. "I would not be doing the business I am had I not attended and graduated from UW–Madison," says Shinners, CEO of Antigo Construction. His UW education "gave me the confidence to do anything I wanted to do. If you take advantage of the opportunities there, it basically helps you learn how to think, analyze, make decisions, and communicate verbally and in written form with all the people who are vital to a successful business. This education gives you the ability to see opportunities, and the confidence to tackle and take advantage of them."
Antigo andits affiliate, Badger State Highway Equipment, employ 40 people in Antigo — and four more in the United Kingdom — building and operating equipment that breaks and "rubblizes" concrete roads and runways in preparation for repaving.
To date, Antigo has completed 5,500 projects, covering 240 million square yards (more than 77 square miles), in 46 states and several foreign countries.
When the survey respondents were asked which particular components of their UW–Madison experience were important to founding a company, 56 percent of the entrepreneurs mentioned coursework, says Olver. "One-third mentioned experiential learning, and one-quarter traced the startup to faculty, other students or research they performed. We see the university's effects in myriad ways, in many sorts of experiences that people have as students."
"I would not be doing the business I am had I not attended and graduated from UW–Madison. … This education gives you the ability to see opportunities, and the confidence to tackle and take advantage of them."
George Shinners
These diverse experiences are reflected in the broad range of startups, says Olver. "We see companies starting up in industries ranging from paper and packaging to food processing, manufacturing, finance, information technology, medical, health, brewing and biotech. The companies, on average, have 10 to 20 employees, but one-seventh have more than 25 employees. Most of these companies are small, but economic growth, and almost all job creation, come from the startup of new companies."
The number of alumni startups may rise, given the growing emphasis on entrepreneurial activity on campus, Olver adds. "There was a big grant a number of years ago that helped ramp up entrepreneurship, so there's more focus on the university side. And there is no doubt that students these days are more interested in entrepreneurism, so it's also coming from the students and the evolving nature of our economy."
As UW–Madison continues to focus on entrepreneurism, with contests, courses, collaborations and mentorship, Olver says, "now we have more evidence that entrepreneurial alumni have long been taking their education and research, and all the relationships they developed while they are Badgers, to start businesses all over the state of Wisconsin."
If you're a UW–Madison graduate who has started a business, tell us about it. Email pmdickinson@wisc.edu.