Project to evaluate how farmers markets benefit communities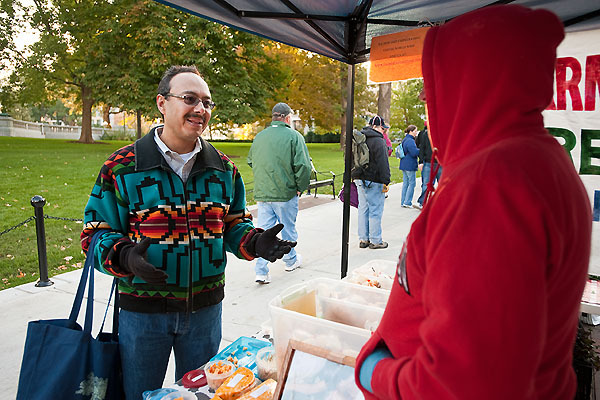 Alfonso Morales talks with a vendor at the Dane County Farmers' Market in October 2009. Morales has secured federal funding to develop tools to evaluate the impacts of farmers markets on communities.
Photo: Bryce Richter
A new project in partnership with the University of Wisconsin–Madison and the Farmer's Market Coalition will analyze the impact of farmers markets in communities.
Alfonso Morales, associate professor in urban and regional planning, secured funding through the USDA to advance the Farmers Market Metrics Project, which will allow him and his team to develop practical tools for evaluating farmers markets and communicate impacts to local, regional and national stakeholders. The ultimate goal is to grow a knowledge base about optimal impacts of markets on communities.
"Marketplaces have a rich history serving many functions in communities and this project helps us understand those functions and will assist market masters and market management in advancing the goals of the market and the community," Morales says.
Farmers markets have emerged as important players in the effort to increase consumption of fresh fruits and vegetables, while supporting diversified farms and new businesses, Morales says. Despite their many benefits, the impacts of farmers markets on communities are as of yet largely undocumented. Information on the 8,144 markets, with roughly 150,000 vendors and hundreds of thousands of dollars of sales, is not yet being collected, tracked, analyzed, or made available in a useful way.
Despite their many benefits, the impacts of farmers markets on communities are as of yet largely undocumented. 
"The project will address this gap in existing data and tools by building a meaningful database of indicators that will provide initial information on markets' impacts and serve as a building block for future development of farmers market data and information," Morales says.
The project consists of two collaborative efforts: identification of effective, consistent data points for measuring farmers market impact and development of a Web-based tool to facilitate the longitudinal collection and communication of those measures.
The project team will work with nine markets in three regions across the United States to identify a suite of data points and methodologies for programming into the Farmers Market Metrics tool. The markets selected in each region will test data collection and reporting techniques and receive technical assistance throughout the project. The grant project is funded by the USDA's Agriculture, Food, and Research Initiative.
An interdisciplinary national team of researchers will advise the project team on the measurement of economic, social, intellectual and natural impacts, recommending appropriate methodology for their collection and analysis.
A practical but academic approach to measuring impacts will help bring an evaluation feedback loop that is often missing in many farmers markets, enhancing market credibility, which will enable more effective decision making, Morales says.
"Market Metrics will help market organizers, market partners and municipalities understand and efficiently communicate a diverse spectrum of impacts," says FMC Executive Director Jen O'Brien. "That collected information will strengthen all food system initiatives."
—Mary Beth Collins