Recent sightings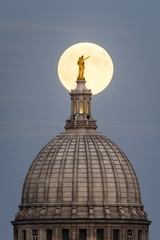 Moon over Madison
Seen from the roof of the Memorial Library, a supermoon rises behind the dome of the Wisconsin State Capitol Sept. 27. A rare lunar eclipse, or blood moon, occurred a few hours later.
Recent sightings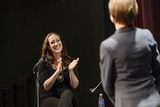 The master's ear
American soprano Brenda Rae, an international opera star and 2004 alumna of the UW-Madison School of Music, conducted a master class with UW students while on campus for a performance and reception.
Featured expert
Tracey Holloway: Federal ozone standards
Holloway, an expert on air pollution, energy and environmental policy, can discuss Thursday's announcement by the Obama administration to lower the U.S. national standard for smog-causing ozone pollution from the current 75 parts per billion (ppb) to 70 ppb. Holloway studies links between regional air quality, energy and climate.