WARF's Bremer remembered as technology transfer legend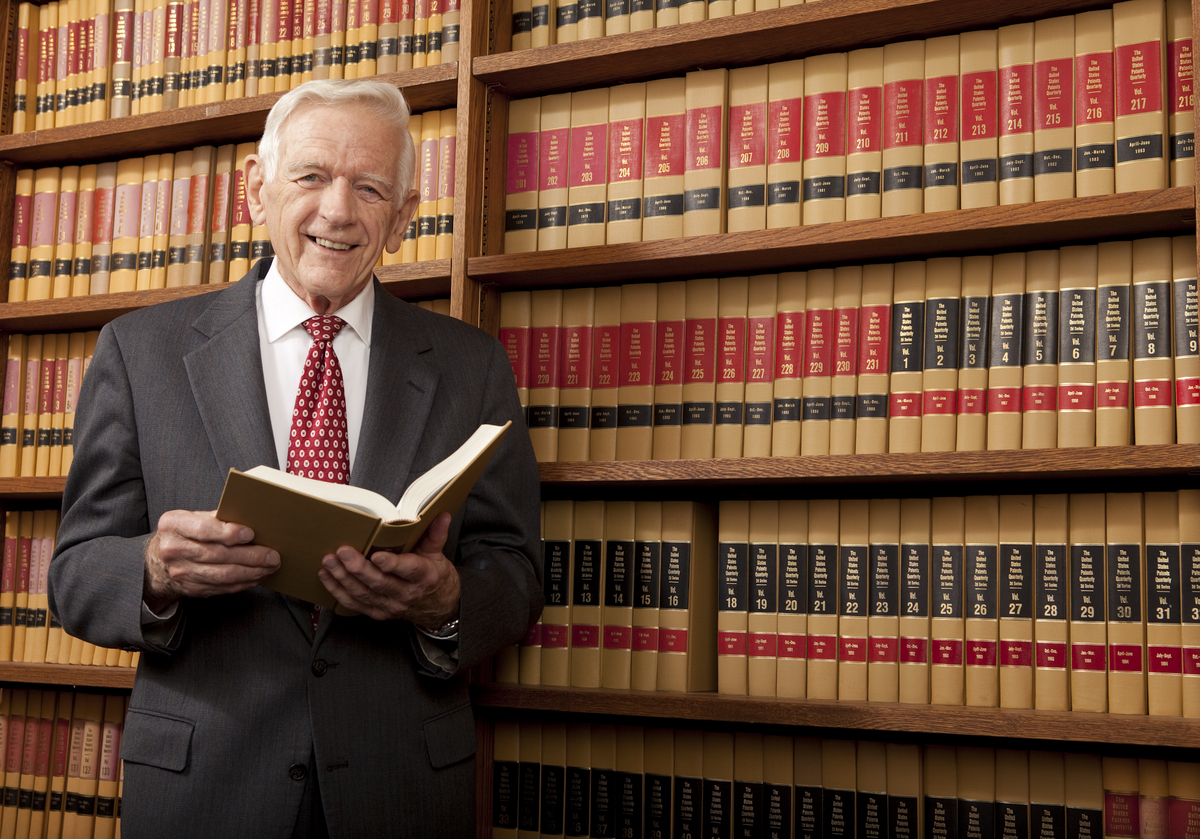 Howard Bremer in 2009. (Photo courtesy of the Wisconsin Alumni Research Foundation.)
Sustained by a passion to improve people's lives, Howard Bremer's enduring commitment to innovation fueled his work and his life.
Bremer, 90, a WWII U.S. Navy veteran and patent attorney with degrees in law and chemical engineering from the University of Wisconsin–Madison passed away Friday, ending a remarkable career at the Wisconsin Alumni Research Foundation that spanned 53 years.
"We are deeply saddened by the loss of a distinguished colleague and true friend and extend our sympathy to his family, many friends and colleagues around the world," said Carl Gulbrandsen, WARF managing director. "Howard's work created incalculable benefits for the University of Wisconsin–Madison and society as a whole by finding new ways to move innovations from campus laboratories to the public. His stewardship helped secure the cycle of research, discovery, commercialization and investment that supports the university to this day."
Starting with the first patent for a vitamin D derivative developed by young biochemistry professor Hector DeLuca, Bremer traveled the world on behalf of UW–Madison inventors, connecting with commercial partners capable of transforming campus discoveries into beneficial products. At a time when other universities struggled with the concept of providing intellectual property protection for the work of faculty inventors, Bremer's efforts succeeded in strengthening WARF's portfolio and expanded the opportunities to fund campus research.
"Time has proven the importance of Hector DeLuca's vitamin D work for human health, but back in the early 1970s, WARF could not find a U.S. partner willing to take a risk on his first invention," Gulbrandsen said. "It was unheard of for university technology transfer managers back then, but Howard made a contact in Japan and over the course of many trips, gained a licensing agreement with Chugai Pharmaceutical Co., now part of Roche. The success of that first invention put the world on notice about the important work coming out of UW–Madison labs."
Still, the road for technology transfer was not easy; laws at the time allowed the government to assert control over inventions stemming from research that involved any federal funding. In the late 1970s, as the economy entered a period of profound malaise marked by a loss of industrial competitiveness, rapid inflation and high interest rates, the government's inability to move federally funded inventions to the marketplace became clear.
An examination of the problem by then-U.S. Sen. Birch Bayh of Indiana revealed the extent of the challenge: his legislative staffer Joseph Allen discovered that although the U.S. government claimed ownership of approximately 28,000 patents, less than 4 percent were licensed to industry. Moreover, the number of patentable inventions made under federally supported research was in steady decline.
Already an influential voice for advancing U.S. innovation and improving the process of technology transfer, Bremer connected with Allen from Bayh's office, Ralph Davis from Purdue University and Norman Latker, a government patent counsel. The result of their effort to reform the nation's technology transfer system was the Bayh-Dole Act of 1980, landmark legislation that reinvigorated the nation's economy and restored American technological leadership by providing a clear path for universities to retain title to inventions and work with industry to move ideas to the marketplace.
Bremer's extensive knowledge of the U.S. patent system and tireless efforts to professionalize the technology transfer process also contributed to the founding of the Association of University Technology Managers (AUTM), a nonprofit association dedicated to advancing university discoveries. An AUTM scholarship program established in his name in 2002 continues Bremer's legacy by supporting students and professionals eager to pursue careers in technology transfer.
"It's not an exaggeration to say that Howard was a founding father of the profession of university technology management," said Allen. "He helped create AUTM, the field's internationally recognized professional association. Without his steadfast support we could never have gotten the Bayh-Dole law passed. Without his unflinching defense, it would not have survived. The resulting benefits improved millions of lives around the world. Each one owes a debt to Howard W. Bremer."
The son of a traveling salesman for Westinghouse and a mother who stayed at home to raise Bremer and his sister in Milwaukee's predominantly German Bay View Neighborhood, Bremer fondly recalled in a 2003 UW–Madison oral history his family's strong work ethic. At the start of World War II, as the neighborhood's residents recycled rags and struggled to make due with less, Bremer's 81-year-old grandfather decided his skills as a retired crane operator with Harnischfeger Corp. could still be of benefit and lobbied unsuccessfully to get his old job back.
The experience was not lost on Bremer, who tried to retire from WARF in 1988 but continued on as emeritus patent counsel and an active contributor and member of the WARF staff for the next 25 years. With the steadfast support of his wife, Caryl, and until just a few weeks ago, he continued to work in the office daily, providing insight into federal court decisions, preparing legal briefs and serving as an invaluable resource and generous mentor to WARF, UW–Madison and AUTM colleagues.
Bremer was beloved by WARF staff, not only for his exceptional professional achievements, but for his personal warmth, devotion to the Wisconsin Badgers, and fondness for Babcock ice cream, Nitty Gritty Burgers, Australian rules football, European-style hard rolls and black licorice.