UW's bug-eating advocate had global impact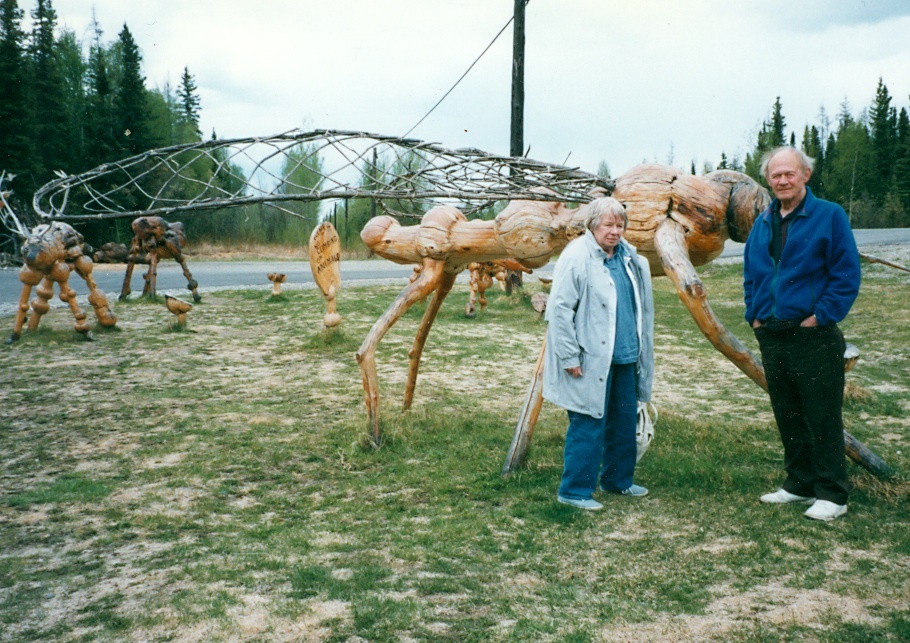 On a trip to Alaska, Lou and Gene DeFoliart encountered what might be considered a monument to Gene's passion for the benefits of eating insects.
DeFoliart family photos
When Gene DeFoliart had his brainstorm in 1974, not even he thought his brainchild would be an easy sell. As a professor at UW–Madison, DeFoliart was focusing on how insects spread viral disease.
Now he was captivated by an opposite proposition: using insects to foster human health — using them, to be specific, as food. He found the logic inescapable: people need protein, and insects produce protein with few of the costs and environmental drawbacks linked to conventional livestock.
Nobody had to tell DeFoliart (1925-2013), a quiet but determined professor of entomology, that Americans were squeamish about insects. What's to love about the large group of animals that includes roaches, gnats, fleas and mosquitoes? Cooking and "plating" insects was something that only St. Jude, the patron saint of lost causes, could love, but as DeFoliart delved into the idea, he learned that insects were being eaten in many remote corners of the world.
In 1988, he started Food Insects Newsletter, the first tribune for a practice that turns out to be rather common — in some places. According to a 2013 United Nations report, an estimated 2 billion people, mainly in less developed nations, now eat 1,900 species of insects.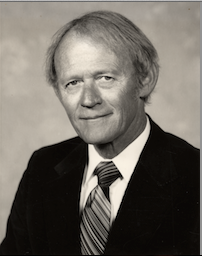 Gene DeFoliart in 1984
In recognition of his long quest to arouse interest in insects as food, the UN report was dedicated to DeFoliart.
DeFoliart's description of his life-changing moment in 1974 shows his dry humor, and recognition of the difficulty of his project. In a memoir, he wrote that after being asked to find an expert on insects as a novel source of protein, "I suggested the names of a couple of people … In each case, however … the prof suddenly remembered that he had to be in Europe or somewhere."
And yet the idea made sense to a man who combined moral and environmental visions. "The more I thought about the possible implications of insects as a food resource, the more fascinated I became," he wrote.
DeFoliart learned that insects as diverse as locusts, caterpillars, mealworms, termites and ants were regularly being fried and eaten.
Fascination scarcely describes DeFoliart's embrace of the idea that the very animals that his profession spent so much effort trying to kill might feed the hungry, but his determined advocacy and investigation helped launch the scientific investigation of a concept that many in the West find repulsive.
"The area of food insects took off with him," says Florence Dunkel, an associate professor of entomology at Montana State University. "He developed relationships all around the world by starting the newsletter. It was brilliant; it connected people, professors and the public with chefs and people who were meeting the public at museums and zoos."
DeFoliart ignored the mocking and even enjoyed TV comic Johnny Carson's jokes, as he was not looking for glory, but for a new source of protein to feed millions of undernourished people in poor countries.
At first, DeFoliart came into the crosshairs of TV uber-comic Johnny Carson, who made cracks about "roast of roach." But those jibes "meant that word was slowly getting out there," recalls daughter Sharon DeFoliart, of Falmouth, Maine. Gene DeFoliart ignored the mocking and even enjoyed Carson's jokes, as he was not looking for glory, but for a new source of protein to feed millions of undernourished people in poor countries.
Although insects never became a standard meal at home, Defoliart and his fellow "entomophagists" did stage insect meals to promote their cause.
Growing up in Arkansas, Los Angeles and Oklahoma, DeFoliart was fascinated by butterflies. "He was collecting butterflies while riding his bicycle, with a net and a jar of cyanide in the bike basket," says daughter Linda DeFoliart, of Fairbanks, Alaska. (Gene and Lou DeFoliart also had a son, David DeFoliart, who lives in Burke, Va.)
Through the solitary activity of collecting butterflies, the young DeFoliart made connections, and was honored when major entomologists asked him to trade specimens. Later, collecting in the Rocky Mountains, DeFoliart talked butterflies with Vladimir Nabokov, the Russian-born author of "Lolita." This summer, the family donated about 40 drawers of Gene's collection to the entomology department.
After a stint as a Navy pilot during the tail end of World War II, he got a Ph.D. in entomology at Cornell University and began teaching at the University of Wyoming. "He loved Laramie," says Linda, "and originally turned Wisconsin down when it offered him a job, until an old advisor called him, and said, 'Are you crazy?'"
Although insects did not appear on dinner plates at home, DeFoliart did bring home some leftovers from a sampling at Russell labs after his seminar.
Arriving in Madison in 1958, DeFoliart focused on La Crosse encephalitis, a viral infection of the brain that was being spread by mosquitoes in the Midwest. David Hogg, now chair of the entomology department, recalls a professor who was "somewhat introverted, very articulate, thoughtful. He wrote extremely well, was prolific in publishing results, very solid."
In fact, says Linda, "Dad mentioned several times that he thought God or providence must have loaned a hand in his very successful virus research so he would be able to give the food insects movement a credible scientific name."
The "let them eat bugs" project operated on a shoestring, Hogg says. After an outbreak of Mormon crickets in Colorado, Gene and Lou DeFoliart drove to retrieve samples for lab tests, and found their protein content to be comparable to more familiar meats.
Eating insects "was all he could talk about," says Hogg. "He was relentless, always trying to get money from the department; he wanted us to hire somebody in the area, but budgets were getting cut every year, and the department did not share his passion."
Although insects did not appear on dinner plates at home, DeFoliart did bring home some leftovers from a sampling at Russell labs after his seminar, possibly mealworms in sour cream dip and crickets roasted in butter and garlic.
DeFoliart saw insects as a benign and under-used source of protein on a shrinking planet with an ever-rising population. "He wanted to make sure that Third World countries did not discount what they were doing, just because we told them they should eat beef," says Linda. "He was not so concerned about Americans; he felt this was more important for others."
That feeling reflected a larger moral sense, says Sharon. "He was at the department when "Silent Spring" [Rachel Carson's book on the dangers of insecticides, which helped set the stage for the environmental revival of the late 1960s] came out. He was a medical entomologist by training, but he listened to what was being said."
Gene DeFoliart died in January, just before the UN report added credibility to his life's mission. "There's a sadness because he passed away just as this thing really was starting to mushroom," says Sharon. "He'd seen this as potentially a really valuable food source for a lot of people around the world, and he wasn't taken very seriously at the beginning."
By all accounts, DeFoliart did not despair at the steep odds confronting his unusual passion. The growing appreciation for unusual and local foods, combined with the United Nations report, suggest that this optimistic professor was also one who could see beyond the horizon.
The Why Files: UN recommends eating more bugs