UW-Madison team probes home health environments with virtual reality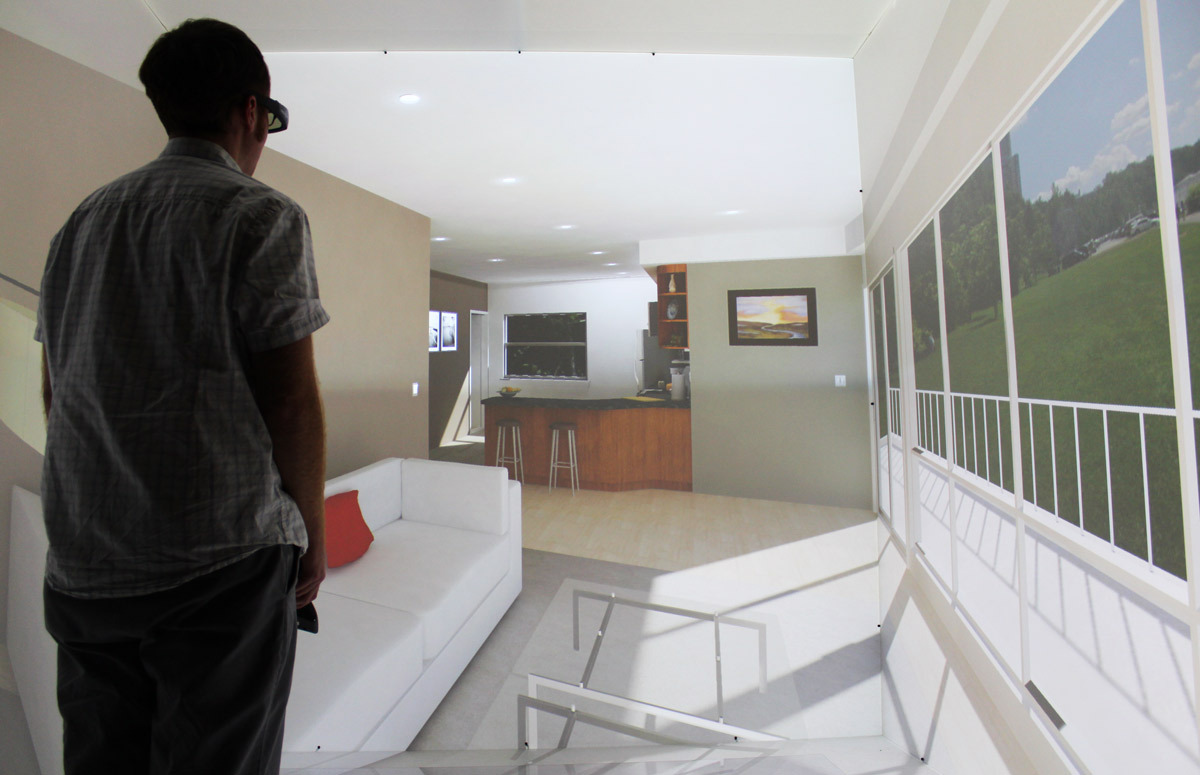 Ross Tredinnick, a systems programmer at the Living Environments Laboratory, navigates a living room scenario in the lab's fully immersive virtual reality CAVE.
Photo: Marianne English/Wisconsin Institute for Discovery
In health care environments, nurses and doctors can closely monitor patients' medical regimen and schedules. But when a patient leaves the clinic or hospital to go home, the responsibility for care transitions to families and patients. The result: Regimens might not be adhered to as closely.
To gain insight into the factors that influence a person's ability to manage a health condition at home, a diverse group of researchers at the Wisconsin Institute for Discovery (WID), and the UW–Madison School of Medicine and Public Health, School of Nursing and College of Engineering, has developed a new approach that combines data from real household environments, home health care expertise and virtual reality technology.
After receiving a $2.5 million grant from the Agency for Healthcare Research & Quality, the group will begin data collection by capturing 360-degree, detailed images of homes of people living with diabetes — afterward translating the images into 3-D with an immersive, virtual reality CAVE (Cave Automatic Virtual Environment) at WID's Living Environments Laboratory (LEL).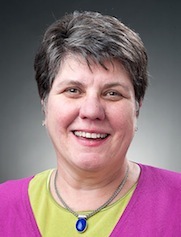 Patricia Flatley Brennan
"We're trying to understand how something like clutter in households affects people taking their medicine," says Patricia Flatley Brennan, lead researcher at LEL, professor of engineering and Moehlman Bascom professor of Nursing. "How does proximity to a computer affect how often they track their sleep? Do they have objects throughout their homes that remind them or cloud their ability to remember to self-administer care?"
After recreating images in virtual reality, the team will compare houses, looking for trends in objects and set-ups that may enhance or inhibit a person's ability to remember to do specific health treatment tasks such as taking medications, checking blood sugar levels and other monitoring practices. For individuals living with diabetes, there are many factors such as access to adequate counter space, privacy and safe needle disposal that influence how a person administers care.
"It's really the post-construction environment that matters — the arrangement of furniture and objects, not the architectural layout of a home," Brennan says. "For instance, someone could say, 'That bowl of fruit taking up space on the table isn't helpful, but the scissors remind me to change my dressing twice a day, so that's helpful.'"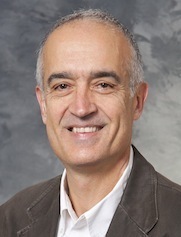 Javier Nieto
After health experts study commonalities among the homes, they plan to digitize objects and furniture into 3-D representations that can be moved and rearranged to create variations of the same room. Then, researchers will conduct studies with a new group of participants unfamiliar with the home who are either diagnosed with diabetes or are involved with diabetes care in order to measure which features may affect ability to provide home care.
Brennan says the goal is to study as many homes as possible in partnership with the Survey of the Health of Wisconsin (SHOW), a public health research study monitoring the health of Wisconsin people.
Javier Nieto, a professor and chair of population health sciences and family medicine in the School of Medicine and Public Health, directs SHOW and says the collaboration approaches personal health in a way not previously explored.
"We usually are looking at a broad set of factors that may influence people's health-related behaviors and management — factors outside of the home, such as places to exercise and proximity to grocery stores for access to nutritious foods," Nieto says. "We've been looking at the broader environment, but not inside of the home."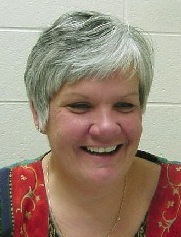 Gail Casper
Nieto adds that the breadth of experts on the team from nursing, computer science, public health and engineering will allow researchers to examine the complexity of health care in ways not traditionally done on most research campuses.
Gail Casper, associate scientist and registered nurse in the School of Nursing, says the project holds particular value to clinicians and nurses, who would be able to use the study's findings to inform health care decisions for their specific patients.
After the first round of studies, the group's findings and virtual renderings will be shared via a database with open-source software free of cost, with the goal of creating a checklist of features that are reproducible and widely accessible in the field.
"Not only are we going to learn something from it, but we're also going to create a resource that will help inform design into the future," Casper says. "There hasn't been a specialized inventory like this for public health nurses and families to know what to pay attention to."
Although the first experiment will focus on individuals living with diabetes, Brennan and colleagues say they hope to more widely examine different individuals, communities and regions in the future.
—Marianne English