UW-Madison spinoff handles grocery delivery for time-pressed consumers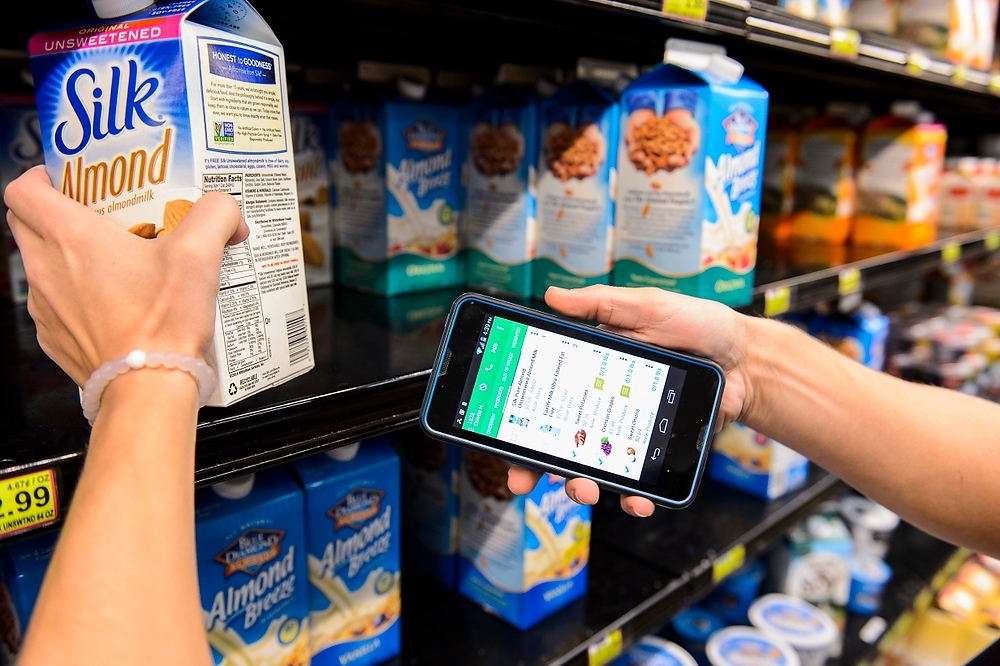 GrocerKey employee Derek Layton uses a smartphone to scan a dairy product as he shops for a customer's order at Woodman's Food Market in Madison.
Photos: Jeff Miller
When Jeremy Neren claims to know online grocery ordering and delivery from the inside out, he's not kidding. Shortly after graduating from UW–Madison in 2005, he opened Madtown Munchies and started to deliver groceries around Madison — on a bike.
After Munchies made 120,000 deliveries, Neren replaced it with GrocerKey.com — an interface that allows stores to offer online ordering and delivery to their customers.
On Aug. 31, Woodman's Markets of Janesville opened shopwoodmans.com, a service that uses GrocerKey, at its Madison West location. Efficiency matters at every stage, Neren says. "We want the user to fly through the order process; that's a big emphasis."
In the store, the software solves a version of the traveling salesman problem to find the most efficient path for selecting the items. "Pickers can pull up a store map on their device, listing the products in the ideal order," Neren says. "When they scan the product in the aisle, the device indicates right away if it's correct."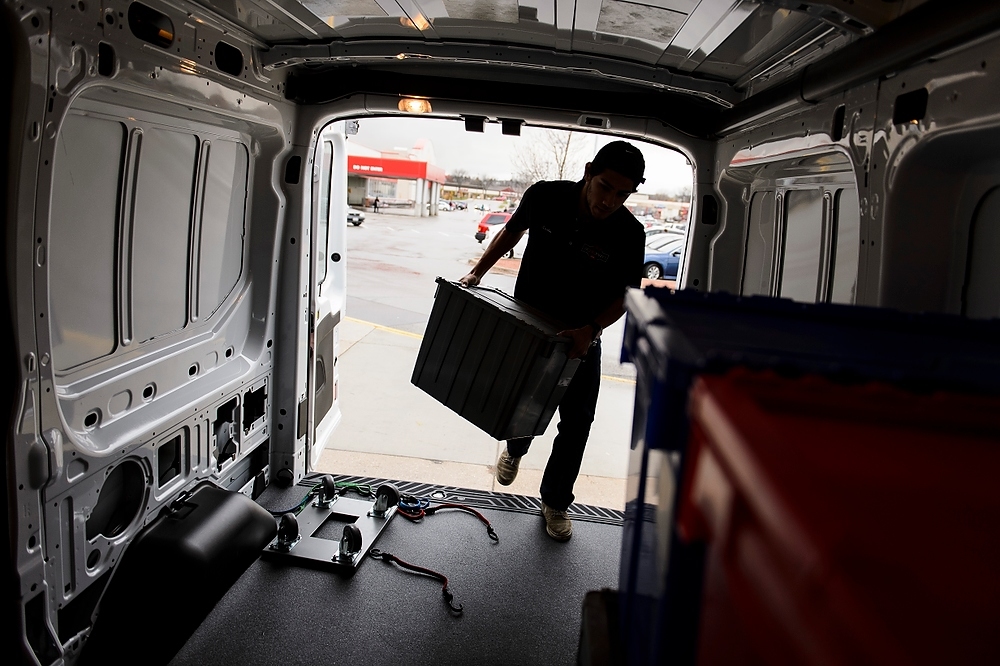 GrocerKey employee Austin Goelzer loads customers' orders in to a Woodman's Food Market van.
Home delivery for any size order costs $14.95; in-store pickup costs $9.95. Deliveries occur during a two-hour window, and customers get a text message when the driver is on the way.
Neren saw the need for delivery while getting a bachelor's degree in history at UW–Madison, and nine years at Munchies provided a postgraduate education in online groceries and delivery. "I learned a huge amount about e-commerce and specifically about groceries, logistics and delivery," he says. "Munchies was online from day one."
Neren, 32, who grew up in St. Paul, Minnesota, mentions that his mother was a lobbyist. "Her job was about convincing people to vote a certain way. I utilize what I learned when I try to persuade people to use our technology solution."
Following his father, a pulmonologist and meditator, Neren meditates daily. "It's critical for being able to deal with a lot of things, make good decisions, and be mindful of the people I work with," he says. The company "is doing the full juggle, trying to grow by signing new clients, trying to receive new funding. It can sway your mood on an hourly basis."
"We know a lot that other technology providers do not, but we're not done improving. We want to make the next iteration even more straightforward and enjoyable."
Jeremy Neren
GrocerKey has 25 employees, including 18 in Madison mainly working in the delivery operation at Woodman's West. Woodman's has invested in GrocerKey.
Twenty years after Amazon.com went online, the online grocery market lags behind books, electronics and clothing, Neren says. Online sales account for 1 to 4 percent of the $700 billion U.S. grocery market, but are growing at 22 percent per year, Neren says, "while in-store sales are relatively flat."
Groceries are more difficult to ship than books or clothes. But Neren ascribes part of the sluggish pace of innovation to store managers' reluctance to add the task of operating an online interface onto the incessant demands of managing a bricks-and-mortar store.
Another hurdle, Neren says, is the "outdated technology" used by many online groceries.
With his background in online sales, he says, "we know a lot that other technology providers do not, but we're not done improving. We want to make the next iteration even more straightforward and enjoyable."
"Getting into stores is a lot about building relationships. It takes a lot of face-to-face interaction. It's a long sales cycle."
Jeremy Neren
All technology development is performed in Israel. That arrangement dates to the Munchies days, when Daniel Glucksman responded to an ad for a technical co-founder. "I was raised Jewish," Neren says, "and I had been to Israel. He is from the U.S. — there was no major cultural gap." Glucksman now heads technical operations for GrocerKey.
Although GrocerKey is handling order picking and delivery at Woodman's, future stores will take care of those tasks, Neren says. "We will provide the back end and make sure the picking and delivery are efficient."
Willy Street Co-op in Madison will start using GrocerKey in January.
With the technology in place and one major store now online, "we want to roll out as fast as possible," Neren says. Although the company will attend the National Grocers Association trade show in Las Vegas in late February and early March, "groceries are a very old school industry," Neren says. "Getting into stores is a lot about building relationships. It takes a lot of face-to-face interaction. It's a long sales cycle."