UW-Madison chemist named 'Friend of Education'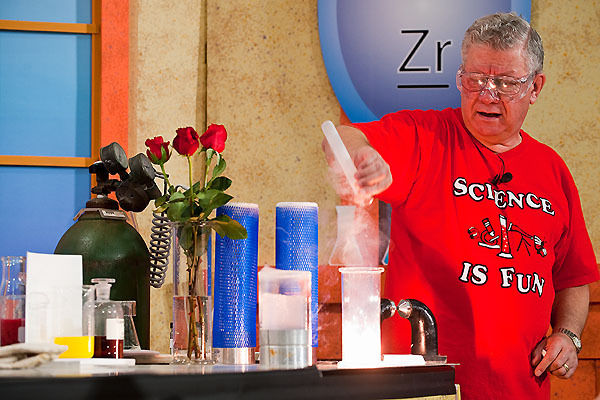 Bassam Shakhashiri performs before an audience filled with children and their parents during his annual "Once Upon a Christmas Cheery In the Lab of Shakhashiri" program.
Photo: Bryce Richter
Bassam Shakhashiri, known far and wide for his annual holiday season exhibitions of chemistry, has been named a "Friend of Education" by the Wisconsin Department of Public Instruction.
State Superintendent Tony Evers included Shakhashiri, a UW–Madison chemistry professor, among five 2013 Friends of Education award recipients Thursday in his State of Education address. The five awardees have made significant contributions to the education of students in their communities or across the state.
"When citizens commit their time and energy to improving public education, children and their communities benefit tremendously," Evers said. "Each day through their work and volunteer service, these individuals demonstrate what it means to be a Friend of Education."
Shakhashiri, past president of the American Chemical Society, holds the William T. Evjue Distinguished Chair for the Wisconsin Idea, is director of the Wisconsin Initiative for Science Literacy, and was founding director of the Institute for Chemical Education.
But he is best known to UW–Madison undergraduates as a popular instructor and for his annual televised and sold-out show, "Once Upon a Christmas Cheery, In the Lab of Shakhashiri."
"His science advocacy seeks to impart the joy of discovery, which he believes will lure future generations to careers as researchers, entrepreneurs, and teachers," according to the DPI's announcement.
The other Friends of Education are retired Schreiber Foods executive Nancy Armbrust, Centro Hispano Executive Director Tony Baez, Appleton school administrator Ron Dunlap, and radio station owner Ron Fruit.