Turnout for first-ever classified congressional election surpasses expectations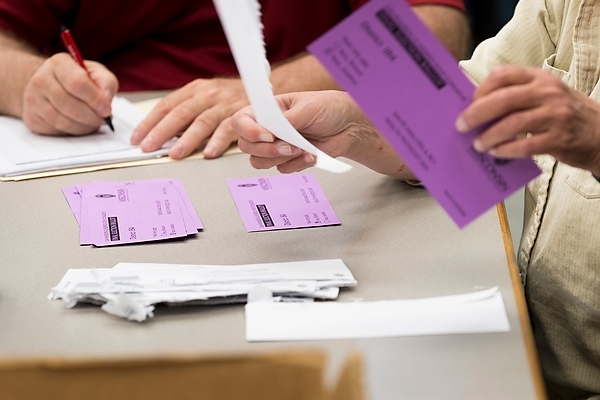 Ballots for the first-ever Classified Staff Congress are counted and tabulated July 30. The congress will consist of one elected representative and one alternate from each of 106 districts.
Photo: Jeff Miller
The results are in from the first-ever classified staff congressional election. Voting took place July 7 through July 21.
Twenty-four percent of classified staff members who were mailed ballots voted, showing that classified staff continues to demonstrate a high participation rate in shared governance elections.
"The turnout in this election exceeded our expectations and is well beyond what shared governance groups normally experience for participation," says Classified Staff Executive Committee Chair Russell Kutz. "With this election, classified staff is now being fully integrated into the shared governance process. We are looking forward to congressional representatives conducting district meetings to gain feedback from employees and to set priorities for the new congress."
Of the 106 open seats, 87 will be represented in the Classified Staff Congress. The remaining open seats will continue to be evaluated as the congress meets.
The congress consists of one elected representative and one alternate from each of 106 districts. Classified staff employees voted only for the candidates in their own district, with districts consisting of employees of similar job type.
The candidate who received the greatest number of votes in any particular district will be the congressional representative. The candidate who received the second highest number of votes will be the alternate. Contests in five districts have resulted in a tie vote. The office of the interim secretary will contact those candidates individually to discuss the process that will determine the outcome of those contests.
The Classified Staff Congress is yet another example of how shared governance opportunities continue to grow for the nearly 5,000 classified staff employees of UW–Madison. In November, nine people were elected to the first-ever Classified Staff Executive Committee (CSEC) to help represent them.
Members of the classified staff may participate in shared governance without loss of pay.
The congress orientation meeting for representatives and alternates will take place from 2:30 to 4 p.m. Aug. 18 in room 272 of Bascom Hall.
Full election results are available through the office of the Interim Secretary of the Classified Staff, located at 167A Bascom Hall or by email at jlease@vc.wisc.edu.