Target of animal rights protests kicks off animal research ethics forum
Any research that includes animals presents ethical questions, but they are questions Dario Ringach believes we rarely address together.
"There is a moral dilemma everyone has to recognize," says Ringach, a professor of neurobiology and psychology at the University of California, Los Angeles. "Rejecting that isn't responsible, and is not based on any sound ethical thinking. But once we recognize that, there is a very useful discussion to have."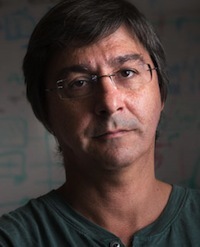 Dario Ringach
Ringach, the next speaker in UW–Madison's Forum on Animal Research Ethics (FARE) series, believes that nearly all conversation on the controversial topic is driven by the most extreme opinions on the issue.
He was invited to deliver a lecture — "The Ethical Dilemma of Animal Research," at 7 p.m., Oct. 24 in the Madison Public Library's Central Branch, 201 W. Mifflin St. — because he hopes to bring some informed discussion to the middle.
"Dario has been very interactive with the public on this issue," says Eric Sandgren, director of UW–Madison's Research Animal Resource Center and a FARE organizer. "He is one of the few people out there from the scientific community actually engaging people in conversation about the ethics of animal research no matter their background or stated feelings on the topic, and that is exactly the point of FARE."
The forum, which began in 2011 to provide a venue for discourse on the use of animals in science, is free and open to the public. Speakers — including researchers who conduct experiments that include animals, scientists advocating limited use, philosophers and animal rights leaders — have been chosen by a committee representing campus and the Madison community.
Ringach, who studies the way the brain represents images, knows the arguments of those who oppose animal research well.
He became a target of animal rights groups more than a decade ago while working with non-human primates in his UCLA lab, and his family endured some rough treatment.
"In my case, late at night, anywhere between 30 to 40 people wearing ski masks would surround my house, banging on windows, chanting that they are going to burn the house down," Ringach says.
"I felt an obligation to defend work that I think is producing the benefits that will improve the lives of my children and the children of others. There are lives at stake here."
Dario Ringach
A colleague was singled out by activists who left an unlit Molotov cocktail on her doorstep as a message — though they got the address wrong, and delivered it to the scientist's neighbor.
"When this happens, you are forced to ask yourself what kind of beliefs drive these people to act this way," Ringach says. "That's how I got interested in the moral philosophy behind this movement."
That philosophy is not always articulated by the critics of animal research in a way that acknowledges the true moral dilemma, according to Allyson Bennett, a UW–Madison psychology professor who blogs with Ringach on animal research at speakingofresearch.com.
"The speakers on the animal rights side often do not articulate their position — as in, are there any instances in which your ethics would allow animal research?" Bennett says. "And they will almost never acknowledge that there is any benefit from animal research. You can't have a genuine discussion about the ethics without that."
Ringach's run-in with protestors was well known, but it did not keep him from writing and speaking about the issue.
"What happened to Dario was a wake-up call to the scientific community," Bennett says, and one example of intimidation she worries will keep grad students from entering academic research, and chase the work into parts of the world that have not established the sort of structure and oversight established in the United States.
While it was terrifying for Ringach and his family, the experience did not keep him from conducting research with animal models. These days his lab includes mice in its work. And it only served to focus his thinking on the animal research issue.
"I felt an obligation to defend work that I think is producing the benefits that will improve the lives of my children and the children of others. There are lives at stake here," says Ringach, who plans to leave plenty of time for discussion with the audience after his FARE presentation. "And I believe scientists have the obligation to talk to people about their work, but you should not be obligated to talk to someone who says it is justifiable to kill you."