Science in the Northwoods: Trout Lake Station open house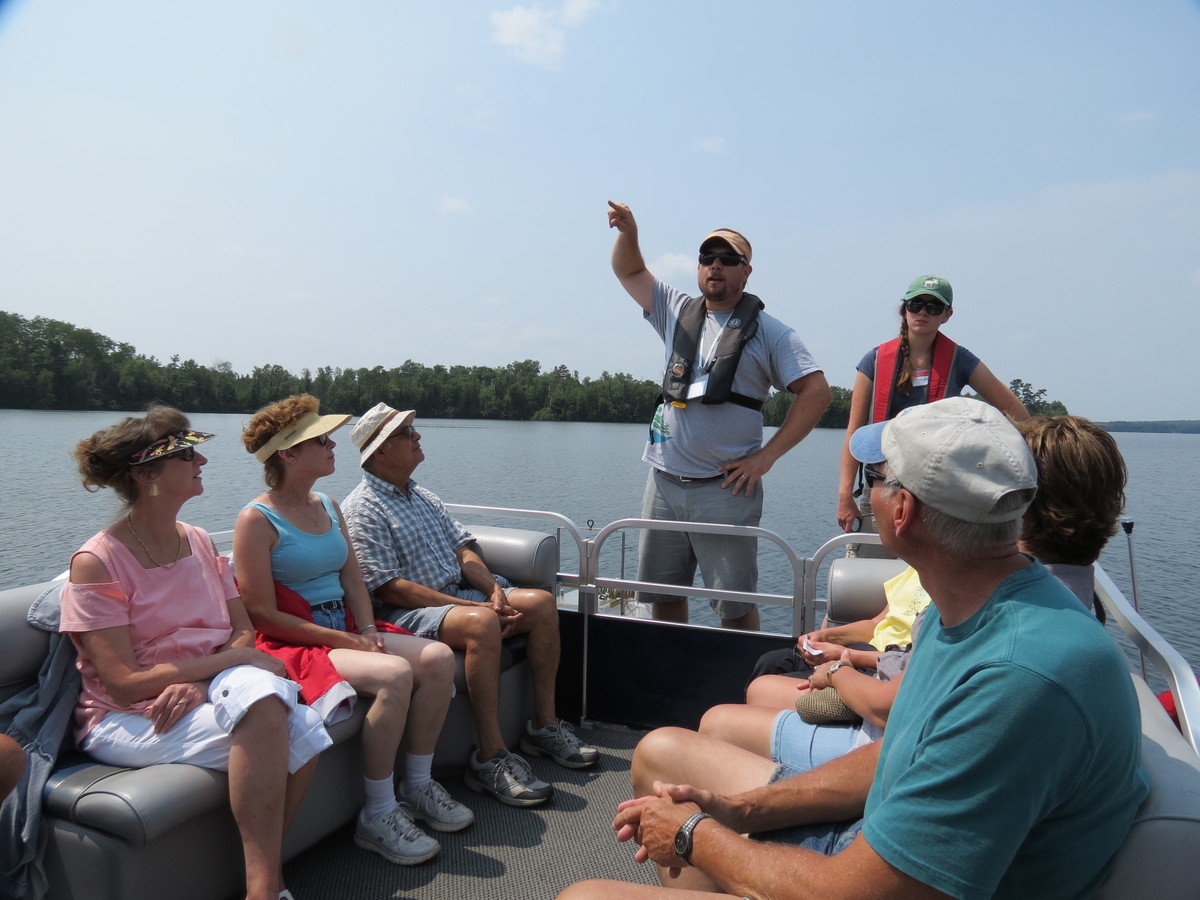 Trout Lake Station scientists led visitors on a boat tour to highlight the impact of invasive species in the region's lakes. The station's open house drew more than 300 visitors, including both neighbors and vacationers.
Photos: Kelly April Tyrrell
BOULDER JUNCTION, Wis. — The first of August was a gorgeous day in northern Wisconsin: temperatures were in the mid-70s, the waters of Trout Lake were remarkably calm and clear, and the mosquitoes, for the first time this summer, were nowhere to be found.
It was the perfect day for Trout Lake Station's 4th annual open house. The Northwoods outpost of the University of Wisconsin–Madison Center for Limnology (CFL) welcomed its neighbors for a day dedicated to learning more about its research. During the afternoon, more than 300 visitors stopped by for boat rides, hands-on science, lake-themed crafts and, all the way from the Madison campus dairy plant, free Babcock ice cream.
"The main goal of the open house is to invite the community in and discuss what we're doing," says UW Trout Lake Station Director Tim Kratz. "By opening our doors to our neighbors, we're able to both interact with a large number of community members and also provide our students with the opportunity to share their research with the public in a way they would never experience in the classroom."
Adrienne Gemberling (second from left) points out specimens of the invasive species she is studying: rusty crayfish, Eurasian watermilfoil and banded mystery snail.
Founded in 1924 to serve as CFL's field station, Trout Lake Station is home to a year-round staff of about a dozen, but that number grows to more than 40 in the summer. For nearly 100 years, faculty, students and visiting scientists have conducted fieldwork in and on the waters of northern Wisconsin. They have focused on a variety of topics, like long-term changes in lake levels, sport fish population dynamics, acid rain and invasive species. Research from the station has helped inform the management and conservation of Wisconsin's rivers, lakes, wetlands and streams.
At the open house, both students and full-time researchers discussed the latest wave of research at a dozen interactive stations.
Adrienne Gemberling, a graduate student from Missouri State University who has spent summers at Trout Lake studying the invasive rusty crayfish, staffed one of those stations.
"I think it's important to let people know what types of invasive species are present up here and how they're impacting their lakes," she says. "There were a lot of people that came along that have found these invasive species in their lakes but they don't know what the environmental impacts are. It's good to get that knowledge out there."
"It's always reassuring to know that the stuff we're doing is important to someone other than us."
Sammie Buechner
Along with the science, attendees also got to visit with and view the paintings of Madison-based artist Helen Klebesadel, who spent 10 days this summer as Trout Lake Station's second artist-in-residence.
Visitors included families vacationing at nearby campsites, shoreline homeowners on Vilas County lakes, local media and even legislative representatives.
"It was great to see Rep. Rob Swearingen stop by to see that the university has a large presence in our district, and to see that the community is interested in the research we're doing," says Kratz.
Undergraduate students also got a chance to share the findings from independent projects they've conducted at the station this summer. Sammie Buechner, an undergraduate from UW–Madison, shared her experiences studying bird and lake interactions and also lent a hand scooping ice cream for visitors.
"I really liked seeing how interested the public was in what we're doing here," she said. "It's always reassuring to know that the stuff we're doing is important to someone other than us."
—Meredith Smalley and Adam Hinterthuer