Perfect pitch: Law students learn to be entrepreneurs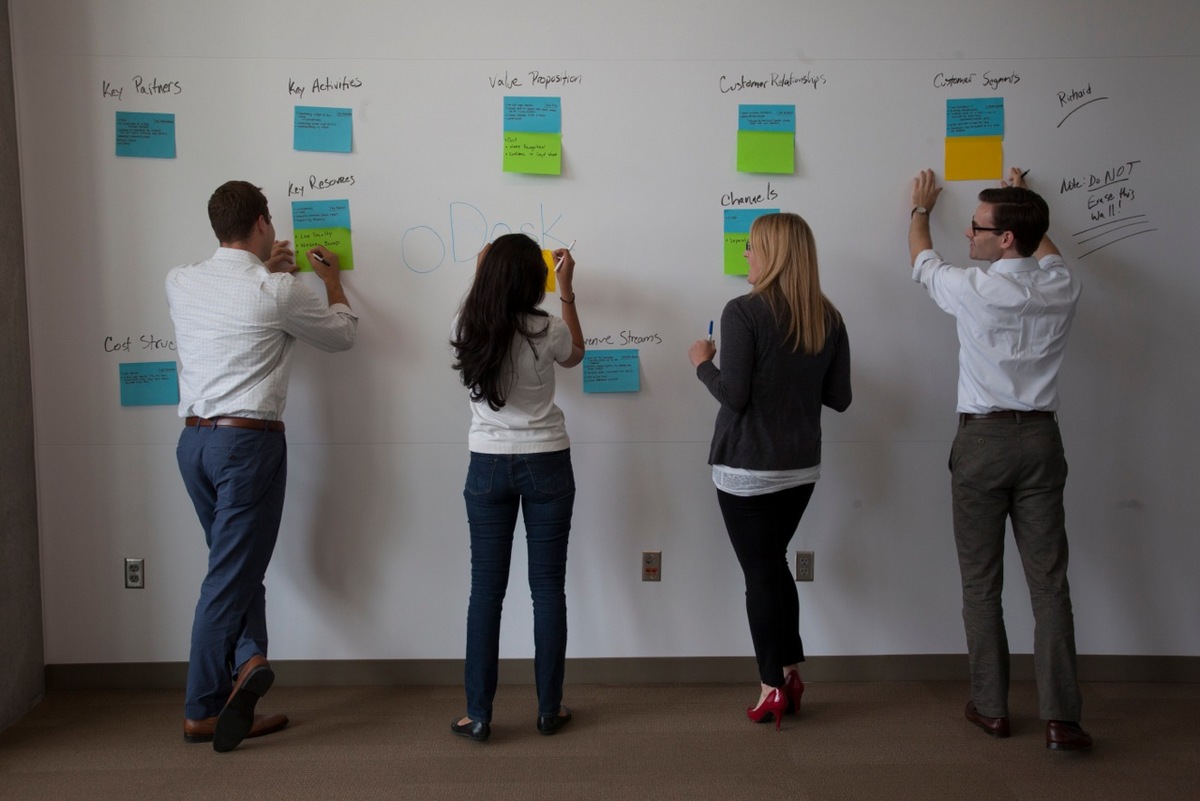 Members of the oDesk team plot out their pitch. (Photo by Nick Wilkes.)
Most days, students in UW Law School's Law and Entrepreneurship Clinic work with supervising attorneys to provide free legal guidance to Wisconsin business owners and entrepreneurs.
But for last week's Pitch Day, instructors turned the tables on 18 L&E students by challenging them to create business models for their own start-ups.
In the spirit of the popular reality competition series "Shark Tank," three teams of L&E students pitched their ideas to a panel of peers, supervisors and outside experts. Teams were scored on the effectiveness of their presentation, the diligence of their market research, and the quality of their product scope — and of the three, one team emerged victorious.
MadClass, the winning team, proposes a Web portal where Wisconsin entrepreneurs can find legal documents and services geared toward their business needs. Team captain Joseph Calavenna, a second-year law student, says MadClass resembles the website LegalZoom, with the added feature of video tutorials and instructional materials for businesspeople just getting started.
"It was a great experience because we learned firsthand about the challenges our clients face, like figuring out how an idea fits into the existing marketplace and how to effectively pitch and present a product," says Calavenna.
With its win on Pitch Day, Team MadClass earned the opportunity to move its concept forward, meaning that in the fall, all L&E students will help fine-tune the MadClass business plan.
Students will work together to clearly define the products and services MadClass might offer, according to Lindsey Thompson, a supervising attorney at the L&E Clinic. After developing a list of criteria necessary to a MadClass launch, action teams will develop plans for addressing the criteria.
Whether or not the clinic moves beyond the planning stages toward an actual launch of MadClass is yet to be decided, says Thompson, but instructors already feel the process has helped students learn first-hand how to think like an entrepreneur.
"L&E Clinic clients are often early-stage business owners going through this very same process," Thompson says. "We hope that by experiencing the same business planning and launch process, our students are more able to understand their clients' business and legal needs."
The finalists:
MadClass is an online legal services provider designed to meet the needs of Wisconsin entrepreneurs and small business owners. The MadClass website would provide legal documents for all stages of business development, along with video tutorials and educational memos to educate beginners along the way. Think LegalZoom meets Bucky Badger.
Mad Match brings legal referral services into the digital age. Consumers complete an online questionnaire — based on an algorithm developed by L&E Clinic students — that screens and matches them with a lawyer qualified to handle their project.
oDesk is an established online platform that pairs freelancers and clients—in this case, students and their supervising attorneys with business owners willing to pay for clinic services. Students would monitor oDesk for postings, bid on jobs and, when hired, provide remote services to clients. oDesk pockets a percentage of the fee.
–Tammy Kempfert