Patent office director offers views on intellectual property, diversity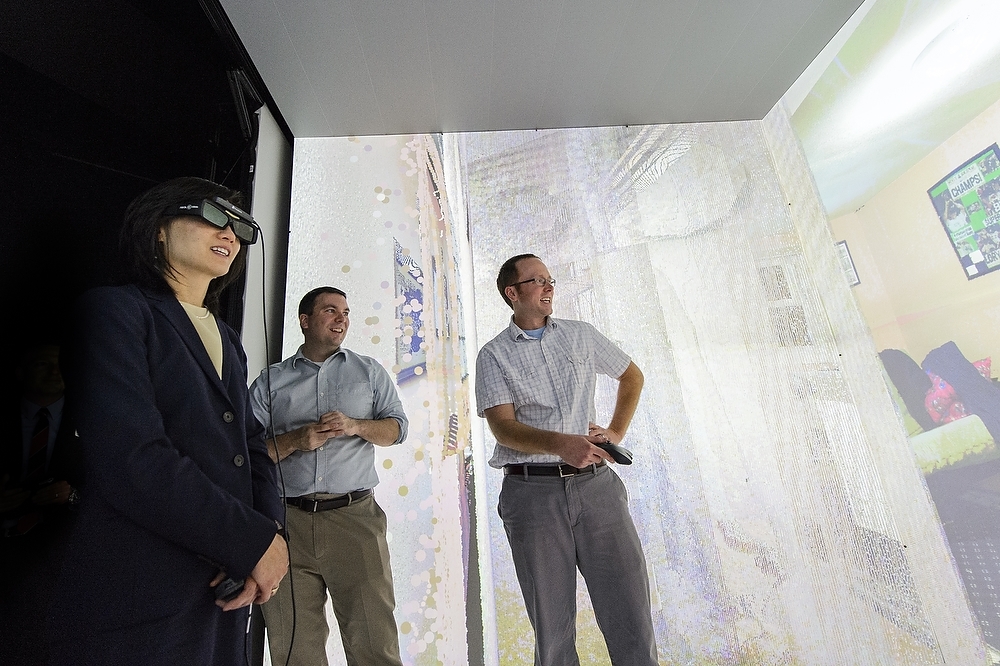 Kevin Ponto (center), assistant professor of design studies and faculty in the Living Environments Lab, and Ross Tredinnick (right), systems programmer, demonstrate the six-sided virtual reality CAVE space to Michelle K. Lee as she tours the Wisconsin Institute for Discovery.
Photo: Bryce Richter
The director of the U.S. Patent and Trademark Office spent Wednesday conversing with the UW–Madison community about the opportunities and challenges of intellectual property protection.
Michelle Lee met with Chancellor Rebecca Blank, staff at the Wisconsin Alumni Research Foundation, and patent lawyers, entrepreneurs, students, faculty and staff at the Wisconsin Institutes for Discovery. The discussions focused on the values, challenges and potential of intellectual property.
"As we look to our country's future," Lee said in an interview, "the intangible property rights associated with an idea are of increasingly greater value, so it's vital to think about patents and copyright and trademark protection" early in the innovation process.
Born and raised in Silicon Valley, Lee headed Google's patent office for eight years. During that time, the company's patent portfolio grew from a few dozen to about 10,500, she said. "My background as an engineer, computer programmer, and in the business world informs my work every day," said Lee, the first woman to head the patent office in its 225-year history.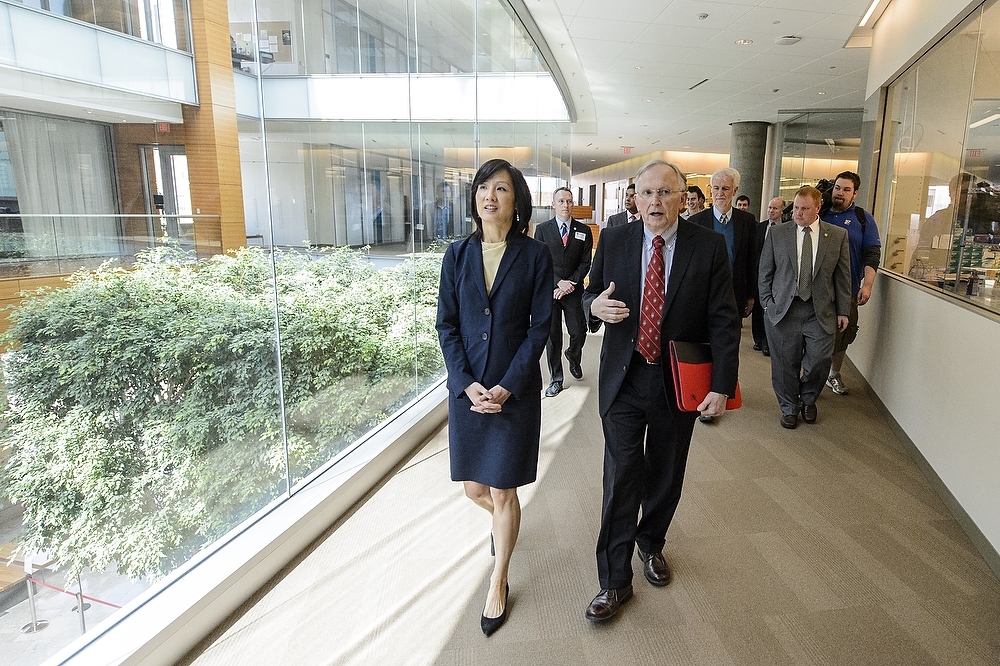 Carl Gulbrandsen (right), managing director of the Wisconsin Alumni Research Foundation, talks with Lee as she tours the Discovery Building.
Photo: Bryce Richter
"Based on our observations and conversations today, this is probably one of the more sophisticated universities in terms of recognizing the value of IP (intellectual property) and giving faculty, students and research staff opportunities to protect their inventions," Lee said.
"We were happy to have the opportunity to meet face to face with director Michelle Lee and her staff," said Vice Chancellor for Research and Graduate Education Marsha Mailick. The parties discussed opportunities for additional dialogue between UW–Madison and the PTO's Detroit satellite office and its Washington, D.C. office. "We see a chance for faculty to provide expertise in the various areas that the patent office has responsibility for," said Mailick, "and they offered to share their expertise with us. An obvious next step will be to take advantage of that opportunity."
"The country cannot afford to overlook any inventor, any entrepreneur," Lee said. "If we are not tapping all the resources of our society, then we will be worse off in a globally competitive market. And so we need to encourage invention, innovation, and a passion for STEM (science, technology, engineering and mathematics) among girls. Fifteen years into the 21st century, I think we can do better. I ask all in the audience who hire, teach or make promotion decisions to expand the opportunities for girls and women to enter and stay in STEM. It's a matter of economic competition, and it's also the right thing to do."
The event was co-sponsored by WARF and UW–Madison and co-hosted by the Wisconsin Intellectual Property Law Association, the Intellectual Property & Technology Section of the State Bar of Wisconsin and the Wisconsin Chapter of the Licensing Executives Society.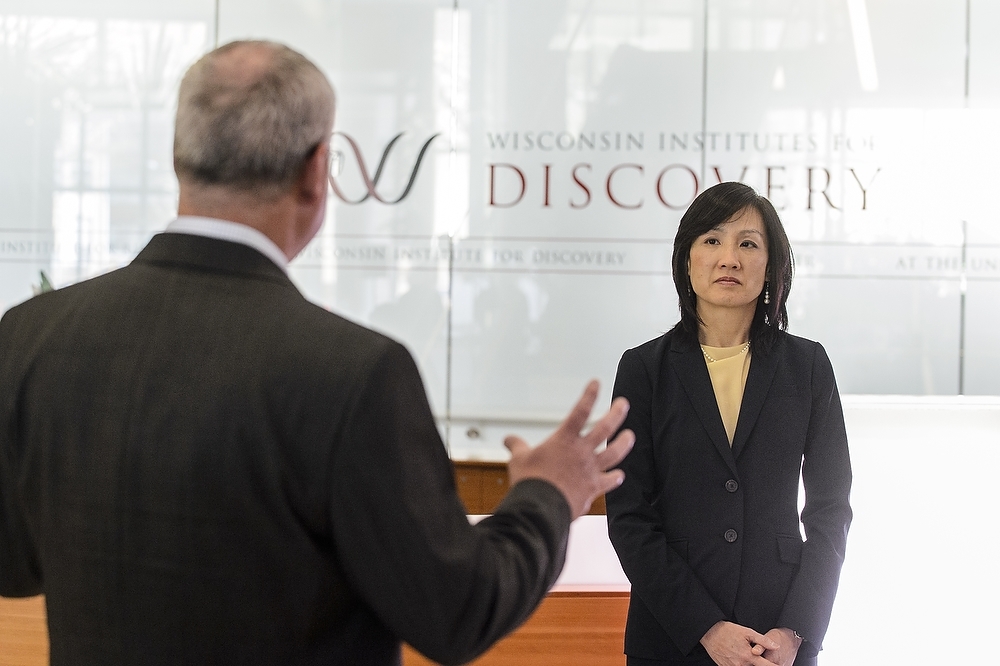 Lee talks with Brian Mattmiller, director of communications at the Morgridge Institute for Research.
Photo: Bryce Richter