Major bioenergy initiative takes flight in Midwest
A consortium of universities, U.S. Department of Energy (DOE) national laboratories and businesses led by the University of Wisconsin–Madison to explore the vast potential of bioenergy was awarded one of three major new DOE bioenergy research centers, it was announced today (June 26).
The award, in the neighborhood of $125 million during five years, establishes the DOE Great Lakes Bioenergy Research Center (GLBRC), where scientists and engineers will conduct basic research toward a suite of new technologies to help convert cellulosic plant biomass — cornstalks, wood chips and perennial native grasses — to sources of energy for everything from cars to electrical power plants.
The other two DOE Bioenergy Research Centers are the DOE BioEnergy Research Center, led by the Oak Ridge National Laboratory in Oak Ridge, Tenn., and the DOE Joint BioEnergy Institute, led by the Lawrence Berkeley National Laboratory in Berkeley, Calif.
"These centers will provide the transformational science needed for bioenergy breakthroughs to advance President Bush's goal of making cellulosic ethanol cost-competitive with gasoline by 2012 and assist in reducing America's gasoline consumption by 20 percent in 10 years," Secretary of Energy Samuel W. Bodman says. "The collaborations of academic, corporate and national laboratory researchers represented by these centers are truly impressive, and I am very encouraged by the potential they hold for advancing America's energy security."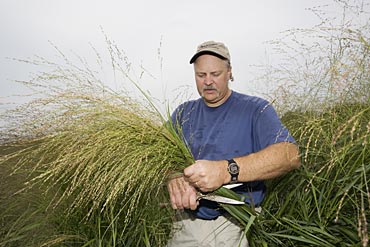 Switchgrass, a native North American prairie plant, is pest-resistant and adaptable, holds soil well and produces high yields with little applied fertilizer. For these reasons, it has become a focal point for bioenergy research. Michael Casler, plant geneticist at the University of Wisconsin–Madison, is working to improve the economics of biofuel production by developing switchgrass varieties with higher yield and energy content.
Photo: B. Wolfgang Hoffmann
"The funding of this center provides a unique opportunity for Wisconsin and the Midwest to be leaders in the process that transforms the way we produce and use energy," says Tim Donohue, the UW–Madison professor of bacteriology who, with Michigan State University (MSU) professor Ken Keegstra, helped orchestrate the initiative to secure the new award.
The new grant, the largest formal grant in the university's history, is part of a larger Wisconsin Bioenergy Initiative, a statewide effort focused on the development of fuel and energy resources from non-food sources in ways that promote regional economic growth in the context of good environmental stewardship.
"We need to develop an energy future that's good for our environment and good for our agriculture and forestry-based economies in both the short and long run," says Molly Jahn, dean of UW–Madison's College of Agricultural and Life Sciences. "This award from the Department of Energy will advance our ability to contribute to our energy supply in new and very exciting ways that could be fundamental for our future."
The new DOE center, which will be based in Madison, will bring together scientists from Wisconsin; MSU; Lucigen, a Madison-area biotechnology company; the Pacific Northwest and Oak Ridge National Laboratories; and the University of Florida, among others.
"If we are going to start using plants in significant ways beyond food, there are a lot of issues that come into play that we need to figure out," says Keegstra, who is an MSU distinguished professor of plant biology and biochemistry and molecular biology. "Sustainability, competition for food, environmental issues — our universities already have a head start in studying these from many angles. There is a tremendous compatibility between UW–Madison and MSU, and we have assembled with others a strong and exciting partnership."
Wisconsin and the Great Lakes region will be "ground zero" for research efforts aimed at clearing the technological bottlenecks that prevent plant biomass from being used efficiently as a source of energy, Donohue explains.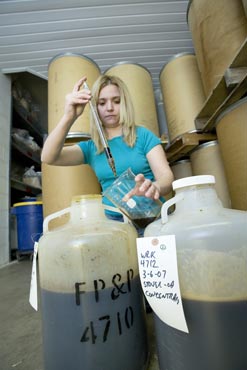 Rita Rodrigues, a visiting scientist from Brazil, is part of a University of Wisconsin–Madison and U.S. Department of Agriculture team that has sequenced the genome of Pichia stipitis, a yeast that can efficiently ferment xylose. Xylose is a main component of cellulose. Difficulty fermenting it has been an obstacle to economically converting wood products and agricultural residues to biofuel. Mapping its genome is a step toward solving this problem.
Photo: B. Wolfgang Hoffmann
"In the last 100 years, we've gone through a significant fraction of the oil it took hundreds of millions of years to create," says Donohue, "so we have to come up with some new strategies."
The Great Lakes region and the American Midwest, Donohue notes, represent the third-largest economy in the world (after the U.S. as a whole and Japan), have a rich scientific and technological legacy, have ample corporate muscle and harbor one of the world's great concentrations of biomass in its agricultural and northern forest landscapes.
"We have that biomass on the land in the form of cellulose already," says Donohue. "We don't have the ability to process it for energy now. Cellulose is a part of the plant we can't get to."
Cellulose makes up the walls of plant cells and is the main constituent of plant tissues and fibers. It is used to make paper and textiles, but vast quantities of material containing now unusable cellulose — ranging from cornfield stubble to paper pulp waste — are readily at hand. What's more, the new center will enable research into the use of switchgrass, a native perennial that some view as an important and environmentally friendly source of cellulose for energy.
The research portfolio of the DOE GLBRC will focus on breeding new varieties of biomass plants, developing new processing techniques and agents from microbes for breaking down cellulose, improving the microbial and chemical processes that convert biomass to energy products, providing an environmental and economic framework for sustaining the biomass-to-fuel pipeline, and integrating new technologies — including genomics and new computational methods — into bioenergy research.
At least 12 new faculty will be hired in the area of bioenergy at UW–Madison and MSU. The proposal for the new center, according to Jahn, drew strong support from Wisconsin Gov. Jim Doyle, Michigan Gov. Jennifer M. Granholm, various state agencies, Congressional delegations from Wisconsin and Michigan, and Midwest businesses and utilities.
UW System campuses and Wisconsin companies, Jahn notes, also stand to gain from this award, both directly and through state support for Wisconsin's energy future.
"Our proposal has been brought forward by world-class scientists, and our concept for this center was judged innovative and far-reaching," says Jahn. "But we know that the support from Gov. Doyle, who is providing key leadership in the state and regionally, and state agencies including the Department of Agriculture, Trade and Consumer Protection, the Public Service Commission and the Office of Energy Independence were also critical for our success. This kind of big science is a team sport, and we have a great team based in a state poised to be a leader in innovative and sustainable renewable energy technologies."
Both the new center and the larger Wisconsin Bioenergy Initiative, Jahn notes, will put Wisconsin and its partners in the vanguard of bioenergy research nationally and internationally.
"This is very exciting news for all of us," says Jahn. "We now have the means to provide key leadership as we shape the energy future of our country, make our economy and communities stronger, and forge new knowledge. We can't wait to get started."