Llama fur and entrepreneurship build a business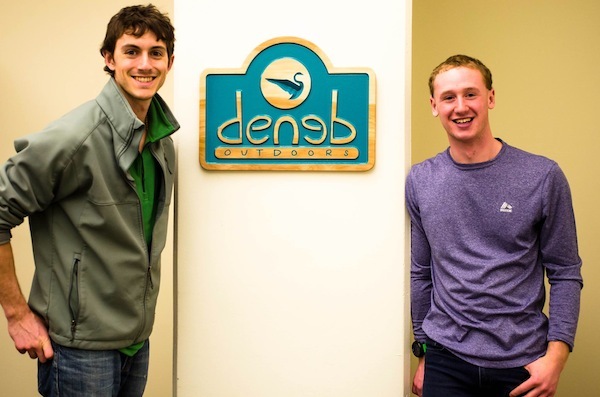 Jared Sandlin, left, and Jared Burris are the driving forces behind Deneb Outdoors. They are working to build a better, more sustainable sleeping bag.
Two University of Wisconsin–Madison students are bringing together collaborators on three continents to pursue their dream of building a sustainable sleeping bag.
Jared Sandlin and Jared Burris, who have worked with the Law and Entrepreneurship Clinic at the UW Law School and the Associated Students of Madison-funded Student Business Incubator, are on the verge of launching their first product: a sleeping bag insulated with llama fur.
"It was really scary to start out and then we quickly realized that there are so many people out there for you and that people want this to succeed," says Burris, a junior studying zoology and environmental studies. "You're not the only ones and you're not doing it alone. It's a huge collaboration."
The Rama Llama and bags of filling.
The collaboration between Burris and Sandlin and the story of their friendship and company, Deneb Outdoors, began in fifth grade, when the two met in their hometown of Port Washington, Wis.
They began working together in middle school, first at a nature preserve and later as camp counselors and guides at Camp Manito-Wish YMCA in Boulder Junction, Wis.
The idea for the Rama Llama and Deneb Outdoors began more than a year ago when both Sandlin and Burris were sophomores living in Tripp Hall. Late one night, the roommates were talking about the failure of outdoor companies to make eco-friendly gear.
"Outdoors enthusiasts are some of the most eco-friendly people in the world, but none of their gear is sustainable," says Sandlin, a third-year student studying political science and environmental. "We really wanted to bring sustainability to sustainable people."
Sandlin jokingly suggested that they create a sleeping bag using polar bear fur since it has a hollow construction to its fibers that are perfect for retaining heat. Burris followed up with the idea and discovered that llamas have the same type of fur.
To experiment, the two bought a sleeping bag and replaced its insulation with llama fur. After testing it in 19-degree weather, the two knew they had a new and innovative product – the Rama Llama.
"Outdoors enthusiasts are some of the most eco-friendly people in the world, but none of their gear is sustainable. We really wanted to bring sustainability to sustainable people."
Jared Sandlin
At first they attempted to sew their own bags, but after trying to learn to sew and producing a "lopsided mess" as Burris described it, they turned to manufacturers. Many either admitted to not knowing how to make a sleeping bag or started and had to send the materials back after they realized they couldn't build one.
Eventually, the two contacted their manufacturer located in China. They also have llama hair suppliers in Bolivia and Chile that work with indigenous llama ranchers.
During the development of Deneb Outdoors, Sandlin and Burris worked with the Law and Entrepreneurship Clinic in the UW Law School, which provides free legal services to small business owners.
Last December, they received office space from the Student Business Incubator, which also offers legal advice, in the Student Activity Center to help them build their business and future plans.
"This wouldn't have happened without Jared and I being at UW," Burris says. "Whether it's the courses, sitting around our dorm or the friends and connections we have made, none of this would've been possible."
Burris and Sandlin plan to make Deneb Outdoors, which is named for one of the brightest stars in the sky that is often used for orienteering, into a community-centered organization, offering a line of sustainable products as well as tour guides to like-minded wilderness adventurers.
For now though, Burris and Sandlin are aiming to launch the Rama Llama before they attempt to manufacture any more products.
"That's the dream," Sandlin says, adding that have also been in talks with other companies and have a list of more than 30 ideas and products they're interested in pursuing.
"We're always brainstorming," he added "We're roommates, so we can talk until the wee hours of the morning."
Learn more about Burris, Sandlin and the Rama Llama and their Kickstarter campaign here.