Learning lessons by following Madison's foxes and coyotes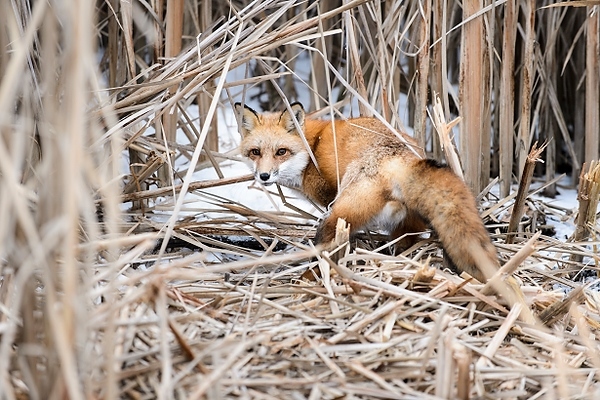 A young adult fox is pictured before being released from a cable restraint on campus near the Lakeshore Nature Preserve as part of a research effort to study the behavior of growing fox and coyote populations in Madison. 
Photos: Jeff Miller
See accompanying slideshow by Jeff Miller
Last year, a family of foxes — complete with roly-poly kits — took up residence on the University of Wisconsin–Madison campus and made the city its playground.
With winter in full swing, the foxes and their larger dog-like counterparts, coyotes, are out there again, roaming the wilder (and often not so wild) parts of the city and campus. This year, David Drake, a UW–Madison associate professor of forest and wildlife ecology, is welcoming the public to join him and his research team as they go out and radio collar the animals in an effort to track and better understand these urban canids.
"There's so much interest in these animals in Madison, I think this is a great outreach opportunity to talk to people about why these animals are moving into the city," says Drake, also a UW-Extension wildlife specialist.
For the next several weeks, Drake, graduate student Marcus Mueller and undergraduates like wildlife ecology junior Cody Lane will be on campus and off, humanely trapping foxes and coyotes and fitting them with small radio collars so their whereabouts may be tracked. The public and campus community can arrange a time to join them by emailing uwurbancanidproject@gmail.com or finding them on Facebook. Though as with all things wild, there is no guarantee the team will catch an animal on any given day.
David Drake
"We want to tell people about their behavior, what to do if you see one in your neighborhood, what not to do, and also talk to them about best management practices, as well," says Drake.
Amid the hustle and bustle of daily life, the urban foxes and coyotes serve as a powerful reminder that nature is yet all around us. Even as cars and buses and bikes zoom past, as we duck our heads against blustering winds or find distraction in the digital glow of smartphone screens, these relatives of man's best friend are also there among us.
It was an unusually warm January morning when Drake and Mueller met up for the graduate student's first hand at trapping the fox and coyote. Mueller, a 2012 UW-Steven's Point graduate in wildlife ecology, has spent the last couple of years working for the Wisconsin Department of Natural Resources Deer Project, and also has experience working in wildlife rehabilitation in Milwaukee. Despite this, on this morning, he was quiet, contemplative, readying himself for the work ahead.
In all, there were 20 traps to be checked, six set for fox and 14 for coyote (Drake pronounces the word kai-yote, a variation on another common pronunciation, kai-yo-tee). Today would prove to be a fruitless one. No fox, no coyote.
The traps themselves are unremarkable. They were made for Drake and his team by expert Wisconsin trapper Mike Schmelling — who by Drake's account has helped make the state a national leader in best management trapping practices — and Schmelling helped the team place the cable restraints in discrete, mostly sheltered locations around campus, where these animals are likely to be found.
Made according to regulation, the restraints are similar to a small, thin choke collar many people use for their dogs. The cable is looped on a swivel and anchored into the frozen ground. The loop is set according to the specifications for each animal and as a fox or coyote passes through it — usually in search of food or along a travel corridor — the loop hits its shoulders and impedes its progress. As the animal tries to back out, the loop tightens until it hits the animal's fur, or until it hits the stopper that prevents choking.
There, the animal waits, for no more than 12 hours by Drake's research protocol (and generally far less), before the scientists remove them from the restraints and set about their work. Legally, traps must be checked at least once every 24 hours.
Marcus Mueller and Cody Lane
The next morning — a frigid, windy one — crows murmured overhead and a bright, young red fox sat among a thicket of reeds, caught up in his hunt for a snack. The day before, a bald eagle had visited, keeping watch on this area of prime real estate. Tracks in the snow gave away the presence of canids, as did a small pile of scat nearby.
Drake and Mueller called Mike Maroney, senior program veterinarian for the UW–Madison Research Animal Resources Center, for his assistance in handling and caring for the animal, who was soon to be sedated using a common veterinary anesthetic.
Working swiftly with confident yet gentle hands, Mueller laid the still animal on a tarp and towel to keep him warm while the researchers monitored and recorded his temperature, breath and heart rate. Maroney and Mueller collected a blood sample from the young male and used cotton rods to swab his nose and rectal area.
From a large orange bucket of supplies, fit with organizing pockets, Mueller drew out a brown collar and a mouse-brown sack containing a blue box with digital screen. Keeping a space of two fingers between the fox's neck and the collar, Mueller bolted it closed. He and Lane tested the collar to make sure it registered on the blipping blue box. Collar number 11463.
The team wants to learn where Madison's foxes and coyotes are traveling. From data collected last year, Drake knows the coyotes are roaming from Madison to Middleton to Maple Bluff and everywhere in between. Are the animals visiting the city's ample backyard chicken coops and gardens, complete with berries and small mammals? How close do they get to people, and how do they and the humans respond? How are the coyotes and foxes — a predator and its prey — interacting with one another, and are the animals picking up diseases like parvovirus and canine distemper from people's unvaccinated pet dogs, or vice versa?
That the study involves trapping is an element Drake would like the public to see, because people often get the wrong idea. His team has done all it can to ensure its actions are humane and safe, not just for the foxes and coyotes, but for dogs and other animals, too. The restraints are out of the way, yet easy to release. Still, he urges people to keep their dogs on leash in areas where signs announce the presence of traps, such as near the Lakeshore Preserve on campus.
"We're trying to understand these foxes and coyotes a little more so we can make sure we're managing for these animals in this urban environment … "
David Drake
It's also against the law to tamper with legally set traps and anyone caught doing so is subject to fines and even imprisonment.
"We just aren't a society that's outdoors and enjoying wildlife as much as we used to — whether its hunting or photographing or watching them — so there is that disconnect between nature and humans, and I don't think people quite understand what this is all about," Drake says. "We're trying to understand these foxes and coyotes a little more so we can make sure we're managing for these animals in this urban environment as much as we can, and also trying to tell people: 'Here's what these animals are doing,' so we can be proactive and try head off any conflicts that might occur."
As the team wrapped up its work, the fox was weighed — a large, healthy 13.5 pounds — and his brilliant, sharp white teeth and pink gums were examined as a measure of his health. He was given a reversal drug to help arouse him from his twilight, and the researchers moved him to a safe area, out of the wind. They waited and watched to ensure he didn't put himself in harm's way upon waking.
With a start, the nimble creature bolted up, dashing back into the reeds. The biologists waited several minutes until he was out of sight before heading back to the truck.
What's left now is to keep tabs on this animal — a team of five or six students will check in every so often on him and the others yet to be found, venturing out into the urban wild, matching the blips on the blue box to their collars, registering their movements and keeping track of their overall well-being.
Now that this task was over, working on his very first fox, the quiet and reserved Mueller seemed to spring to life, almost drunken with elation over the morning's seamless — even breathtaking — events.
"Nothing could be better than that," he said. "That was perfect."