Hip-Hop in the Heartland institute provides teaching engagement tools
The 8th Annual Hip-Hop in the Heartland Educator and Community Leader Training Institute, July 22-26 at Union South, will immerse participants in dynamic best practices and multi-disciplinary tools to engage students in history, language, political science and other topics along with instruction on building or enhancing curriculum through performance art.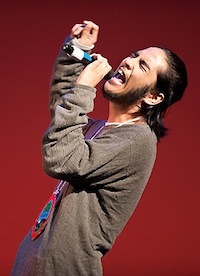 Dakota Alcantra-Camancho, an undergraduate in the First Wave Spoken Word and Hip-Hop Arts Learning Community, performs at the Wisconsin Union Theater in 2010.
Photo: Jeff Miller
Hosted by the UW–Madison Office of Multicultural Arts Initiatives (OMAI) in partnership with Urban Word NYC, the daytime workshops will be supplemented with evening performances and lectures, which are open to the public. Early registration is recommended since program slots are expected to fill in advance.
The training workshops are designed to give teachers, administrators, guidance counselors, school personnel and community youth leaders as well as social justice and urban education practitioners a better understanding of how to apply the learning principles behind traditional spoken word and hip-hop.
"The level of interest in the institute grows tremendously from one year to the next and we expect the highest turnout ever this summer, with educators joining us from across the Midwest, the United States and the world," says OMAI Executive Director Willie Ney. "Hip-hip pedagogy is revolutionizing the field of education in exciting and unexpected ways and is quickly demonstrating that it is one of the most effective channels by which to provide practical tools and approaches to educators to address the needs and challenges of youth of the 21st century."
In addition to the opportunity to meet like-minded education colleagues and share approaches to better reach, mentor and improve student behavior and achievement, participants will take part in hands-on workshops and curriculum-building lessons throughout the week led by:
Michael Cirelli, Hip-Hop in the Heartland Institute director and executive director of Urban Word NYC;
Christopher Edmin, a faculty member in the Department of Mathematics, Science and Technology at Teachers College, Columbia University and director of secondary school initiatives at the Urban Science Education Center;
Mark Gonzales, an international thought leader in using storytelling as a global health strategy;
Baba Israel, an artist, educator, emcee, beat-boxer, and theatre artist who has worked internationally developing youth-centered projects;
David E. Kirkland, an associate professor of writing, rhetoric and American cultures, English, and African and African-American Studies at Michigan State University and New York University;
Gloria Ladson-Billings, a UW–Madison professor of urban education, curriculum and instruction and Hip Hop in the Heartland faculty of record;
Accomplished hip-hop artist Kiriakos "YAKO 440" Prodis, a musician, producer, graffiti writer and designer;
Sue Weinstein, an associate professor of English at Louisiana State University;
Anna West, a 15-year veteran spoken-word youth program organizer and educator; and
Maisha T. Winn, UW–Madison professor of English Education and Hip Hop in the Heartland faculty of record.
Featured instructors and performers will draw on educational theories such as socio-cultural theory, culturally-relevant pedagogy, critical race theory, and social justice practices that will help educators connect hip-hop as both an art form and an instructional tool to improve the academic success of students.
Registration is $200 for the week (additional fees apply for university credit). There is a limit of 100 participants, but space is still available. A limited number of partial scholarships are being offered. Contact Sofia Snow at 608-890-1006, sofia.asnow@gmail.com, or Janis Story-deBoer, 608-890-4382, jestory@wisc.edu, for more information.
The seminar can be taken for professional development for 1-3 university credits for $150 per credit. The seminar also can be taken for continuing education credits and fulfills Wisconsin Professional Development Plan requirements.
Go to the OMAI website to register and for more information.
This year's institute is offered by Urban Word, NYC, the Office of the Vice Provost for Diversity, Equity and Educational Achievement, and the Office of Multicultural Arts Initiatives with support from the UW–Madison Division of Continuing Studies.