World premiere expresses UW-Madison professor's feelings about species extinction
In 2012, when UW–Madison music Professor Laura Schwendinger started working on her second string quartet — one that is her response to species extinctions — the Javan Rhino was considered endangered. Now it is the most threatened of the five rhino species, with just 35 remaining in Java, Indonesia. That, says Schwendinger, highlights "just how pressing the issues I wish to present with my quartet are."
In 2012, Schwendinger and the members of JACK Quartet, a string quartet known for its "explosive virtuosity," served as faculty at the New Music on the Point program for young musicians in Vermont. During their tenure there, Schwendinger started working on the composition about endangered, extinct or mythological creatures. She wrote a segment about the mustang horse and JACK asked for more.
Laura Schwendinger
Now, three years later, "Creature Quartet" will have its world premiere at the Wisconsin Union Theater's Shannon Hall on Friday, May 8, at 8 p.m. The work includes segments about the Ivory Billed Woodpecker, Tasmanian Devil , the Northern Right Whale, passenger pigeon, Nessie and Yeti, among others. It has been recorded by JACK Quartet for Albany Records and will be released this summer on CD. 
"I am an animal lover," says Schwendinger, "and I read daily about the extinction of species." In "Creature Quartet," she explains, "the animals are part of a musical ecosystem as it were, and organically lead from one to another, with only the hymn in between to remind us of their sad fate. Musical relationships between various movements flow through the piece, providing a network of melody, harmony and biology."
The composition is accompanied by animation, commissioned by the Wisconsin Union Theater and Schwendinger from a French animation student, Pauline Gagniarre. Her video presents each creature at the beginning of its respective movement.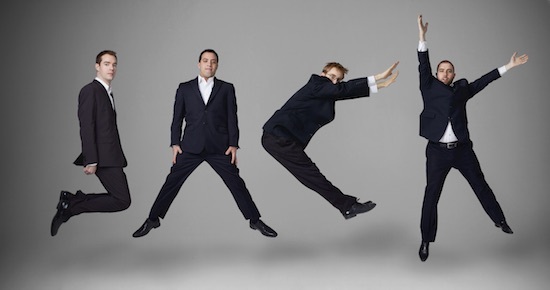 Members of JACK Quartet
Because of the abstract nature of music, says Schwendinger, "I thought it was important to offer a beautiful and artistic take on the animals, as a visual aid for the audience to help see these wonderful creatures, some quite obscure, like the Dodo, the Tasmanian Tiger … I spent seven months asking artists and researching online resources to find an artist who was able to create expressive and resonant images of animals. I had looked at thousands of videos, when I found Pauline's The Curious Otter. Her work is so elegant and beautiful and shows these animals in an expressive and touching manner."
Tickets to the world premiere of "Creature Quartet" are available for $15. UW–Madison Student (with ID) tickets are $10. Purchase tickets here.
—Esty Dinur