Students and staff plan a full slate for Black History Month 2016
Even with 29 days in February, the student planning committee for the University of Wisconsin–Madison's Black History Month organized so many activities that they spill into the months on either side.
From Sunday, Jan. 31, through Thursday, March 3, the events range from dramatic performances and networking to keynote speeches on big issues and small-group discussions in cozy locales on and off campus.
A kickoff event on Sunday, Jan. 31, and a keynote event on Thursday, Feb. 18, offer thoughtful opportunities to explore current events.
"As a division, we pride ourselves on offering the cultural and learning enrichment every student should experience as part of their college growth," says Patrick J. Sims, vice provost for diversity and climate. "This includes focusing on the history and impact of the social issues our students face now and may choose to get involved with, both during college and after. That's a great Badger tradition."
The month's theme of "In Living Color: An Exploration of Blackness & Intersectionality" offers participants of all backgrounds the chance to share the ways in which different aspects of identity combine and contrast to affect individual life experiences.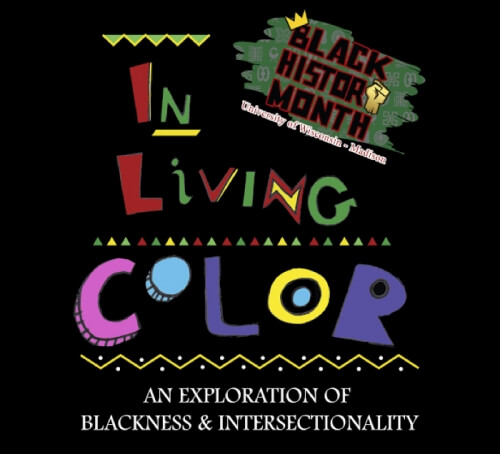 "Everyone is always invited to participate in these events because cultural diversity is what we have in common," says Sims. "If it isn't shared with others, we miss the opportunity to live, celebrate and grow together."
A full listing of events is available on the Black History Month 2016 Facebook page or on the university's calendar under the Black History Month 2016 tag.
The narrative-based performance "We the 350: Stories of Poverty, Racism, and Incarceration in Wisconsin" kicks off the month on Sunday, Jan. 31, at 7 p.m. The free performance takes place at the Memorial Union's Play Circle theater and is open to the public.
Writer-directors T. Banks and Sara McKinnon have said they hope the stories in the performance can bring the realities of being a black citizen of Wisconsin to life for non-black audiences.
The performance is based on interviews with activists about their experiences living in Milwaukee and Madison. It paints a compelling picture of the intersections between racism and poverty and how a disproportionately high rate of incarceration affects daily life in black communities.
On Thursday, Feb. 18, keynote speaker Rahiel Tesfamariam will discuss "The Role of the Black Millennial and the Black Church in the New Civil Rights Movement." She will speak at 7 p.m. in the Symphony Room of the Gordon Dining and Event Center.
Tesfamariam argues that black millennials use contemporary resistance strategies, while the role of the church – the old guard of the civil rights movement – continues to shift. Both groups have a critical role to play, she says.
A sampling of other events include:
Arts
Monday, Feb. 8: Reel to Real Movie Night: "Paris is Burning" (1990)
This critically acclaimed documentary explores New York City's drag ball culture and the African-American, Latino, gay and transgender communities taking part.
7 p.m., Marquee Theater, Union South
Friday, Feb. 26: Moonshine, presented by Chris Walker and friends
Celebrate with African and African-Caribbean dance, hip-hop, spoken word, poetry and more.
3:30-4:30 p.m., Margaret H'Doubler Performance Space, Lathrop Hall
Leadership and work
Tuesday, Feb. 2: Leadership in the New Economy (LINE) Lecture
Register online for this student-focused event featuring professional and personal leadership development. Guest speaker Wilson Okello will speak about mindfulness.
5-7:30 p.m., Varsity Hall, Union South.
Tuesday, Feb. 9: Minority Owned Business and Networking Fair
7-9 p.m., Symphony Room, Gordon Dining and Event Center
Thursday, Feb. 25: Faculty of Color Reception
5-7 p.m., Alumni Lounge, Pyle Center.
Discussions
Saturday, Feb. 13: The Conversation Mixtape: College Edition
This discussion focuses on education, privilege and social class.
2-5 p.m., Winedown wine bar, 118 State St.
Tuesday, Feb. 23: Steepin' It Real
Discussion surrounding activism and its evolution in Madison. Guest facilitator: Sheba McCants, director of the documentary "Forward: Anger Into Action."
6 p.m., Multicultural Student Center Lounge, Red Gym
Community
Thursday, Feb. 11: A Place at the Table Community Meal
6:30 p.m., Multicultural Student Center Lounge, Red Gym
Monday, Feb. 29: Candlelight Vigil & Libation Ceremony
Gather to honor the past, reflect on the present and look toward the future. Warm beverages and candles will be provided. Presented by African American Student Academic Services (AASAS).
6-7 p.m., top of Bascom Hill