Fifty years and counting: The Wisconsin Longitudinal Study
Lee Schoenecker doesn't recall filling out a survey 50 years ago about his plans after high school, yet this long-forgotten event has stayed with him ever since. Because of it, the retired urban planner has spent many more hours being surveyed both by telephone and written questionnaire. He recently provided a sample of DNA. Even his wife and siblings have become involved.
And he's not alone. Like Schoenecker, more than 10,000 graduates from Wisconsin's high school class of 1957 have been participating for a half-century in the Wisconsin Longitudinal Study (WLS), one of the longest and most respected sociological investigations ever undertaken. Started at UW–Madison in 1957 as a survey of high school seniors' post-graduation plans, the WLS has evolved since into a study of the entire life course, including education, career, family, aging and retirement.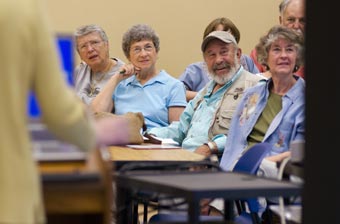 Members of the Wisconsin Longitudinal Study class of 1957 (from back to front) Karen Kisow, Eileen Paulin, Tim Werner, and Jacquelyn Haberling listen to a summary presentation about the study during a 50th reunion held in Lake Mills, Wis., on June 9, 2007.
Photo: Jeff Miller
As Schoenecker and his classmates have traversed these stages, their journey has given social scientists unprecedented insight into how a lifetime of experiences – especially those during youth and adolescence – influence quality of life as people age. WLS findings have now appeared in more than 400 books, journal articles and other scholarly publications, and the study's data have been requested hundreds of times by researchers worldwide. Along the way, the investigation has also had a profound impact on public policies and practices, even serving as a model for a series of long-term federal studies.
None of this would have been possible, though, without the cooperation of the graduates, which is why WLS researchers are sharing results, answering questions and celebrating with them at more than 55 high school reunions this summer and fall.
"We know class reunions are a big thing for everyone around the country and the 50th reunion is very special," says Carol Roan, WLS scientist and the reunion effort's chief architect. "So we just saw this as an opportunity to give back to these people who have spent so much time with us."
One of the reunions was Schoenecker's own, in June. Amid a banquet and a pontoon boat ride, two-dozen members of the Lake Mills High School class of '57 and their spouses listened attentively to a presentation by Roan, then bombarded her with questions afterward.
"One of my classmates asked me recently, 'Why are you so interested in [the Wisconsin Longitudinal Study]?' And I said, 'Because it's part of me, and my family, and everything else.'"
Lee Schoenecker, WLS participant
From the front row, Schoenecker posed several questions of his own. "One of my classmates asked me recently, 'Why are you so interested in this?'" he recalls. "And I said, 'Because it's part of me, and my family, and everything else.'"
Fifty years is a remarkably long time, but longevity is the key to answering a critical question, says WLS director and UW–Madison sociology professor Robert Hauser: "What are the things that you need to do early on to give people healthy, happy and long lives?
"We really need these studies where the same people are followed endlessly and you know lots of different things about them, in order to try to improve the quality of people's lives in the long-term," he says.
Yet, in the beginning, the WLS was never meant to last. Instead, it started as a one-time survey of Wisconsin's high school seniors, commissioned by the state in 1957 to help prepare for the increasing demand for higher education. Only after eminent UW–Madison sociology professor William Sewell "discovered" the survey in 1962 and followed up on the graduates two year later, did the WLS begin assuming its current identity (see sidebar).
In 1969, Hauser joined the study and Sewell became his mentor. Using information from the first two surveys, along with standardized test scores and other information obtained by Sewell, the pair conducted landmark research into the forces that shape youthful aspirations and achievements, and how these, in turn, influence choices for education and career. This work is encapsulated in their famous "Wisconsin Model of Status Attainment," a paradigm that has been cited thousands of times by social scientists around the world.
And then something happened that forced a change in plans: WLS participants started to marry, have kids and otherwise grow up.
"I got started in this business because I was interested in education, who goes to college, and the consequences of what people do after high school for the next few years of their lives. So it was kind of surprising to me that these people kept getting older," Hauser says with a laugh.
Surprised or no, WLS researchers have adapted well in the face of the graduates' evolving lives. During the next survey in 1975, participants were 36-years-old and fully engaged in jobs and family. So, Sewell, Hauser and Hauser's wife Taissa – on board since 1970 as survey manager – concentrated on topics like education, child rearing, and, especially, labor market experiences. With that, the WLS transformed into "a study of careers," says Hauser.
Then, as participants entered their mid-50s in the early 1990s, "we decided that we needed to start focusing on aging," Hauser says. In a survey in 1993, researchers began to examine the group's health and retirement plans, while the most recent survey round in 2003-2005 probed these issues more deeply. And in another sign of the times, the study now gets most of its support from the National Institute on Aging.
Meanwhile, a crowd of long-term federal studies was launched in the wake of the WLS's success, including the Longitudinal Studies of Labor Market Experience and the National Longitudinal Studies of High School Classes. The difference, though, is that these national studies tend to focus on one life phase and stop when that phase is over, Hauser explains, while the WLS encompasses them all.
"The most difficult question people ask me is 'What is this study about?'" he says. "Because it's about everything."
Still, how much can a single group of Wisconsin high school graduates – even 10,000 of them – really tell us about people's lives in general? Quite a lot, say the researchers. Because the WLS cohort was randomly chosen from a large population, it's broadly representative of that population: older white men and women who have at least a high school education. And as the cohort continues to age, it may have more to tell us than ever before.
"Now that the participants are in their 60s, the WLS is starting to move in entirely different ways and we're asking things no other survey asks," says WLS investigator Debby Carr, who says she "grew up on" the project after joining it as a first-year UW–Madison graduate student in 1991.
In addition to standard topics like health and retirement, for example, the study is exploring the nature of marriage and sexuality among older adults, and the ways in which people prepare for life's end. It has also examined the effect of divorce on quality of life, an issue that is usually only studied in younger people like single moms, says Carr.
Another hot topic is Internet use, particularly since the federal government is now using the Web exclusively to disseminate information about Medicare Part D – a program vitally important to many seniors. Because of its longevity, the WLS is poised to make a unique contribution here, as well, says Carr.
"Even if there are some surveys out there that ask about Internet use, often they're one-shot surveys where you just get a snapshot of a bunch of 65-year-olds," she says. "Whereas, with the WLS, we have whole life histories. So, we can ask not only what proportion of people use the Internet, but also, 'Who are these people?' And how does who they are affect Internet use?"
The researchers next plan to survey the participants, along with some of their spouses and siblings, in 2010. They're also now interviewing widows and widowers of participants and may talk in the future with their children.
Throughout the evolving history of the study, one thing hasn't changed. Ever since Sewell achieved a response of 87 percent in 1964, response rates approaching 90 percent have been a WLS hallmark. Why participation has been so high Hauser can't say for sure, although he does have some guesses. Home state and home school pride likely play a role, as does the participants' high level of education. Another important reason might be the respectful manner of the research itself.
"My impression is that the study has always been very reassuringly done and very kindly done," says Carolyn Wedin, a participant from Frederic, Wis. "Because when you're going to sit down and ask people very personal questions for an hour, they need a lot of reassurance."
Schoenecker agrees. "I guess the thing that has impressed me very much over the years is that the surveys were done quite well," he says. "And I'm just delighted that this study comes out of the UW–Madison, of which I'm a graduate."
For her part, WLS scientist Roan credits the graduates, whose enthusiasm and dedication have made a deep impression during her two years on the study.
"No one else has followed a group for 50 years with such success," she tells Schoenecker and his classmates at the gathering in Lake Mills. "Your class is truly special."
Wisconsin Longitudinal Survey Timeline
1957 Sputnik launched by Soviet Union.
1957 The UW–Madison School of Education surveys the educational plans of all Wisconsin high school seniors to help the state prepare for the growing demand for higher education.
1962 The discarded higher education surveys are discovered in the basement of a UW–Madison administration building, prompting sociology professor William Sewell to plan a follow-up study of the participants.
1963 President John F. Kennedy assassinated.
1964 Sewell conducts his first follow-up with the participants' parents, achieving an extraordinary response rate of 87 percent.
Late 1960s Sewell and his colleagues, including current WLS director Robert Hauser, use WLS data to explore how youthful aspirations develop and influence postsecondary schooling and careers.
1969 Legendary Woodstock concert held in upstate New York.
Early 1970s In the wake of Sewell's success, the federal government begins launching its own large-scale, longitudinal studies of youth, education and labor.
1974 ABC premieres "Happy Days," a sitcom centered on the life of the Cunningham family in late 1950s Milwaukee, Wisconsin.
1975 The graduates, now 36-years-old, are interviewed for the first time themselves about family life, child rearing and, especially, labor market experiences, transforming the WLS into a study of careers.
1976 United States celebrates its bicentennial year.
1977 Siblings of a small subset of WLS participants are surveyed for the first time.
1989 Berlin Wall comes down.
1993-1994 As the graduates enter their mid-fifties, the WLS begins turning its attention to aging, mental and physical health, and the life course. Mail and telephone surveys are conducted both with class members and an expanded group of their siblings.
1995 Bombing in Oklahoma City of the Alfred P. Murrah Federal Building.
2003-2005 With participants now in their mid-60s, the WLS becomes a full-blown study of aging. In this survey round, the graduates, their siblings, their spouses, and some of the siblings' spouses, are surveyed. More than 18,000 interviews in all are conducted.