Exotic lone star tick making a home in Wisconsin
It's shaping up as a summer like no other for ticks across Wisconsin — including the strongest contingent yet of a bloodsucker new to the state.
The lone star tick, an interloper from the south, has appeared in at least half a dozen Wisconsin counties, according to UW–Madison entomology professor Susan Paskewitz.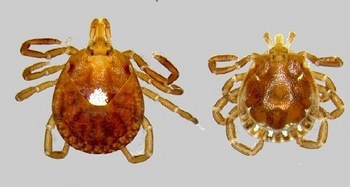 Female (left) and male lone star ticks. Named for the white splotch on the back of the female, they haven't been considered Wisconsin residents but have appeared in at least half a dozen counties this year.
Photo: Darby Murphy and Heriberto Verdugo/UW-Madison
"The signs are telling me that they are close to established if not already established in the southern part of the state," says Paskewitz, who has spent much of the summer surveying tick populations around Wisconsin. "I took one off my daughter recently. My staff picked up two working at the UW Arboretum, and I picked one up in Price County, which is surprisingly far north."
Named for the identifying single white splotch on the back of female lone star ticks, Amblyomma americanum has a large range from Texas in the southwest to Maine in the northeast. It hasn't been considered a Wisconsin resident, but that may change.
"It's important as a public health issue," Paskewitz says. "Doctors should know that we are finding Amblyomma adults and nymphs — which are more of a concern, because they are so small — around the state."
Lone star tick bites can transmit bacteria that cause conditions such as human monocytic ehrlichiosis, a potentially debilitating and dangerous disease characterized by fever, muscle aches and fatigue.
"There is also a more rare reaction to Amblyomma in which a bite makes some people develop an allergy to red meat," Paskewitz says. "That would probably bother a lot of people in Wisconsin."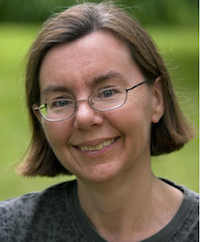 Susan Paskewitz
The issue with the more common ehrlichiosis is that its symptoms are not necessarily uncommon, even in other tick-borne infections such as Lyme disease. That makes identification and tracking of specific tick species important.
"Some of these things, you get sick with them and tests come back negative because we aren't even looking for that type of infection," Paskewitz says. "The better the information we have about where these ticks are and in what number, the more informed people and their doctors will be."
Paskewitz is asking anyone who encounters a lone star tick to send her lab a photo or the actual arachnid.
"If you can get a picture or the actual lone star tick, we could use the specimens and locations where they were found," she says. "Just drop the tick in a sealed plastic bag and freeze it or heat it up on your dashboard in the sun."
Instructions for identification and submission are available at Paskewitz' Wisconsin Ticks website.
Lone star ticks may be more aggressive than most of the roughly 15 tick species in Wisconsin. "They'll crawl right after you," Paskewitz says, "They don't wait for you to come to them." But they are not any more dangerous.
The much smaller and more common deer tick remains more likely to pass on an infection to people enjoying Wisconsin's outdoors. And the deer tick is really enjoying the summer of 2013.
"I've never seen this many deer ticks," says Paskewitz, who conducts surveys by dragging meter-square swatches of white fabric for short distances through woods, lawns and prairies. "I'm picking up 30 of them at a time on drags all over the state. It's showing up [in] urban parks in Madison, where we have not seen many before."
Pants and light-colored socks are a good start for anyone who will spend much time in shadier, cooler areas outdoors. Ticks — especially the lone star tick — are not fond of hot, sunny areas. And repellent is not a bad idea.
"Sprays with DEET will repel them, and permethrin will kill them," says Paskewitz, who treats her clothing with permethrin. "I'm not going to be out in the woods without that stuff. Getting some of these bacteria that use ticks as vectors can mean a lot of down time, or worse."