Election turnout research wins national award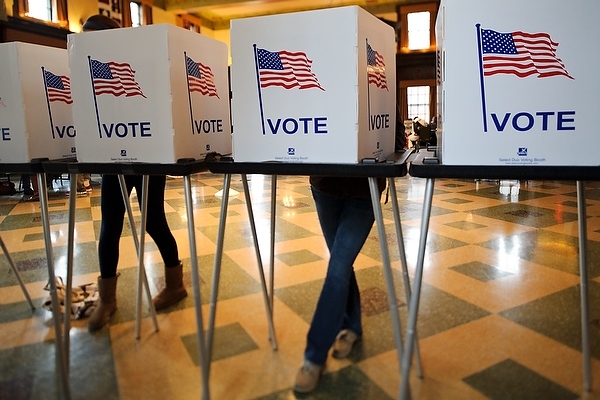 States that combined early voting with same-day registration had turnout levels in 2008 that were much higher than the overall national figure, according to UW–Madison research feted by the American Political Science Association.
Photo: Jeff Miller
An article by four University of Wisconsin–Madison professors on the effects of election laws to make voting more convenient and increase turnout has received a national award.
Don Moynihan of the La Follette School of Public Affairs and political scientists Barry Burden, David Canon and Kenneth Mayer won the State Politics and Policy Best Journal Article Award from the American Political Science Association. The American Journal of Political Science published the article, "Election Laws, Mobilization, and Turnout: The Unintended Consequences of Electoral Reform," in 2014.
The award will be presented at APSA's annual meeting Labor Day weekend in San Francisco.
State governments have experimented with a variety of election laws to make voting more convenient and increase turnout. Their analysis of voter turnout in the 2004 and 2008 presidential elections shows that Election Day registration has a consistently positive effect on turnout, whereas the most popular reform — early voting — is actually associated with lower turnout when it is implemented by itself.
"The implications for policymakers are obvious. Adopting a form of 'one-stop shopping' better facilitates turnout."
Don Moynihan
All four professors are affiliated with the Elections Research Center, of which Burden is director. They did the research as part of their Election Administration Project, examining the 2008 presidential race.
In 2008, Wisconsin was one of six states that offered the combination of early voting and same-day or election-day registration. The most popular policy option, in place in 18 states for the 2008 election, was to offer early voting in isolation, without making registration easier. "Our research suggests that this option actually reduces voter turnout," Moynihan says.
In most states, registration and voting take place in two separate steps. A voter must first register, sometimes a month before the election, and then return another time to cast a ballot. Early voting by itself does not eliminate this two-step requirement. For voters who missed their registration deadline, the convenience of early voting is irrelevant, Moynihan says.
However, when early voting is combined with same-day registration, the depressive effect of early voting disappears. "North Carolina and Vermont, two otherwise very different states that combined early voting with same-day registration, had turnout levels in 2008 that were much higher than the overall national figure of 58 percent of the voting-age population," Moynihan says. "Turnouts in Vermont and North Carolina were, respectively, 63 percent and 64 percent."
"The implications for policymakers are obvious," Moynihan adds. "Adopting a form of 'one-stop shopping' better facilitates turnout. Early voting may be the most popular reform sweeping across the states, but it alone is not the key to raising voter turnout."