Chancellor Blank, other leaders showcase campus for regents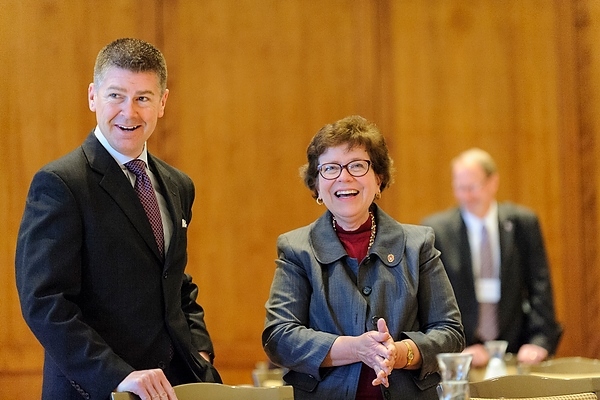 Regent Drew Petersen and Chancellor Rebecca Blank share a laugh before the start of a UW Board of Regents meeting hosted at Union South at the UW–Madison on Feb. 6.
Photo: Jeff Miller
UW-Madison Chancellor Rebecca Blank presented the full Board of Regents with an overview of the state of the university in the first meeting hosted by the campus since she took over leadership in July.
• See the UW–Madison PowerPoint, "Education, Innovation and Institutional Change at UW–Madison"
Blank said the regents should consider allowing UW–Madison to raise tuition in professional schools, as well as tuition on out-of-state students.
Tuition for professional schools is well below that of the school's Big 10 and national peers, Blank said. For instance, out of 24 American Association of Universities schools, UW–Madison's law school ranks 22nd in tuition resident tuition. The medical school also ranks 22nd out of 24, the veterinary school last out of 11 schools, and pharmacy school 17th out of 19.
The prices do not reflect the value of the degrees, and drain resources from other programs, Blank said.
"I am actually subsidizing the professional schools from other revenues," Blank said. "It is not a competitive advantage to be the cheapest school available."
Changes also should be made to non-resident undergraduate tuition, Blank said. As with graduate programs, UW–Madison is far below its Big Ten peers in this area, Blank noted.
"I agree we need to keep resident tuition affordable to the people of this state," she said.  "But out of state, we should be charging the market rate."
Along with any increases, Blank noted, the university would need to increase financial aid to out-of-state students of need.
"Distance learning is a real system-wide opportunity for all of us in the system to work together on delivering degrees because we would no longer be tied to geography."
Chancellor Blank
Blank went on to highlight UW–Madison's educational innovation initiatives, and told the Regents that Wisconsin should be at the forefront of using of new technologies to deliver education more broadly.
"One of my goals looking forward is to put Wisconsin on the map and show how we can use these tools to improve education at a big public institution," Blank said.
While making courses more accessible, the challenge is to also improve the quality of the classes, she said. Blank reported that UW–Madison has seen promising results from innovations like flipped classrooms, where students watch lectures at home online and engage in problem-solving exercises with peers in class, and that distance learning technology also holds great possibility, she said.
"Distance learning is a real system-wide opportunity for all of us in the system to work together on delivering degrees because we would no longer be tied to geography," Blank said.
The university has also seen an enthusiastic response to its MOOCs, Massive Open Online Courses. While there are some flaws with the non-credit courses, including high drop-out rates, Blank said MOOCs are an effective branding tool that has the potential to highlight the outstanding instruction offered at UW–Madison to learners around the globe.
Blank updated the regents on several campus building projects, including the soon-to-be completed Signe Skott Cooper Hall, which provides badly needed instructional space to the Nursing School. She also provided details of the ongoing Memorial Union renovation, the proposed Rec Sports renewal project, and the recent updates to campus housing facilities, which she called "a generational change and upgrade."
The host campus also made presentations to various committees.
In the Research, Economic Development and Innovation Committee, Provost Paul M. DeLuca Jr. and agricultural science professor Mark Cook highlighted UW–Madison's Discovery to Product (D2P) Igniter program. The entrepreneurial effort is funded in part by a UW System Economic Development Incentive Grant.
"In the process of creating knowledge, innovation pops out," Cook said, adding that D2P will help move innovations and inventions "off the shelf" and into the marketplace. DeLuca noted that if even one out of five ventures advances, "it will be a roaring success."
In the Capital Planning and Budget Committee, William Elvey, associate vice chancellor for facilities planning and management, presented regents with a progress report on UW–Madison's 2005 Master Plan and an overview of the Recreational Sports Facilities Master Plan.
In the Education Committee, DeLuca led a presentation on "Educational Innovations and Updates from UW–Madison."
On Friday, the presentations continued, with UW–Madison Director of Athletics Barry Alvarez telling regents his program cannot become complacent with success.
Barry Alvarez
Photo: Bryce Richter
"The easy thing to do is to think it's automatic, but it's hard to win. It's hard to stay competitive. The moment you take it for granted is the moment it starts to slip," Alvarez told the Board of Regents, as he delivered the program's 2012-13 annual report. The Regents require all system schools that compete in Division 1 NCAA athletics to submit an annual report.
The success of UW–Madison athletics is well-known, Alvarez said. In 2012-13, UW–Madison teams earned five conference championships (men's cross country, football, men's track, men's hockey, and softball). Sixteen teams advanced to postseason play, and 29 student athletes were named First- or Second-Team All-American.
The athletics program holds itself accountable in four major areas, Alvarez said, and that includes academic performance, fiscal responsibility, compliance with NCAA rules, and competitiveness.
At the end of the 2013 spring term, 385 student athletes, or 52 percent, maintained a grade point average of 3.0 or better, and 118 student athletes had GPAs of 3.5 or more. Six had a perfect 4.0 cumulative GPA.
Alvarez said the 75 percent graduation rate for student athletes exceeds the Big Ten median of 74 percent, and the national Division 1 mark of 65 percent. He added that particular efforts are being placed toward graduating African-American student athletes at UW–Madison.
"We have never compromised academics for athletics," Alvarez said, noting that several former student athletes have re-enrolled following athletic careers to finish degrees.
The athletic department ended the year with a positive fiscal balance, Alvarez reported. Its $108-million annual operating budget funds 23 sports played by nearly 900 student athletes, and the department has 600 employees, he said.
An economic impact study found that Badger athletics have an impact of $1 billion on the community, Alvarez said. 
The UW–Madison program had no major NCAA violations in the past year, Alvarez said, though there were 20 secondary violations, the same as the previous year.
"With the regulatory environment as it is, no school that's evaluating itself can go through a year without secondary violations," Alvarez said. "It shows me that our people are responsible. If there is a secondary violation, they self-report."