Carl Djerassi, UW grad who helped create 'the pill,' dies at 91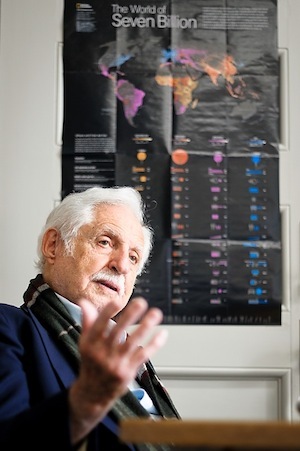 Carl Djerassi
Photo: Bryce Richter
Carl Djerassi, best known as a co-discoverer of the steroid hormone that became the basis for the first oral contraceptive, died on Jan. 30 after a long and distinguished career as chemist, and later a poet and playwright.
Born in Vienna, Djerassi emigrated to the United States in 1939. In 1945, he needed just two years to receive a Ph.D. in chemistry at University of Wisconsin–Madison at the age of 22.
Djerassi received a University Honorary Degree in 1995 and in 2012, the Wisconsin Alumni Association presented him with a Distinguished Alumni Award. He spoke then about his work.
Robert J. McMahon, Helfaer Professor and Chair of the Department of Chemistry, described Djerassi as "one of the towering figures in chemistry in the 20th century."
"His brilliance and creativity shone through in all of his endeavors in science and the arts," McMahon said. "Carl lived an extraordinary life and was truly a citizen of the world. Anyone who met Carl knew immediately that they were in the presence of a remarkable man. It was palpable.
"Carl always looked to the future. As our department looks to the future, we dedicate ourselves to perpetuate Carl's legacy by maintaining a commitment to extraordinary, transformative scholarship. We extend our condolences to the Djerassi family."