Campus was hopping, at a summertime pace, while you were gone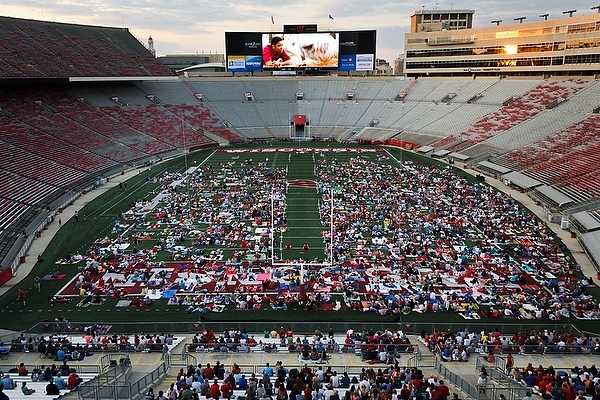 Fans spread out on the football field and south end zone of Camp Randall and enjoy a free screening of Remember The Titans during the first-ever Movie Night at Camp Randall, held Aug. 15.
Photo: Jeff Miller
Rebecca Blank arriving, Kevin Reilly leaving. Budget cuts and tuition freezes. Even if you were vacationing and largely unplugged over the summer, it was hard to miss these headlines. But you can be excused for not being on top of everything that happened on campus while you were away. Among the highlights:
Changes at the top: The changes at the top didn't stop with Blank and Reilly. Provost and Vice Chancellor for Academic Affairs Paul DeLuca announced that he will step down as the university's chief academic officer and return to the faculty. A new provost is expected to be in place sometime in the spring semester. John Karl Scholz, chair of the Department of Economics, was selected as the next dean of the College of Letters & Science. He succeeded Gary Sandefur. Raymond Taffora, a former deputy Wisconsin attorney general and Tommy Thompson administration official, was appointed vice chancellor for legal affairs. And Damon Williams, vice provost and chief diversity officer, left the university to become senior vice president of the Boys & Girls Clubs of America.
Rankings: There are several new prestigious feathers in our collective caps. For the third year in a row, UW–Madison was ranked 19th in the annual Academic Ranking of World Universities by Shanghai's Jiao Tong University. The UW also shows up in the Fiske Guide to Colleges value ranking (Top 7), and Livability.com's top college towns (8th). Forbes rated us a Top College and the Princeton Review also put the UW among the best. WARF was ranked fourth for university biotechnology patents, and UW Hospital and Clinics repeated as state's top hospital, according to U.S. News & World Report.
Badger spirit: Badgers showed their spirit over the summer in a variety of ways. Volunteers collected 125, 55-gallon bags of school supplies to support Milwaukee-area children during UW–Madison Day at the Wisconsin State Fair. Alumni, students, fans and friends of the university selected a design for the Sixth Edition of The Red Shirt — emblazoned with the words "by the light of the moon" from "If You Want to Be a Badger." Sales of the shirt fund scholarships and alumni programming. And fans spread out on the football field during the first-ever Movie Night at Camp Randall, featuring "Remember The Titans" on the stadium's giant new video scoreboard and sound system.
Issues: In a closely-watched affirmative action case, UW lawyers said the U.S. Supreme Court decision in Fisher v. University of Texas at Austin does not appear to require any immediate change in UW admissions processes.
One particularly contentious issue was resolved when UW–Madison agreed to dismiss its lawsuit against adidas over the company's obligation to pay severance to Indonesian factory workers. The Worker Rights Consortium (WRC), of which the university is an affiliate, welcomed the settlement and expressed optimism that it fully resolves the issues.
Summer camps: If you thought campus was going to be quiet during summer break, you wouldn't have known it with more than 100 residential programs taking place in the residence halls, with 15,000 guests chowing down on nearly 200,000 meals.
New facilities: Speaking of University Housing, we now have a new residence hall with a sustainability theme. Aldo Leopold Residence Hall, named for the famed conservationist and former Arboretum director, is next to the Allen Centennial Gardens. And Carson Gulley Center, a fixture in the lakeshore neighborhood since the 1920s, reopened after undergoing a full renovation that created marketplace-style dining stations and event space.
Further downshore, Goodspeed Family Pier near the site of the future Alumni Park next to Memorial Union, became the newest campus link to Lake Mendota. Also in the neighborhood, construction continued on the union's major renovation and planning began for a makeover of the Library and State Street malls.
Then there's this to update to your campus map: Three buildings and a campus complex were named after biochemist Hector F. DeLuca. The Hector F. DeLuca Biochemical Sciences Complex will consist of the Hector F. DeLuca Biochemistry Building, the Hector F. DeLuca Biochemical Sciences Building, and the Hector F. DeLuca Biochemistry Addition.
Research: Researchers in cutting edge fields were busy over the summer. In just two of many highlights, Yoshihiro Kawaoka will lead an study to sort out why some viruses such as influenza, Ebola and West Nile are so lethal through a $18 million National Institutes of Health-funded study. And James Thomson's team created an efficient way to target and repair defective genes using human pluripotent stem cells, laying the groundwork for major advances in regenerative medicine, drug screening and biomedical research.
New roles: All across campus, the words "You're hired!" rang out over the summer. Among the changes:
Howard Bailey was named interim director UW Carbone Cancer Center, succeeding George Wilding, who stepped down. Susan Cook became the new director of the School of Music. Heather Daniels was tabbed as the new secretary of the academic staff. Fred Fotis became director of residence life at University Housing. Richard Gibbs is the new director of risk management. Jan Greenberg returned to the director's office in the School of Social Work for a three-year term. Steven Hahn was appointed interim vice provost for enrollment management. John Horn was named director of the Division of Recreational Sports. Robert Mathieu was appointed interim director of the Wisconsin Center for Education Research (WCER). The Morgridge Institute named Fred Robertson as chairman. Patrick Sims has been chosen to serve as interim vice provost for diversity and climate, and Ruby Paredes will be interim associate vice provost. Julie Van Cleave was appointed chief investment officer at the UW Foundation.
And there are new vacancies still to be filled. Mark Bugher, who helped to mold University Research Park into an economic and technology transfer force, plans to retire in October. Rhonda Norsetter, the longtime director of federal relations, also announced her retirement.
What else might you have missed if you were off campus for the summer? Sunsets on the Terrace. Detours around construction. Fewer meetings. Shorter lines at the food carts.
Or maybe you've just been missing the steady beat of a semester in full swing. If so, welcome back! Here's hoping you're recharged, refreshed, and ready for a fantastic fall.