Campus does anything but cease in the summer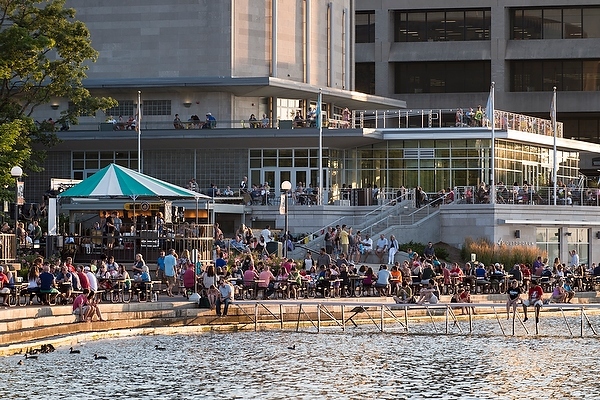 UW students, alumni, faculty and friends relax at the Memorial Union Terrace during a July evening. In the background is the newly renovated Wisconsin Union Theater, complete with additional terrace seating.
Photo: Jeff Miller
The University of Wisconsin–Madison is host to boundless opportunities, happenings, changes and more — even when school's out for the summer. Whether you were around to experience some of the new developments yourself, or taking a break from the everyday bustle of campus life, there was no shortage of activity at the university over the summer.
New looks: With summer came a season that is all too familiar to Madison: construction season. The 700 and 800 blocks of the State Street Mall are still being renovated to include new landscaping, seating and a raised pedestrian crosswalk leading to Bascom Hill.
Stage lighting in the process of being installed is pictured in the performance area of the Wisconsin Union Theater's Shannon Hall.
Photo: Jeff Miller
Meanwhile, renovations were completed to the Wisconsin Union Theater, making it a contemporary space, while still preserving the atmosphere of the old theater.
Signe Skott Cooper Hall, the new home of the School of Nursing, was dedicated in an August ceremony and will be open to students this fall. The new building will incorporate the latest technology in nursing and encourage active learning.
You may also notice a subtle difference all over campus — new, matching signs were installed next to each university building to give campus a unified look.  
Awards and records: UW-Madison was recognized over the summer for its activeness on social media, as the university was ranked as the second-most influential university on Twitter in the U.S.Meanwhile, theAldo Leopold Residence Hall achieved Leadership in Energy & Environmental Design (LEED) Gold certification for its sustainable design and operation.
UW volunteers collect a record amount of school supplies for Milwaukee students during UW–Madison Day at the Wisconsin State Fair.
Photo: Nate Moll
During the Wisconsin State Fair, the university broke its record for collecting school supplies for Milwaukee public school students. It also collected $10,111.36 in cash donations, nearly doubling the total from last year.
Another record the university is poised to compete with is student enrollment. UW–Madison will welcome its second-largest class of Wisconsin-resident freshmen — close to 3,700 students — since 2005.
Research: While most classes took a break over the summer, research and discoveries on campus never stopped. UW–Madison's Discovery to Product, or D2P, program distributed grants to 17 projects to help them reach commercialization. The innovations range from an exercise machine that helps stroke victims walk to a cheaper, better LED light bulb. The university is also set to receive four electric "micro cars" to reduce the university's carbon footprint and provide data for sustainability research.
And here's just a sampling of research findings reported over the summer:
Not all discoveries over the summer were promising. An invasive species found its way to the UW. 
Photo: UW Arboretum
For more research findings from the summer, visit our news page.
Summer programs: UW-Madison hosted a number of different programs throughout the summer. Among them: PEOPLE, which helps hundreds of Wisconsin youth prepare to attend the UW; the Summer Collegiate Experience, a residential program that helps incoming students adapt to campus life; the ever-popular Summer Music Clinic; Grandparents University, which lets children and their grandparents learn and enjoy the campus for two days; and College for Kids, sponsored by the UW–Madison School of Education.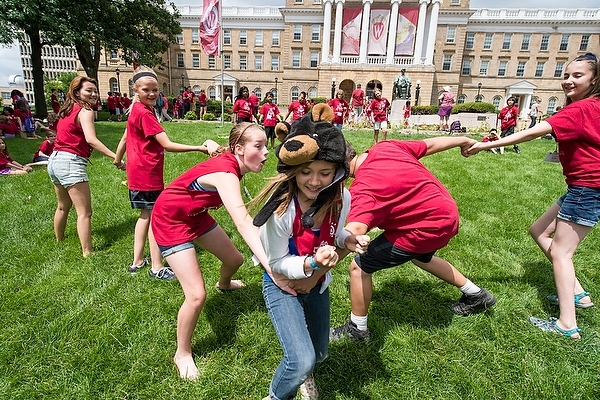 College for Kids participants wait their turn for a photo with the Abraham Lincoln statue. College for Kids is a three-week outreach program that serves nearly 360 precollege students from the greater Dane County area. 
Photo: Jeff Miller
Preparation: After a power outage that sent UW–Madison back to the technological Stone Age for a day in mid-June, the Division of Information Technology (DoIT) introduced an uninterruptible power supply to protect the campus's main data center from future outages.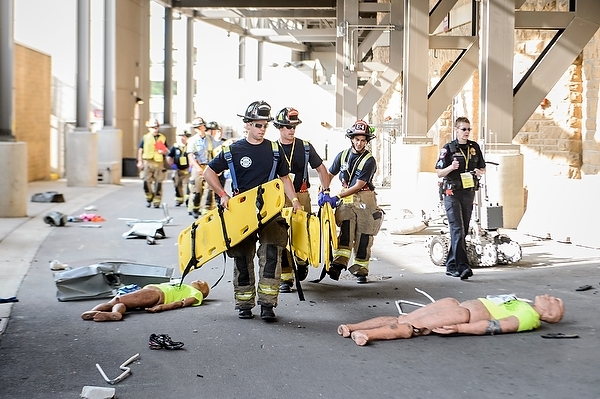 As part of a full-scale campus emergency-response exercise, members of regional agencies respond to mock reports of a simulated bomb incident with wounded victims during a running event at Camp Randall Stadium in July.
Photo: Bryce Richter
The UW also prepared for the worst, conducting a real-life simulation of an emergency at Camp Randall Stadium, with more than 400 people participating.
In memoriam: The summer was not without sorrow. The UW learned of a number of deaths, including: Harvey Breuscher, former journalism lecturer and director of news and publications at the UW; Susan B. Horwitz, a UW professor of computer sciences; Howard Karp, a UW professor emeritus of piano; and Herbert J. Klausmeier, a UW professor emeritus of educational psychology.
Season of (staff) changes: In one of the biggest changes of the summer, Sarah Mangelsdorf — the new provost and vice chancellor for academic affairs — was introduced to campus in August. Mangelsdorf succeeded Paul DeLuca, who retired after more than 40 years at UW–Madison.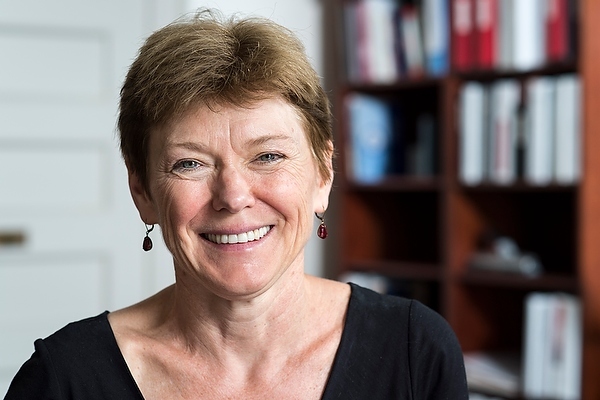 Sarah Mangelsdorf, the new provost and vice chancellor for academic affairs, is pictured in her Bascom Hall office. She succeeds Paul DeLuca, who spent over four decades at the UW.
Photo: Jeff Miller
August also saw Marsha Mailick assume the role of interim vice chancellor for research and graduate education. Mailick took over for Martin Cadwallader, who stepped down as vice chancellor for research and dean of the Graduate School after 13 years and returned to his faculty post in geography, and Wendy Crone became interim Grad School dean.
Those weren't the only vacancies filled, however, as many positions saw turnover as the summer progressed:
Jeffrey Novak was selected as the next director of University Housing, succeeding Paul Evans.
Guido Podestá was named vice provost and dean of international studies.
Joshua Moon Johnson was named assistant dean of students and director of the University of Wisconsin–Madison's Multicultural Student Center.
Ben Miller was named director of federal relations.
Steven M. Cramer took over as vice provost for teaching and learning.
Michael Bernard-Donals was named vice provost for faculty and staff.
Steven K. Smith was named the new secretary of the faculty.
Jeanette Kowalik was named the new director of prevention services and campus health initiatives at University Health Services.
Lawrence Berger started work as director of the Institute for Research on Poverty.
John Lucas was named executive director of University Communications.
Natasha Veeser was selected as the new head of communications for UW–Madison Libraries.
Aaron Olver was named managing director of University Research Park.
Tracy Williams-Maclin was selected to become the new director of diversity and inclusion at the Wisconsin Alumni Association.
Tom McKenna is officially retiring as director of the Wisconsin Veterinary Diagnostic Laboratory (WVDL), with Peter Vanderloo stepping in as interim director.
Additionally, one staff member got the chance to live out a part of her dream this summer: Elaine Bower competed on the Women's Masters (50+) field hockey team for the United States in the FIH Masters Hockey World Cup.
—Ngijol Songolo