What's cooking? A new campus chef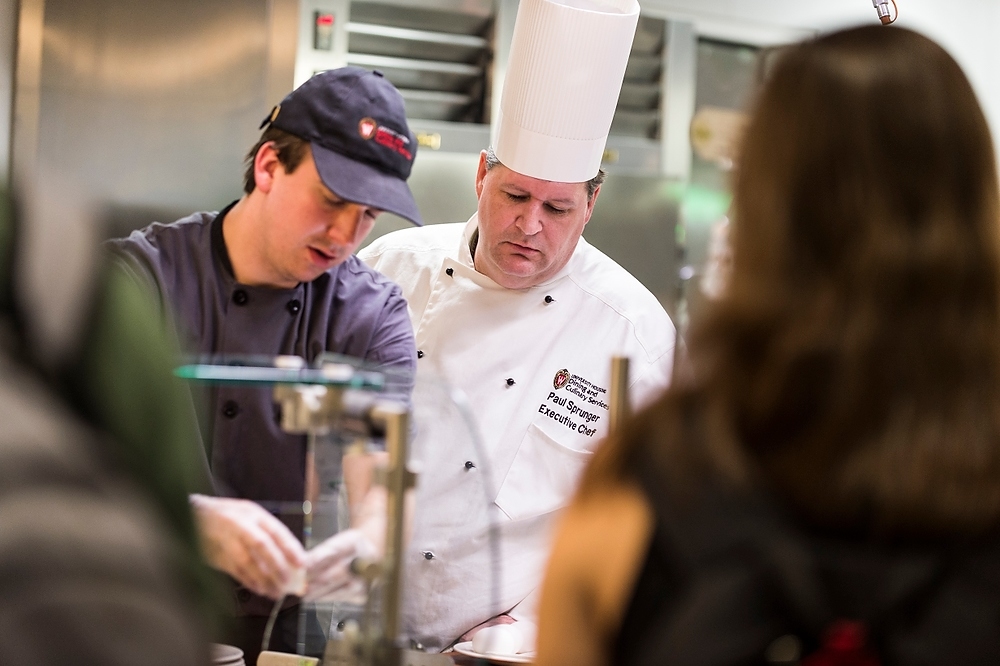 Paul Sprunger, center, executive chef of University Housing's Dining and Culinary Services, checks in on food production at the Gordon Dining and Event Center.
Photo: Jeff Miller
Most people try to get out of doing dishes.
Not Paul Sprunger.
He was just a kid with a paper route but knew he wanted to cook. And he knew the road to the kitchen started with dirty dishes. So he applied at a restaurant along his route. And applied. And applied.
"The owner thought I was too young," Sprunger says.
His break came one day when the dishwasher called in sick. Those dirty dishes were all his.
"I grabbed a scouring pad and cleaned everything," Sprunger says.
That launched a culinary career that's taken him across the country and into restaurants and resorts.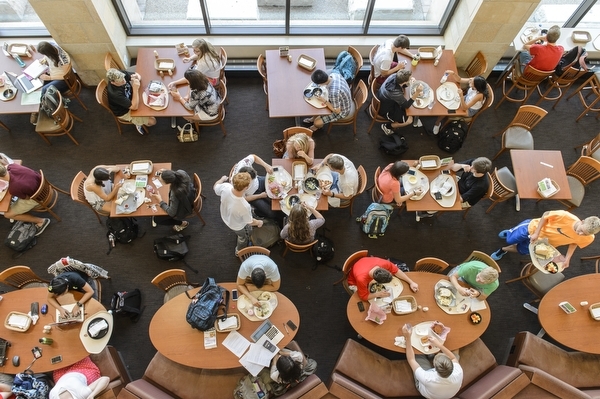 Lunchtime at the Gordon Dining and Event Center.
Photo: Bryce Richter
Now, Sprunger works as executive chef for University Housing at UW–Madison, overseeing more than 15,000 meals a day. He started in January and is finishing up his first semester with a better idea of the campus appetite and ways to keep improving menu offerings.
Unlike at many other colleges, students at UW–Madison aren't required to buy a meal plan.
"Here we allow competition. Our customers are our students. They can go anywhere," Sprunger says. "They can walk right down to State Street and have a lot of options so we need to present food that's made fresh and delicious."
Sprunger received his associate degree in occupational science and culinary arts from Johnson & Wales University in Providence, Rhode Island. He went on to get his bachelor of science in food service management. Most recently he served as executive chef at the Overture Center for the Arts.
As executive chef, Sprunger oversees more than 15,000 meals a day.
Photo: Jeff Miller
He moved to Wisconsin, his wife's home state, in 1993. It was only then that he discovered the magic of cheese curds.
"I love them. What's better on a Friday afternoon than enjoying cheese curds on the Terrace and looking at the lake?"
As part of his interview at the university, he had two hands-on exercises. One was to teach a class of students and staff how to make omelets. In the other, he had to plan a menu using a mystery basket of ingredients.
"That's rigorous. We saw his calmness in a kitchen setting," says Julie Luke, associate director of dining. "He showed he could stand up under pressure."
That comes from years of experience and learning to adapt. "I take my job seriously, but I don't take myself seriously," Sprunger says.
He's always felt at home in the kitchen. "I like good food, but if I had to make due with bologna, I could," he says.
One particular guilty pleasure he doesn't feel guilty about: Hamburger Helper. "I love it — any of the red sauces, especially the lasagna," he says.
Sprunger estimates he tastes about 100 different foods a day, all in the name of quality control. "Never a lot of one thing."
"When you're in my role, you have to check your pride at the door. It's not about me or my likes. We're here for the students."
Paul Sprunger
Besides menu development, part of his role is evaluating the containers food is kept in to make sure they are attractive and convenient for people on the go.
Looking ahead, he hopes to continue offering fresh food with an emphasis on local and sustainable ingredients. He also wants to expand the global menu to include South American and German fare as well as improve the sushi.
One of his first projects has been writing a new catering menu. Sprunger knows different people have different tastes, so he invites feedback on menu items from employees. The only requirement is honesty.
"When you're in my role, you have to check your pride at the door," Sprunger says. "It's not about me or my likes. We're here for the students."