Weekly farmers' market launches at Union South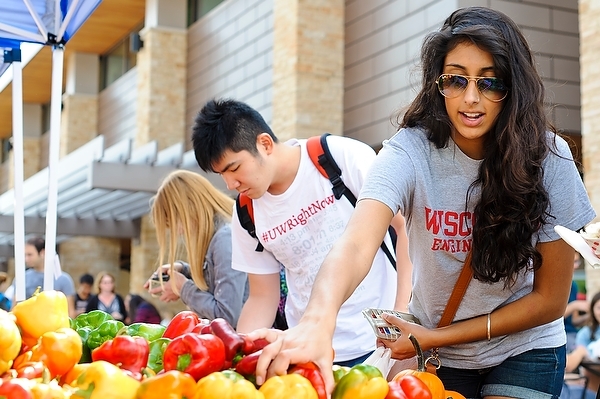 UW-Madison student Manvine Bharj, right, looks over an assortment of peppers from from a local vendor during the first Campus Farmers' Market on the north lawn of Union South on Sept. 5
Photo: Bryce Richter
Area vendors have begun selling local and organic products during a weekly Campus Farmers' Market on the north lawn of Union South, across Johnson Street from the Wisconsin Institutes for Discovery.
The markets will run from 11:30 a.m. to 3:30 p.m. every Thursday until Oct. 24. 
Vendors include David Paar of Paarfection Produce from Monroe and Laura Tisch of Munchkey Apples in Mount Horeb, among others.
"The event provides convenient access for students to local produce and gives them an opportunity to meet and greet their local food providers, as well as learning about local food practices," says Carl Korz, Wisconsin Union Dining Services assistant director. "We are starting with a core group of local producers; however, the event will likely grow larger every season and we are hoping to attract more local farmers."
Korz adds that students on the union's dining services committee nurtured the idea of the market and chose an event time and day closer to the weekend, when students are more likely to consume fresh produce. The market will serve students, faculty and staff who frequent the Union South area.
The union will also be offering a few products of its own.
"We will be selling hot, one-pound loaves of bacon, caramelized onion and Wisconsin cheddar bread (Bucky's Bacon Bread) and a multi-seed bread (Grandma's Seed Bread) made from scratch by our head baker Dan Hoffman. We'll also be offering grilled sausages and drinks," Korz adds.
The program is sponsored by Wisconsin Union Dining Services. For more information, contact Nicole Prekop, Student Market Coordinator, at diningservices@union.wisc.edu.