VoteFest week encourages students to vote early
UW-Madison this week is holding VoteFest, a series of events to encourage students to vote and show them how.
VoteFest, from Oct. 22-27, aims to empower students to become more civically educated in hopes that they carry that habit with them after they graduate.
"College students have a lot of power. The things they care about should be voiced and represented by elected officials," said Megan Miller, assistant director of civic engagement and communications at the Morgridge Center for Public Service. "A lot of people who vote in college continue to vote for their whole lives."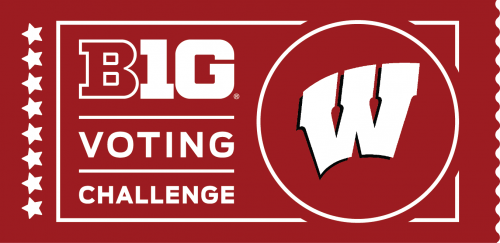 UW-Madison is competing in the Big Ten Voting Challenge, a nonpartisan effort that aims to mobilize registration and turnout at all 14 Big Ten universities. Trophies will go to the universities with the highest voter turnout and the most improved turnout in the Nov. 6 election.
Students will be able to partake in a variety of VoteFest events, including an art exhibit, a documentary and a Bucky Badger appearance.
Monday, Oct. 22: Bucky Badger will make an appearance from noon to 1 p.m. at Library Mall to help students develop their voting plans. Students can snap a photo with Bucky, share it on social media, and let their friends know that they will be voting. The day will continue at the Marquee Cinema with a 7 p.m. showing of "One Vote," a documentary by director Christine Woodhouse that captures the compelling stories of voters on election day 2016. The director will hold a Q&A session with the audience after the film.
Tuesday, Oct 23: At noon, students will be able to participate in a Q&A session about the midterm election with faculty members from the Department of Political Science. The event will be located at Grainger Hall in room 2210RS. Pizza will be provided.
Thursday, Oct 25: Politics and art will intertwine at the "Seed the Vote" art exhibit at the Kohler Art Library from 5 p.m.-7 p.m. Artists from many disciplines have joined together to create works of art about civic engagement in support of the Big Ten Voting Challenge. This event will prompt discussion about how politics inform art and the different ways one can express their voice.
Saturday, Oct 27: The week will end with "A Celebration of Voting" sponsored by the UW Odyssey Project. The Odyssey Project is a program that empowers adults facing economic barriers to receive college education. Their students will read their winning "Why Vote?" essays, at the event, while attendees can enjoy free voter education, food, prizes, and activities for children. Participants can also vote early next door at the library during the celebration. The event will be held at the Urban League Community Room from 2-3:30 p.m.
Also, on weekdays from Oct. 22 to Nov. 2, Madison residents will be able to early vote at the Student Activity Center from 10 a.m. to 3:30 p.m., Union South from noon-6 p.m., and Memorial Union from noon-6 p.m. All early voting locations will be open to voters from all wards.
The Big Ten Voting Challenge Advisory Group hopes that VoteFest will help students and citizens of Madison realize that early voting is an option. For those whose work schedules interfere with voting, early voting can make participating in elections easier by giving students more control over when they vote.
While voting on election day only allows thirteen hours to get to the polls, early voting allows citizens two extra weeks to turn in their ballots. With three locations on campus, no line, two full weeks of options, "there's no excuse not to go," according to Anna Barry, the Big Ten Voting Challenge Intern.
Students should be sure to make sure they have proper ID to vote. For more information on early voting, registration and preparing for the Nov. 6 Election, visit vote.wisc.edu.