UW Organic Vegetable Field Day features veggie tasting event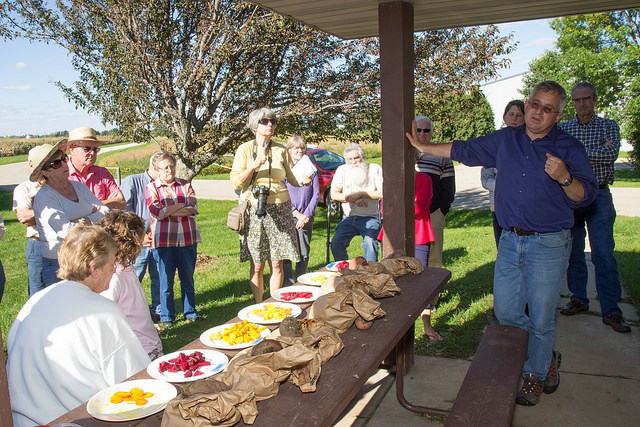 Horticulture Professor Irwin Goldman talks to attendees about beets at the 2014 Organic Vegetable Field Day. Courtesy UW–Madison CALS
Do you love your veggies? Would you like to help plant breeders make them taste even better?
Members of the public who attend the University of Wisconsin–Madison's Organic Vegetable Field Day on Sept. 8 will have the opportunity to sample a wide variety of vegetables being grown, evaluated and improved by UW researchers for-and with the help of-area farmers, farmers' market vendors and restaurateurs. This free event will take place from 4:00-7:00 p.m. at the university's West Madison Agricultural Research Station, which has more than 10 acres of certified organic land.
"We're looking for feedback that can help inform our plant breeding efforts," says event organizer Julie Dawson, a UW–Madison assistant professor of horticulture and UW-Extension urban agriculture specialist. "We'll have varieties on hand that the chefs we've been partnering with have really liked so far, including some of the successes from last year and some of the newer varieties that are looking promising."
Farmers and gardeners who attend the event will have the opportunity to learn about vegetable varieties that have been performing well in organic systems and see them growing in the field. The program includes short talks by UW researchers on the results of various vegetable variety trials for organic systems, including information about agronomic performance, insect and disease management, market quality and flavor. Vegetable crops that will be covered include beets, cabbage, carrots, sweet corn, cucumber, kale, greens, melons, onions, peppers (sweet and hot), potato, winter squash, and tomatoes (high tunnel and field grown).
Speakers include:
• Julie Dawson, tomato variety trials
• Ruth Genger, participatory potato breeding
• Amanda Gevens, organic disease management for tomatoes and potatoes
• Irwin Goldman, beet, onion and carrot breeding
• Russell Groves, organic insect management
• Erin Silva, update on the Northern Organic Vegetable Improvement Collaborative
• Phil Simon, carrot improvement for organic agriculture
• Bill Tracy, sweet corn breeding
The West Madison Agricultural Research Station is located at 8502 Mineral Point Road in Verona, just west of Madison's West Towne Mall.