UW-Madison researcher selected for national workforce, higher ed board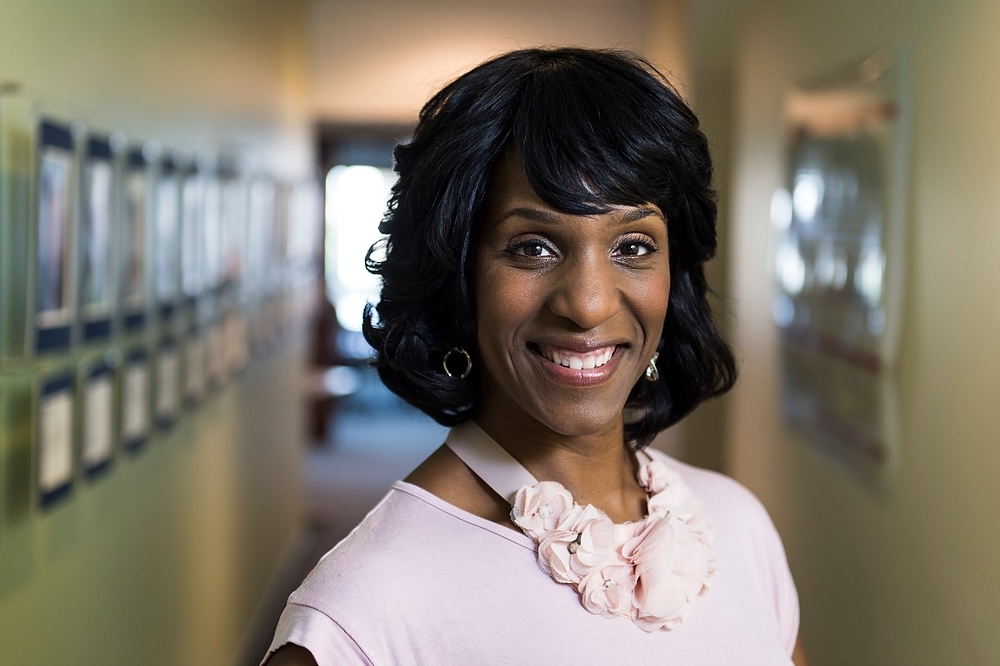 Angela Byars-Winston is pictured at the Center for Women's Health Research. Byars-Winston, a vocational psychologist, has been appointed to a federal panel to help direct policy for higher education and the future of STEM in the workforce.
Photo: Jeff Miller
Angela Byars-Winston describes herself this way: "I'm a social scientist in an M.D. world."
She's a trained vocational psychologist — someone who studies and practices the psychology behind how people choose and are successful in careers —and an associate professor in the UW–Madison School of Medicine and Public Health.
This year, Byars-Winston joined the Board on Higher Education and Workforce (BHEW) at the National Academies of Sciences, Engineering, and Medicine, which commissions reports in areas germane to workforce development and higher education. State and federal policymakers use these reports to set priorities, make investments and adopt policies. She'll serve through at least 2017, contributing to substantive conversations and meet with key stakeholders and legislators.
As she discusses in this Q and A, her combination of research experience and background qualifies her for the position. A study she published in April provides just a snapshot, in which she and colleagues examined 40 years of data, from 1970 through 2010, to assess the degree to which the ratio of gender and ethnic diversity in the U.S. has been reflected in the labor market. Among the research team's findings: The sciences, in general, are not as racially and gender diverse as the general population.
Q: What about your background and your work have prepared you for this role?
A: I am trained as a counseling psychologist, with a focus in vocational psychology or the psychology of career development, and there are three areas in my background and training that have prepared me for this new role.
First, I am fascinated by the psychology of, and what impacts, our relationship to the world of work. I have a 5-year-old and an 11-year-old. I know they weren't born with a career map on their foreheads. How do they get oriented to the world of work? What messages do they get about what they should do for work, who they believe they can be based on who they are and the skins they live in? I think these are critical questions to understand when we talk about career development and the workforce.
"I have a 5-year-old and an 11-year-old. I know they weren't born with a career map on their foreheads. How do they get oriented to the world of work?"
Angela Byars-Winston
Second, I am also interested in how race, and gender in particular, affect people's perceptions of what they can and cannot do, because little of it has to do with actual ability as it does with perceptions of fit and belonging and affirmation. Does someone from inside that occupation say: 'Yes, you can be a microbiologist?' If different people from different groups get different messages about what they can do, then there is a trickle-up effect where we start to see the racialized and gendered workforce that we have.
So, my career development theory and research background, coupled with this multicultural lens, I think are unique intersections — and the third area is really applying those first two to broadening STEM participation. In 1975 Shirley Malcom published a paper on being black and female in science, which got the attention of Congress and led to conversations about what is the role of the federal government in broadening STEM participation. We are literally 40 years out from that paper and the conversations are still the same.
Q: Do others on the BHEW have similar experiences and backgrounds?
A: The majority of board members are presidents and chancellors of colleges and universities. One member is a former director of the National Science Foundation. Another is a NASA astronaut. I have a degree in psychology and training in multicultural counseling and individual and programmatic career interventions and impact testing. I am the only person on the board at this current moment who actually studies the effectiveness of interventions.
What I'm really interested in bringing to the board is an examination of the research-practitioner link, specifically using research from vocational psychology, career development, career theory, and interventions that have not been cross-fertilized with the STEM world. A lot of career practitioners don't have discipline-specific knowledge about the STEM world to help them ground their interventions. Armchair observations and anecdotes run rampant about what it takes to draw people to science and what it takes to build the next generation of scientists, so I think it's interesting the perspectives I bring.
Q: What are some of the biggest conversations BHEW is having and how are you contributing?
A: My unique widget in these conversations is to provide the research and data and evidence for what works in interventions. There are very small windows of opportunity at the policy level to push envelopes around in public education and growing the STEM workforce, so the more we have that evidence to justify what we're doing, being accountable for the public dollars investing in our efforts, the better.
The reality is, we are preparing the next generation of scientists for occupations and jobs that don't even exist yet, so we are listening to the thoughts and concerns about the future of public funding in higher education. There is a lot of responsibility with this board to say: Here are the leading edges on the public discourse that we want to contribute to.
One of the reports that just got funded is for a new Morrill Act, which started publicly funded higher education in the late 1800s. What is the version of that for the 21st century? The board has commissioned that report so people understand some of the challenges that are impacting decisions made in Wisconsin and elsewhere, and why we should get behind support of publicly funded higher education.
"The reality is, we are preparing the next generation of scientists for occupations and jobs that don't even exist yet."
Angela Byars-Winston
The other is quality undergraduate education — what does that mean? We are starting to think about it as part of the Morrill Act conversation for the general public in terms of: What is the return on investment of a college degree?"
Public support of minority-serving institutions is another one — especially in the STEM world — because historically black colleges and universities account for about three percent of the black student undergraduate population, but put out 16 percent of the STEM degree graduates. There are interesting lessons from a programmatic perspective about what places like UW–Madison or the University of Michigan can learn from these institutions, which do well producing STEM degrees for individuals from groups historically underrepresented in these disciplines.
In doing this work, I always think about my children and my friends' children — the next generation. What do they need to have public education available to them and have a workforce that is open to them and to have mentors and the research careers that they want to pursue, with fewer hoops to jump through in terms of proving their competence and why they're there?
Q: What does serving on the board mean for you, professionally and personally? How do you see your work on the BHEW coming back to Wisconsin, and to the university?
A: It's a wonderful affirmation of the work that I and colleagues have done. I've had a few articles where I've touched on programmatic policy implications and now to be at a table where there's potential to have those policy suggestions considered and to ultimately impact Congress, to make data-driven decisions about what should be done, is absolutely humbling and amazing. When does the research community ever have access to policy makers?
I don't know if we've ever had another Badger on this board, which is an important one given the public education funding discourse like we're having in Wisconsin. It's having an ear to the ground now about how what's happening at the state level is connected to larger national issues in a more concrete way. I received a lot of attention at the board meeting because of being from Wisconsin and I was asked a lot of questions about some of the strategies and responses from our chancellor and the Board of Regents regarding the state's changing relationship to public higher education.
I think my position is useful as a connection between state and national higher education issues. What do we want to have represented from the perspective of Wisconsin? What are the reports that need to be written? Our job is to provide systematic evaluation and scientifically informed reports that then guide Congress. I'd like to know what Wisconsin wants to have said.