UW-Madison ranks highly in social media influence, engagement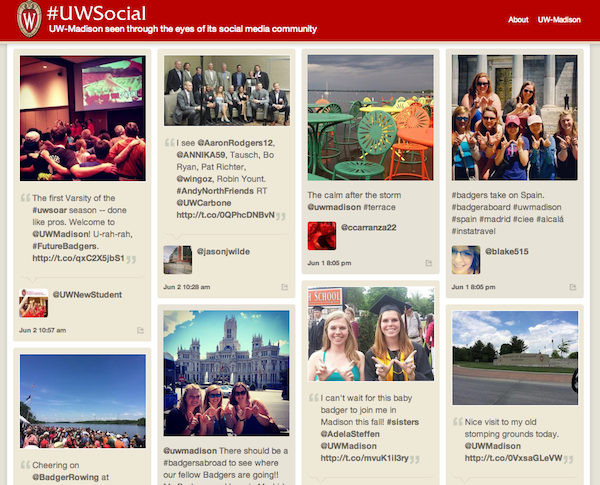 UW–Madison's social media site displays university-related content posted by followers every day.
UW-Madison likes to tweet — a lot. And a new study shows that it's having an impact.
The university was recently ranked as the second-most influential U.S. university on Twitter, according to a comprehensive study covered by Times Higher Education and conducted by Internet marketing firm Coldlime.
The study ranked each account by its "social authority" score, which is ultimately a measure of influential activity, highlighting content that is successful and engaging on Twitter. @UWMadison scored 79 points on its social authority score, the highest of any Big Ten school.
The university also tweets the most of any university, averaging 15.2 tweets per day.
"Social media gives us an opportunity to connect with people all over the world in a way we never could have just a short time ago," says Vince Sweeney, vice chancellor for university relations.
"Our social media team has worked hard to establish a fun and interactive voice, and we have to give credit to those who participate in this online conversation. We're truly fortunate to have so many engaged people who care about UW–Madison," he adds.
The University of Texas at Austin was ranked the highest at 81 points, followed closely by UW–Madison (79), Indiana (78), and Harvard (77). Other Big Ten schools scored fairly well in social authority, with Penn State (75), Michigan (71), Illinois (68) and Northwestern (61) in the top 30.
Separately, College Atlas has ranked UW–Madison as the second most engaged Instagram account in higher education.
Visit here to get a taste of the amazing content UW's followers share every day.