UW–Madison offers free Leopold's land ethic online course and February event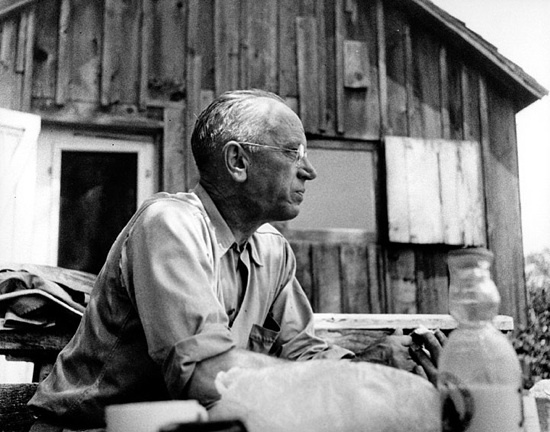 Aldo Leopold, a 20th-century conservationist and former UW–Madison faculty member, is shown at his Sauk County shack in about 1940. A new Massive Online Open Course will focus on Leopold, perceptive hunting and conservation. 
Photo: UW Digital Archives
The University of Wisconsin–Madison will offer its next round of six Massive Open Online Courses beginning Jan. 26 with "The Land Ethic Reclaimed: Perceptive Hunting, Aldo Leopold and Conservation."
MOOCs are free online, noncredit learning experiences that allow people from around the globe to participate. Participants can sign up at any time once the MOOC has started to watch educational videos, engage in discussion forums, read articles and often take quizzes or complete educational activities. More than 135,000 registrants from approximately 140 countries and all 50 states signed up for UW–Madison's previous phase one pilot of four courses.
In this MOOC, which has a unique focus on and appeal to Wisconsin, the instructors will travel across the state and participants will learn about the historical legacy of wildlife management and recreational hunting as a part of conservation, the role of wildlife in ecosystems, and the legacy of Leopold, the 20th-century conservationist, father of wildlife management and former UW–Madison faculty member.
UW-Madison educators preview "The Land Ethic Reclaimed: Perceptive Hunting, Aldo Leopold and Conservation," one of six new Massive Open Online Courses.
Video: UW–Madison Continuing Studies 
The MOOC, which has global reach and appeals to learners of all ages, will run in conjunction with events happening locally, made possible by partnerships between UW–Madison and Wisconsin organizations.
The first of these events, "From Hunt to Harvest," takes place Feb. 21 and 22 in Baraboo, Wisconsin. The Aldo Leopold Foundation, Wisconsin Department of Natural Resources and UW–Madison are co-hosting a weekend of events to correspond with the MOOC and engage the community in activities related to hunting, local eating and conservation.
On Feb. 21, the DNR will be facilitating a Learn to Hunt pheasant program for new adult hunters.
On Feb. 22, the Aldo Leopold Foundation will host a full day of free activities, to include a deer butchering class and wild game cooking demo, guest speakers, hands-on activities, information tables and more.
Registration is required for some portions of the weekend. More information about this event and others is available on the course's Web page.

The Office of Sustainability at UW–Madison has developed a discussion series around the first MOOC for faculty, staff and students. More information can be found at its website. 
UW-Madison MOOC efforts are supported by Educational Innovation (EI), an initiative of the provost's office that aims to transform teaching, learning and engagement to inspire students and empower communities; the Nelson Institute for Environmental Studies; and additional campus partners.
To sign up for a UW–Madison MOOC or to learn more about the courses, visit the MOOCs website. To register for the free "From Hunt to Harvest" event in February, fill out the online form.