UW-Madison expands efforts to help students vote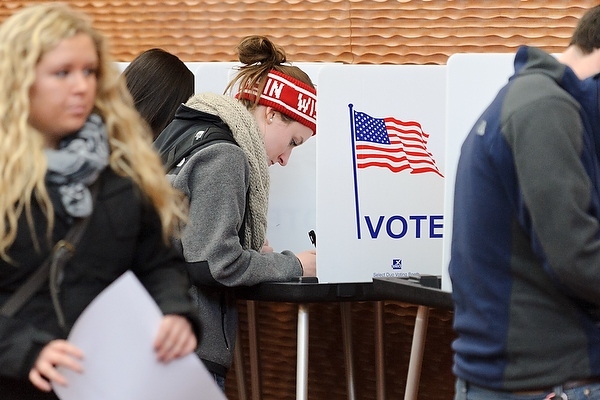 Eligible students cast their ballots at Gordon Dining and Event Center in 2012.
Photo: Jeff Miller
As new voter ID provisions are implemented for upcoming elections, the University of Wisconsin–Madison has identified additional ways students can exercise their right to vote.
The large majority of UW–Madison students will still be able to use their Wisconsin driver's license or State of Wisconsin ID, which already meet voter ID requirements.  For those students who currently do not have those forms of identification, the university has offered a separate voter ID card, at no expense, since 2012. This card was approved by the Government Accountability Board (GAB) and complies with state law.
"To ensure students have the broadest awareness of the voter ID requirements, we'll be expanding the way in which we get the cards into the hands of the students who need them," says Lori Berquam, vice provost for student life and dean of students.
Polling data from the last presidential election suggests that no more than 6,400 of UW–Madison's current 14,000 domestic nonresident students — representing undergraduate, graduate and professional students — would have needed the university's separate voter ID card.
At this time, any student wishing to request a voter ID card can do so by bringing their existing Wiscard student ID to the Wiscard office in Union South. The process takes a matter of minutes.
The university expects to take the following additional steps to make sure every student who needs a voter ID card can obtain one:
As students obtain an official student ID card (Wiscard), voter ID cards will be offered simultaneously to those students who need them. This includes new freshmen and transfer students getting their first ID at student orientation (SOAR) as well as any student requesting a new ID at any time during the year.
University officials will work with student government, student organizations and others to recruit and place volunteers outside the major student polling places to check if students have everything they need to vote before they enter. This will help ensure that students do not stand in line to vote only to be turned away because they do not have the appropriate ID.
The university will also explore the possibility of having the City Clerk's office designate our volunteers as Election Officials so they can be inside the polling place as well.
The university will continue campuswide efforts to publicize the availability of the voter ID card to those who need it through websites, posters, social media and other communications to students.
"Offering a separate ID allows us to meet the law, is economical, continues to protect our students' privacy and data, and will not significantly burden the majority of students who do not need the card," says Berquam.
When the voter ID law was passed in 2011, the university explored multiple options for a campus-issued voter ID card, including modifications to the current official student ID by adding a sticker and also by completely changing the existing card. 
The GAB approved stickers for signatures, but not for the expiration dates and therefore would have required an entirely new card.
As to making the Wiscard compliant, the university would need to issue new cards, adding a signature, and would need to move from a five-year expiration date to a two-year expiration date.  This change would require students to obtain an official card at least three times during their college career.
Each time the card would need to be replaced, there would be an interruption of student services — access to student accounts such as food and debit and access to buildings including residence halls, libraries and laboratories.
In addition, the modifications create an increased security risk and impose a significant financial cost to the university, estimated at more than $2 million over five years with continuing annual costs ranging from $375,000 to nearly $600,000.