UW-Madison breaks record for collecting school supplies at state fair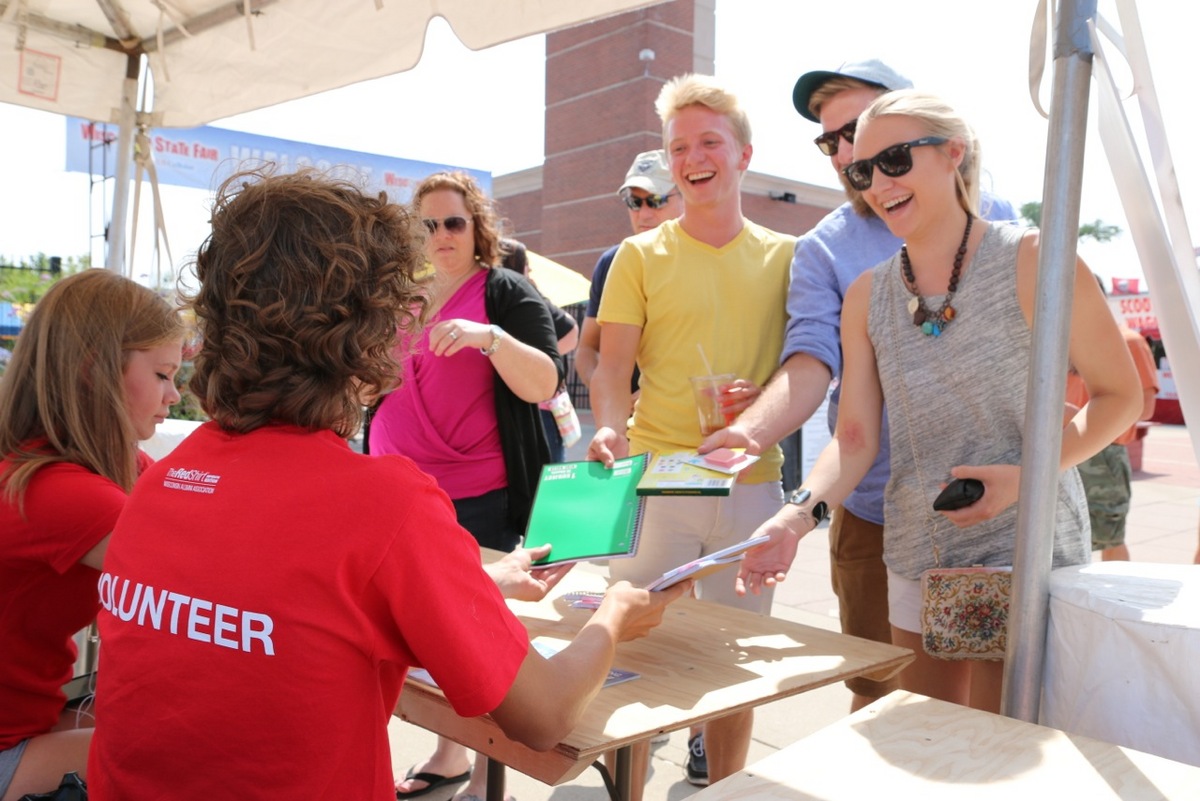 UW volunteers collect donated school supplies Wednesday during UW–Madison Day at the Wisconsin State Fair. The supplies will be distributed to Milwaukee Public Schools.
Photos: Nate Moll
Going back to school after summer vacation can be rough. It's even harder for students who don't have the necessary school supplies.
But thanks to the generosity of attendees at this year's Wisconsin State Fair, more kids will have what they need to start this school year off right. The University of Wisconsin–Madison once again held a school supply drive with this year's monetary donations nearly doubling last year's. A total of $10,111.36 was donated, up from last year's $5,479.04.
"We got off to a quick start and had high hopes all day," says Beth Giles-Klinkner, the interim assistant dean for outreach and partnerships in the UW–Madison School of Education, who helped facilitate the school supply drive. "To see this generosity is overwhelming. It shows that the Milwaukee community cares about their students and truly values education."
Nearly 150 bags of school supplies were collected, along with more than $10,000 in cash donations.
UW-Madison faculty, staff and students along with volunteers from the Wisconsin Alumni Association were on hand yesterday (Aug. 6) to help with the drive as well as other activities including science exhibits, hands-on activities and a pep rally with the Badger band and cheer squad as part of UW–Madison Day at the Wisconsin State Fair.
School supply donations were also up over last year with 141 55-gallon bags collected, up from last year's 125 bags.
Backpacks, folders, crayons, markers — all will be donated to Milwaukee Public Schools with the monetary contributions going to pay for iPads in the science department at Bay View High School in Milwaukee. They will be used as part of the science curriculum, with teachers taking what they've learned and developing an online module that will spark new ideas and innovations for teachers statewide.
"We are thankful that so many people once again helped our school supply drive be such a success," says Vince Sweeney, vice chancellor for university relations. "It really shows the generosity of our community, and we look forward to continuing this tradition."
In addition to giving supplies directly to students, many will be stocked in classrooms so the right resources are available when needed.
"This is one way we can help ease the financial burden that some families are facing," Giles-Klinkner says. "We want to do everything we can to help students succeed."