UW brings outreach to Epic's 'Deep Space'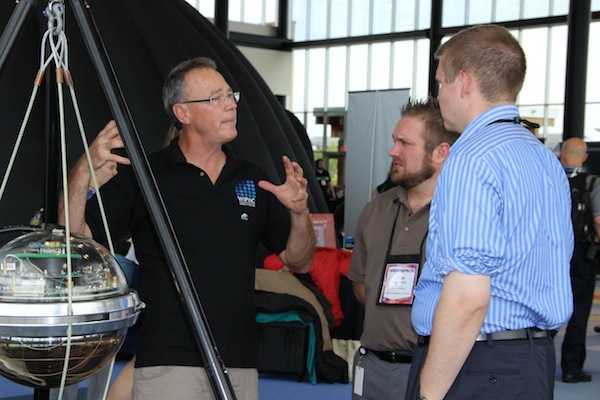 Wisconsin IceCube Particle Astrophysics Center (WIPAC) associate director Jim Madsen explains IceCube, the world's largest neutrinos detector located at the South Pole, during Epic Systems' Annual Users' Group Meeting on Sept. 19. (Photo by Nick Gonzales.)
Touchable plasmas and a machine capable of launching a rocket using household objects ranging from mousetraps to strings were among a few of the ways UW–Madison's innovation was showcased Thursday (Sept. 19).
Hosting a series of exhibits on Epic Systems campus in Verona for the health care software company's massive annual users' group meeting, UW–Madison researchers and outreach experts focused on "Deep Space," the name of Epic's new underground auditorium, as a common theme to demonstrate how campus research is making an impact in and out of this world.
Outreach to communities and companies around Wisconsin is a key priority for Chancellor Rebecca Blank. The event, and others like it, are one way the university is showing and telling people about the value of this institution. The visit was coordinated by University Relations.
Space Place, part of the UW–Madison Astronomy Department's outreach program, presented a series of 40 astronomical images and a series of images of the Milky Way.
"We're trying to bring things that are happening on campus and the university to other people who may not know about it or may not get to campus to see those things," Kay Kriewald, Space Place educational outreach specialist, said. "We're trying to take the things that are being done at the university and spread it out as much as we can."
Kriewald said a steady stream of attendees kept presenters and scientists busy throughout the day with questions and activities. Travis Tangen, education and outreach manager for Town Center in the Wisconsin Institutes for Discovery, said the event presented a way for the university to make in-roads into the community.
Tangen said that they coordinated with the Morgridge Institute for Research and the College of the Engineering to create a series of hands-on exhibits that involved "having a good time and dreaming up ways" of how 3-D printing could have an impact on habitation in outer space, which NASA is currently considering as a possibility.
"We want to share all the innovative ideas that are flourishing here at the university, really to make people aware of the curiosity that gets followed up in research … and having this dynamic possibility of building things on site in outer space that are just based on what your imagination can dream up," Tangen said.
The exhibit contained interactive 3-D printed pieces, ranging from pieces of a lunar model to complicated series of gears, to show the versatility of the process.
Mike Randall, outreach coordinator for the UW's Wonders of Physics Travelling Show, had a display on touchable plasmas of the universe so conference attendees could think about how plasma works and how, by extension, the universe works.
He also helped facilitate a 24-station hands-on Rube Goldberg experiment. Pairs of participants took mousetraps, toy cars and other household items to build complicated contraptions that began with dropping a marble and end with shooting a foam rocket. The teams received a point for how many parts they can use in their machine.
Randall said he has used the lab with preschoolers and in corporate team building workshops and that it serves as a fun way of getting people to think about how their world works.
"This opportunity at Epic is a chance to reach an audience that we would never normally be able to reach," Randall said. "These are people from all over the world. It's a chance to have fun with them and maybe give them a different perspective on science."