Undergraduates pursue dream projects with WISCIENCE Summer Research Scholarship
Yingshi Zhang could have found herself working at a restaurant cash register, as she did two summers ago. Instead, she discovered a research program that kept her busy all summer and into the fall.
Zhang combined two of her favorite areas of study — psychology and computer science — for a project using software to detect confusion in computer users. Her findings will be helpful for online teaching and interactions between robots and people.
"By using this application, companies will be able to identify user breakdowns more easily, and therefore be able to design better user-friendly interfaces," she says.
Zhang, who is from Linqing, China, was able to spend her summer in the lab — rather than at the cash register — because of the new WISCIENCE Summer Research Scholarship from the University of Wisconsin–Madison. A collaboration of Educational Innovation, Summer Term and the Wisconsin Institute for Science Education and Community Engagement (WISCIENCE), it's part of an effort to provide summer research opportunities for undergraduates. This year, 34 students received scholarships of between $1,000 and $2,000 to work on dream projects and take a research-oriented course.
Zhang is continuing her research this fall alongside her mentor, graduate student Andrew Schoen of Appleton, and computer sciences Professor Bilge Mutlu. She hopes to pursue it in graduate school as well.
As part of her scholarship, Payton Lindner researched the role of immune cells in protecting a fetus from infection. With the help of her research mentor, she also began an independent project on endometrial lesions in reproductive-age women.
"The work has not only taught me essential life skills like critical thinking and problem-solving, but also provided me with a comprehensive understanding of the immunological components of pregnancy and childbirth," says Lindner, of Wisconsin Dells, who will apply to medical school next year. "If you are motivated to dig deeper into a subject and really work hard at the research, the scholarship has the potential to be priceless."
Other student research projects include exploring treatments for autism, investigating brain development in infants, and researching the Russian legal system.
WISCIENCE Poster Session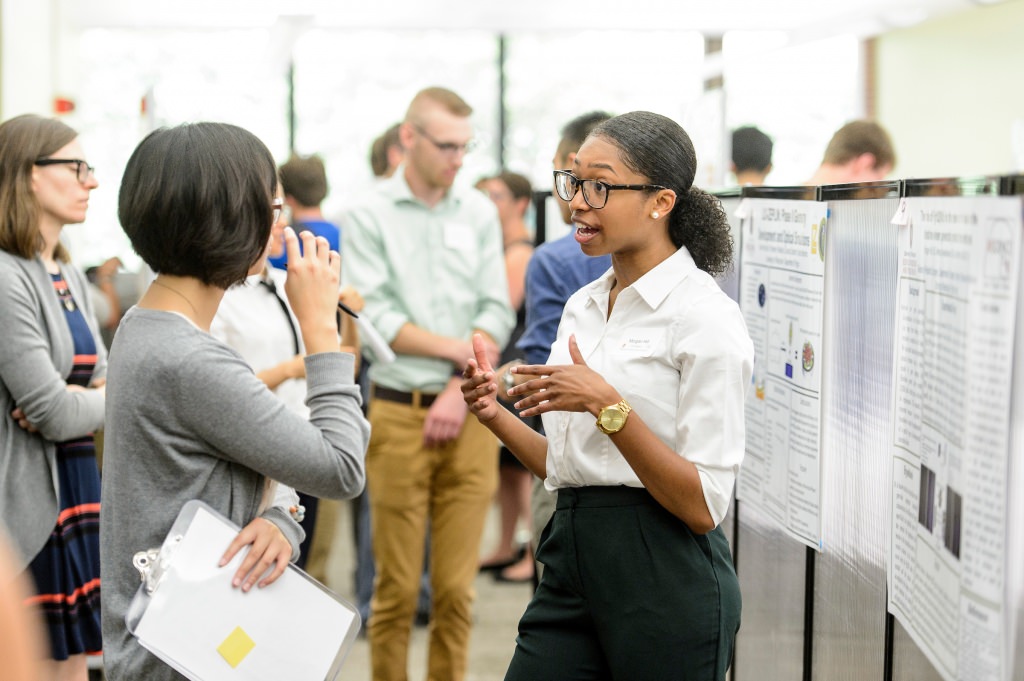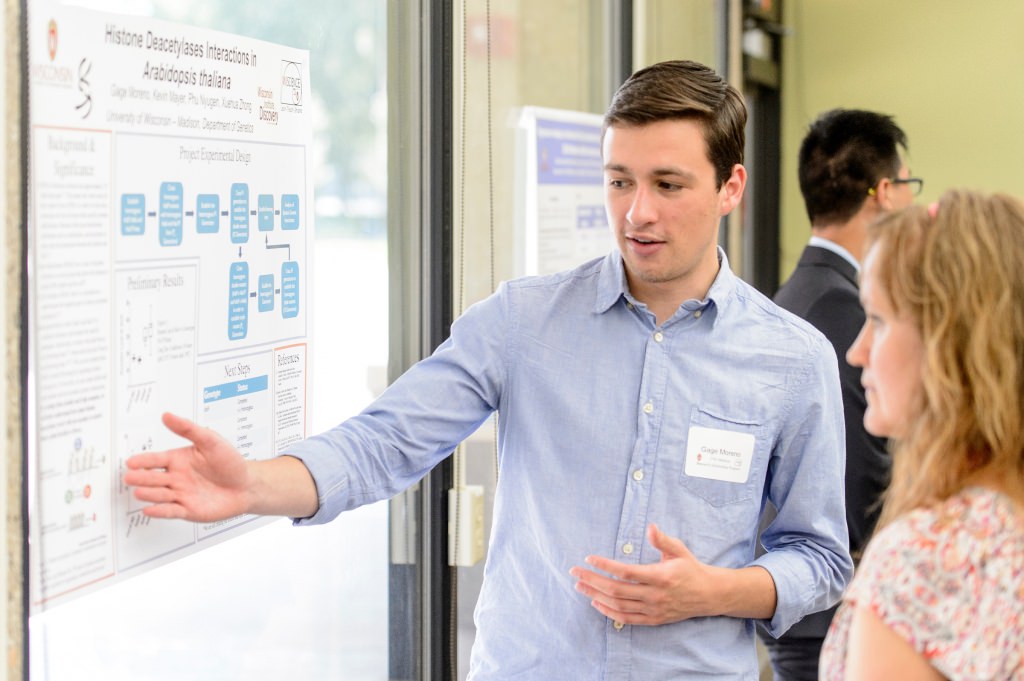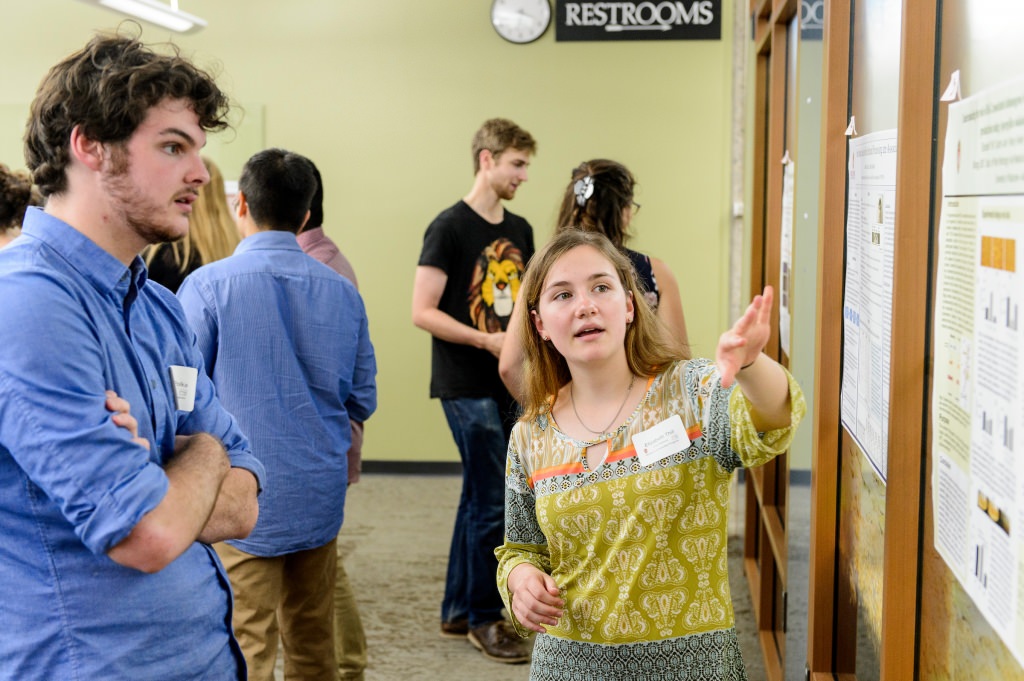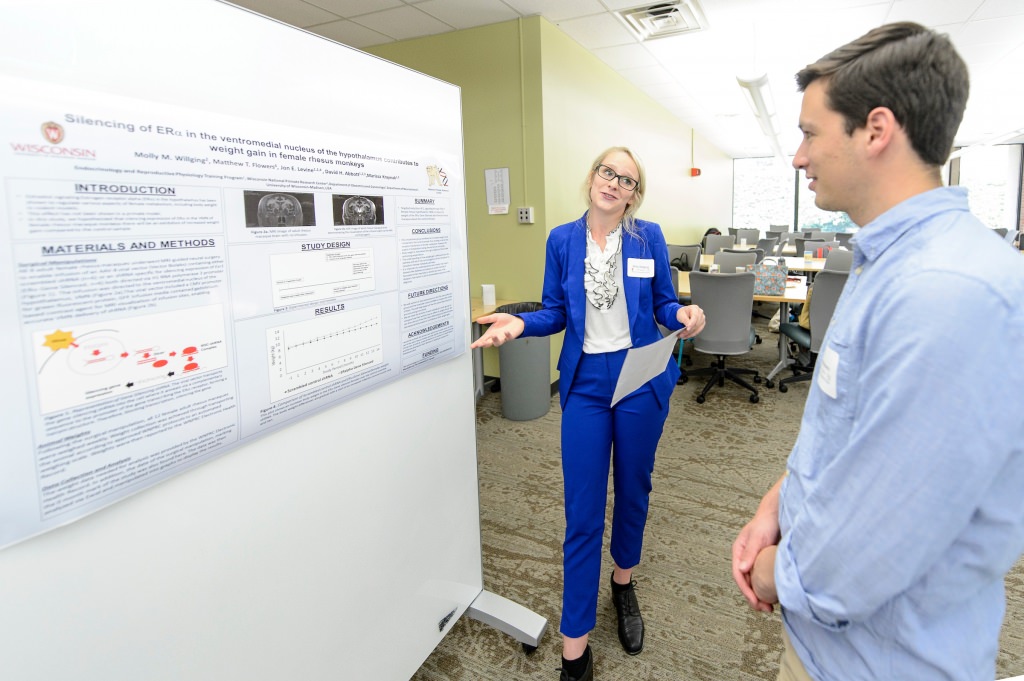 "UW-Madison strives to provide meaningful research opportunities for its undergraduate students," says Steven Cramer, vice provost for teaching and learning. "With the WISCIENCE Summer Research Scholarship, students can take advantage of university resources during summer to advance their academic and professional careers. The opportunity will provide research-oriented coursework and faculty mentoring to prepare them to contribute to important breakthroughs in their fields."
The scholarships were open to students from any school or college, and with any major.
"The overwhelming interest in the WISCIENCE Summer Research Scholarship program is a testament to students' curiosity and interest in engaging in high-impact, authentic research experiences," says Amber Smith, director of research mentor and mentee training for WISCIENCE. "It provides a framework for students to understand the research process, practice communicating their research, and learn to work with individuals from diverse backgrounds."
The students were excited to find research projects directly related to their field of study, and also to do good for the world. Jack Yang, for example, worked with the Computer Sciences Department to develop a robot that helps teach young children to read. The machine interacts with them by asking questions throughout the reading process.
"Some of my programming duties were to let the robots recommend certain books based on the children's interests," says the sophomore from Maplewood, New Jersey. "I'm really excited about the project since it is going to help so many kids explore the unlimited knowledge that books could offer."
For more information about the WISCIENCE Summer Research Scholarship, contact Amber Smith, 608-265-0850, amber.smith@wisc.edu.