Today's middle school students study yesterday's people of Aztalan
LAKE MILLS, Wis. — Gavin Ketterman was really excited about the animal bones. But he was also really excited about the tools.
That's because at age 12, he is thinking hard about what he wants to be when he grows up, which means he really enjoyed his field trip to Aztalan State Park with the rest of his 6th grade peers at Fort Atkinson Middle School on a recent May morning.
"I got to find out about what kind of grades you're supposed to get to be an archaeologist, because I kind of want to be one," he said.
What he and 200 of his classmates experienced on this school trip to Aztalan, a prehistoric Native American site located in nearby Lake Mills, was a walk through some of the most critical elements of an archaeological excavation. Four stations set up throughout the park allowed them to learn more about how archaeology is conducted there, from the very people who do it.
That's because every few summers, Aztalan State Park becomes an active archaeological site when University of Wisconsin–Madison Professor of Anthropology Sissel Schroeder leads an undergraduate field school there, with the goal of better understanding those who lived at Aztalan nearly 1,000 years ago.
How to do archaeology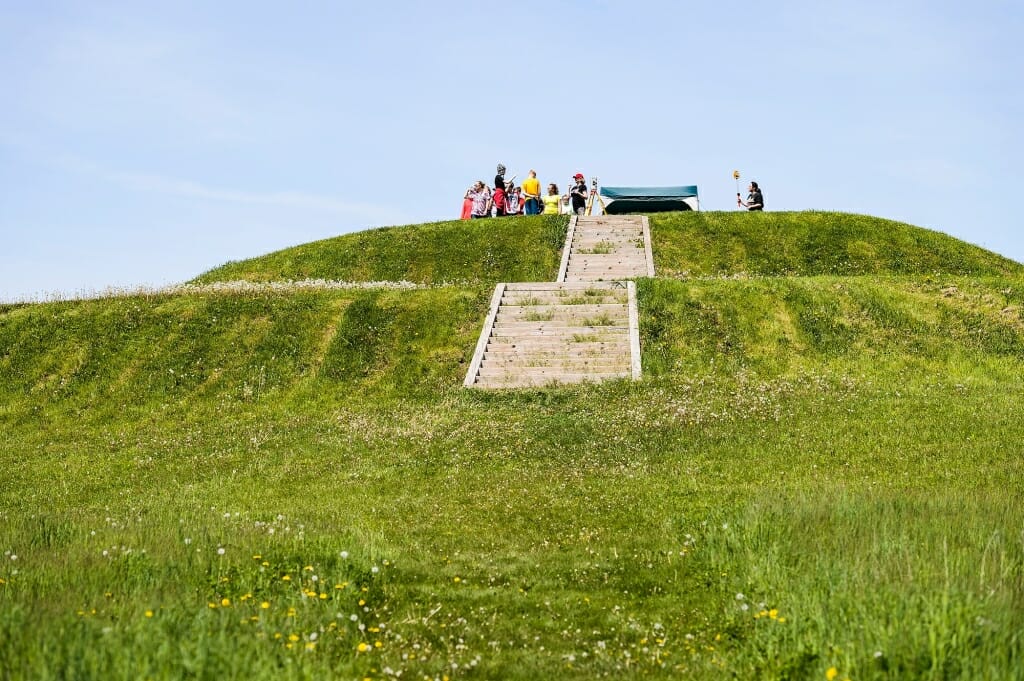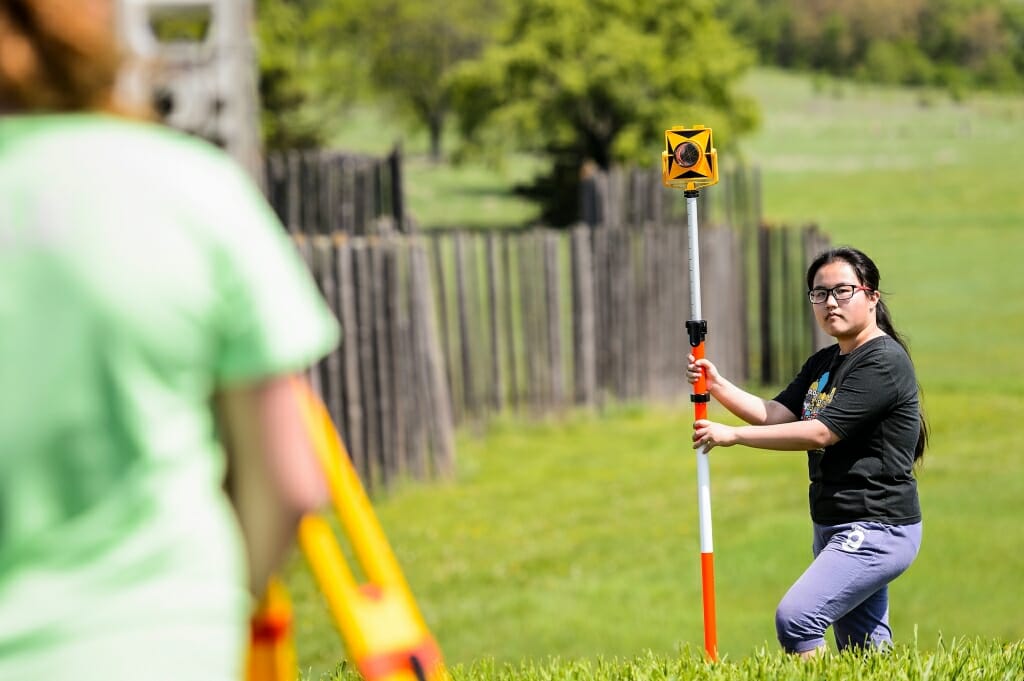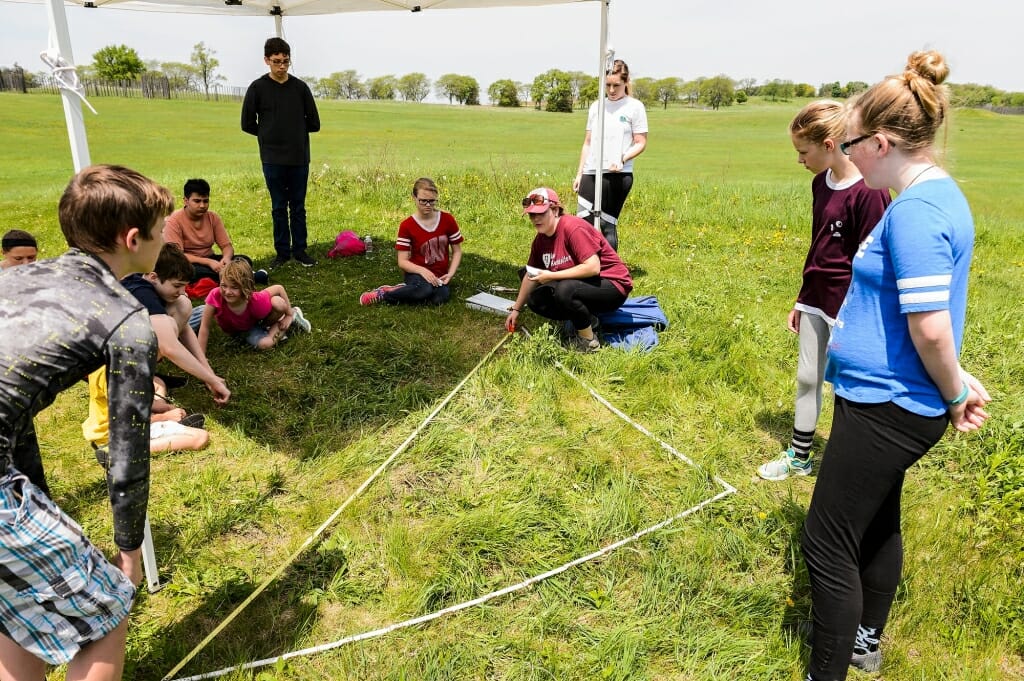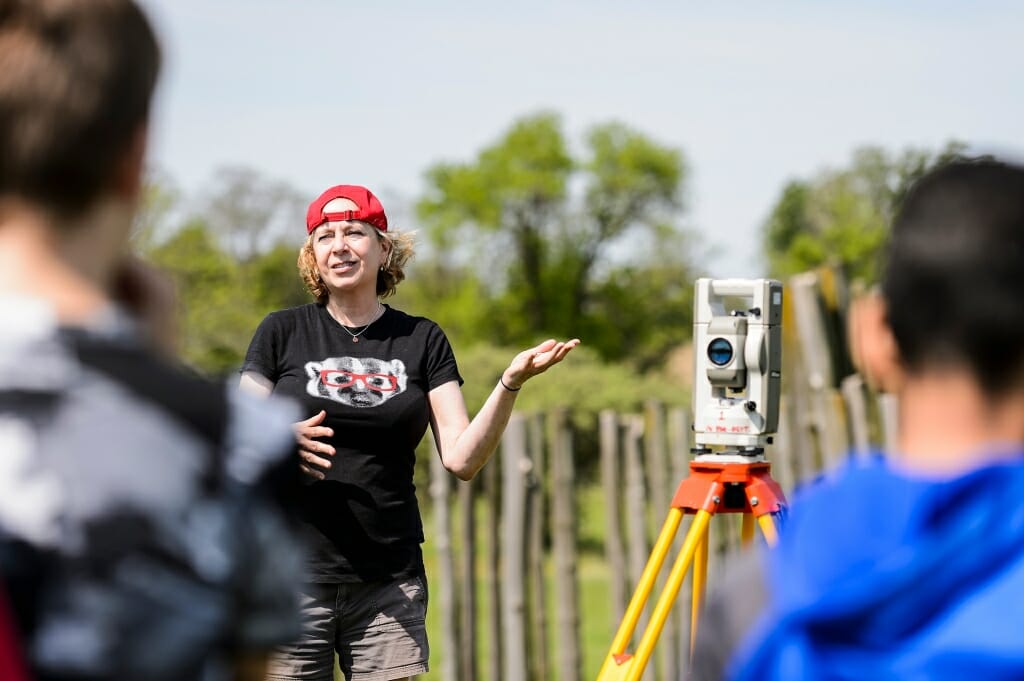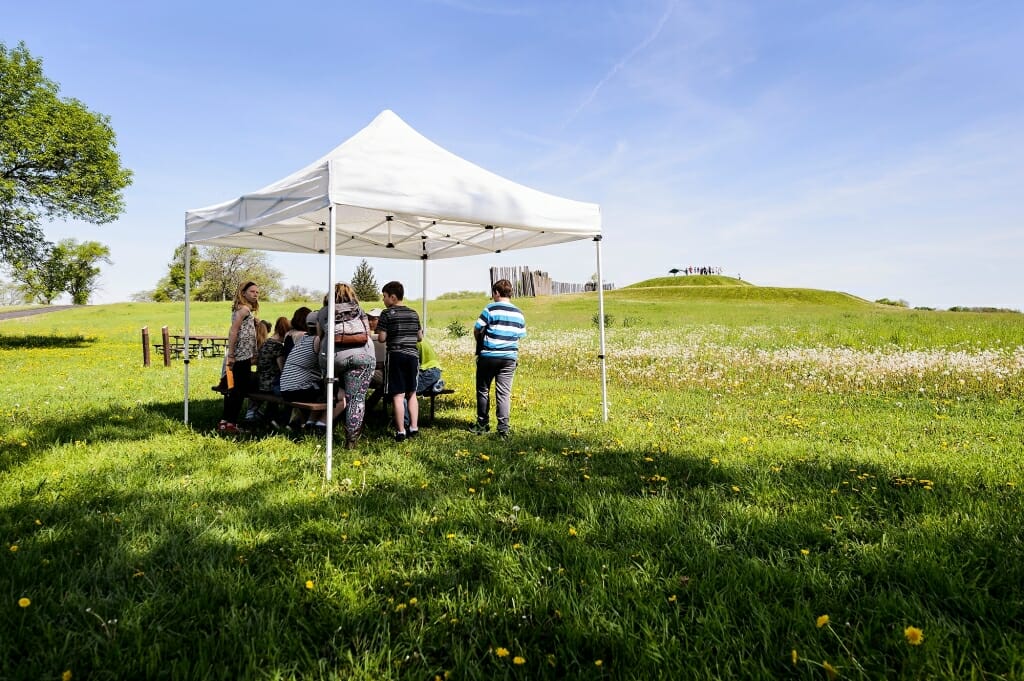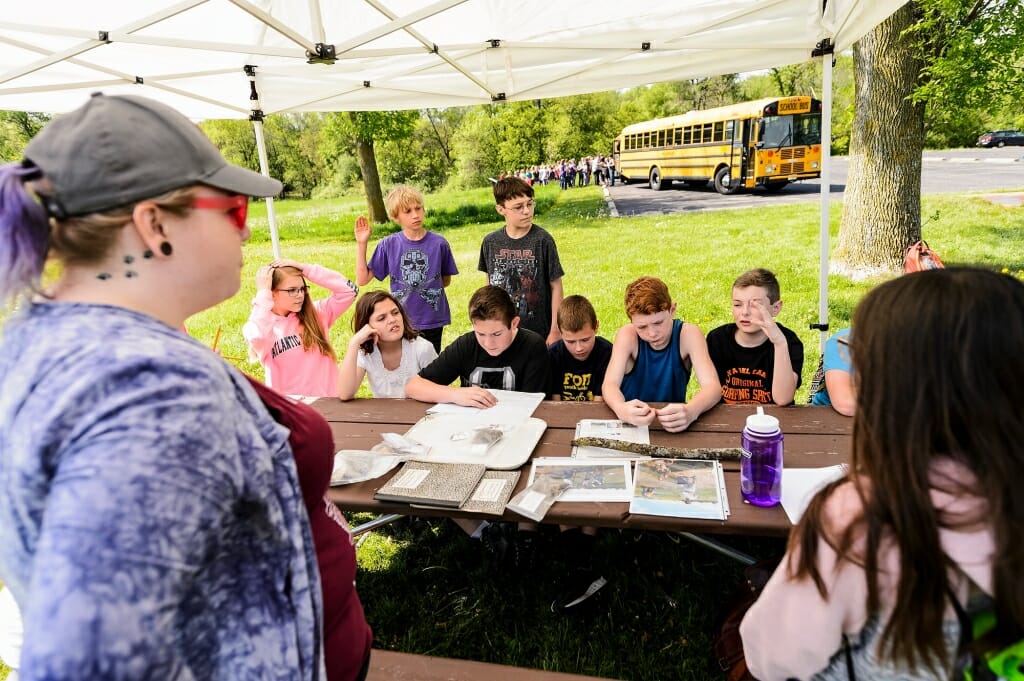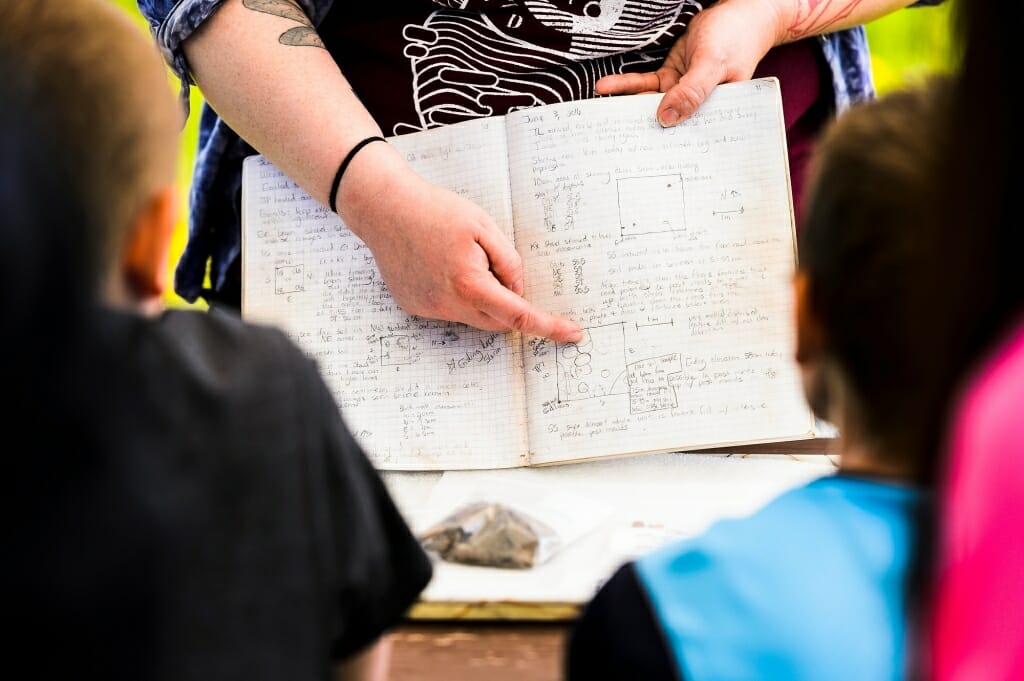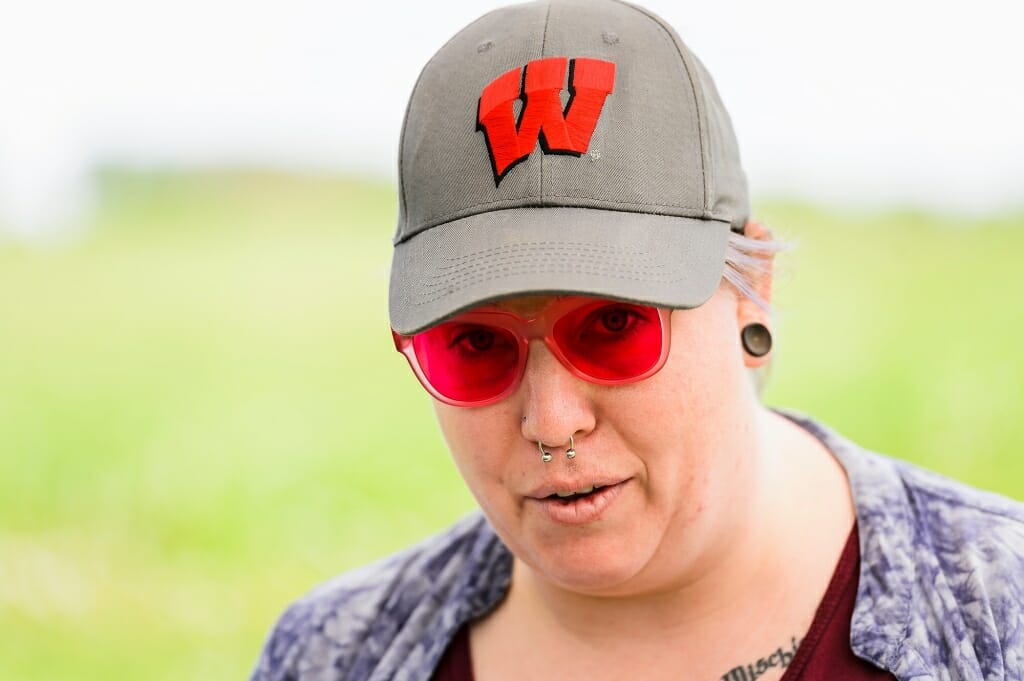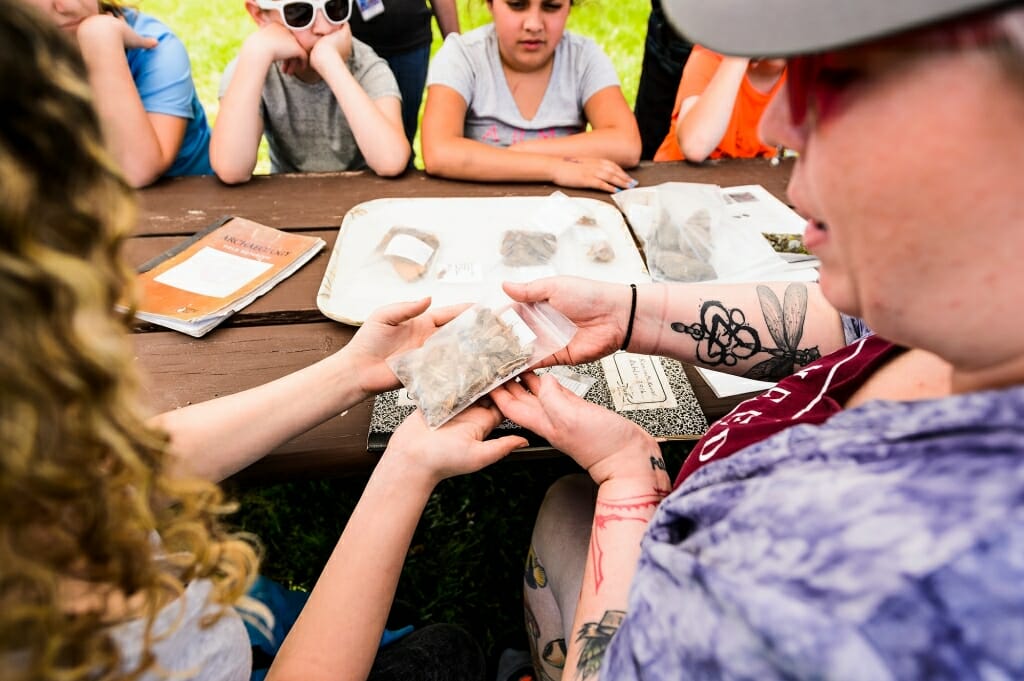 In 2015, Schroeder and her colleagues were awarded a Baldwin Wisconsin Idea Endowment Project Grant to help involve the public in the archaeological exploration of Aztalan. It has also given Schroeder's students the chance to communicate with the public about the science of archaeology and the history of the site.
The project has also funded the development of a statewide, K–12 science and social studies curriculum by project assistant and graduate student Linda Orie. Designed around archaeology, it is being piloted in partnership with Fort Atkinson Middle School. Orie formerly taught middle school science in the Menominee Nation and is herself a member of the Oneida Nation.
The Fort Atkinson visit in late May was part of a series of lessons the students received this year around Aztalan and its people, the practice of archaeological excavation, and the history of the site located not far from home. It provided a hands-on experience to complement their multiple in-class visits from Orie and recent former lab manager Sarah Taylor, who completed Schroeder's field school in 2016.
"It's a treat to be the fun thing they get to do," says Orie. "It's a novelty and that's so important for the kids. It's a breath of fresh air for the curriculum."
Showing off sherds
At one station, students heard from former field school student Zichen Bai, about the process of excavation. Bai showed off bits of pottery (sherds) they had recovered at the site and talked about the process of dating organic materials such as charcoal that had been found at Aztalan.
"Has anyone heard of radiocarbon dating?" Bai asked the first group of eager students.
Marty Guttenberg's hand shot up and he readily delivered an answer: "Everything that has lived has carbon in it and after it dies, it gives away carbon at a steady rate."
At Emily Eichstedt-Anderson's station, the students —­ who arrived in four large groups throughout the day — learned about the importance of keeping good notes, examining field notebooks from former undergraduate students. They also inspected animal bones found in centuries-old trash pits at Aztalan, and asked Eichstedt-Anderson what her favorite archaeological discoveries at the site had been when she was in field school.
"Once, we found a really big piece of red slip pottery," she said, referencing a method for producing pottery, often with pigment. "That's not common to find."
Why a triangle?
At the knoll at the southeastern end of the site, the middle school students learned about the tools of archaeology, from well-edged trowels to the steel brushes the field school students use to keep their instruments clean.
The 6th graders also took part in a math lesson. They had already learned that archaeologists work in square test pits that must be accurately measured and dug. On a small white board, former field school student Aleesha Kozar had drawn a right triangle and asked the students why an archaeologist might be interested in the shape.
"Because it's half of a square?" several students volunteered.
"That's right!" Kozar said, before she and Taylor led them in a hands-on lesson of the Pythagorean theorem. Using meter sticks, the students measured out two sides of a right triangle. One of their peers, with a calculator, had to determine the length of the hypotenuse.
The fourth station was staged at the top of the large platform mound at the southwestern end of Aztalan. Here, Schroeder and UW­–Madison student Vicky Wen were demonstrating how archaeologists use total stations, instruments used by surveyors and civil engineers to assess a landscape, to grid a site and plot test pits.
Aztalan's elite
The students knew that it was on this mound that Aztalan's elite lived, and where several of the site's people had been buried. It is, as they knew, an interesting feature of the site because it was built by Mississippian people who had immigrated there from Cahokia, near present-day St. Louis, and settled with the Late Woodland people who were already there.
For Orie, this narrative has become an important part of the curriculum, especially since many students at Fort Atkinson also immigrated to the area with families employed in the town's dairy and agricultural industries.
"As a teacher, I became frustrated by not having quality curriculum, curriculum that was divorced from a sense of place," Orie said. "Here, I get to design a curriculum focused on deep education, rather than breadth, and research shows that's where learning happens. The students can connect it to something right in their backyard and use that to build more learning on. Maybe it will stick."
On this warm but breezy day, the teachers from Fort Atkinson certainly seemed to appreciate the opportunity the field trip afforded.
"It's nice because in past years, we would come out here and someone would just show us around, but having the stations, they explain that Aztalan is not only a park and the mound but also, how they do work here," said Jennifer Prowitz, a Fort Atkinson Middle School 6th grade science and social studies teacher. "There is not a unit in science or social studies where we talk about archaeology and what archaeologists do, so it's neat for kids going into history to get a piece of that, to see it for real instead of hypothetically. And they're asking questions based on what they were taught when they visited for in-class activities."
'A dream come true'
In those activities, the 6th graders learned about the foundations of archaeological excavation, which many of them recalled at Aztalan, like asking for permission before digging and "make no assumptions."
At school, they had already participated in virtual digs offered through the Virtual Museum of Canada, and they had taken a trip to the nearby Hoard Historical Museum, which offers exhibits on Fort Atkinson's history and the people who have called it home, including the prehistoric people of Aztalan.
It's a partnership 6th grade social studies teacher Brenda Thayer, who has been involved in the Baldwin project since its inception, has valued. "It has been an awesome experience for the students involved, as well as the teachers," she said. The project wraps up this year and she will be sad to see it go. Schroeder is hoping to secure more funds to keep the educational component going.
For Orie, the experience has been "fortuitous." The classroom visits have allowed her to "field test" her lessons, iron out bugs and get feedback from the students and teachers. She expects the curriculum will be ready to publish, in line with state standards, by next year.
"It's been wonderful," she said. "A dream come true."
As they hurried to the bus to get back to school at the end of the day, 6th graders Maritza Alvarado and Bethzy Garcia gushed about what they'd learned.
"It's fun, because now we know how to be archaeologists and it inspired us to do it because they showed us artifacts," said Garcia as she boarded the bus, a big smile beaming across her face.
Editor's note: Author Kelly April Tyrrell is a co-leader of the Baldwin Wisconsin Idea Endowment Project described in this story.