From moon rocks to flash talks, explore 100+ Wisconsin Science Festival events
Radio technology, astrobotany, dairy science and computer coding are just a handful of science topics to be explored at the 2017 Wisconsin Science Festival, set for Nov. 2-5.
Now in its seventh year, the festival continues to engage communities in the enterprise of science and discovery and aims to communicate the power of knowledge and creativity, promote innovation and cultivate the next generation of global citizens.
From the "Extreme STEAM Discovery Lab" in Fond du Lac to Milwaukee's "Creepy Crawly Zoo" at Discovery World, more than 40 communities are hosting activities statewide, making the 2017 festival the most expansive one yet.
Eric Wilcots, associate dean for natural and mathematical sciences at UW–Madison and chair of the WSF steering committee, says the science festival offers ample opportunities to cultivate a renewed sense of curiosity.
"I think every kid starts out a little bit as a scientist. At some point, they all ask 'how' or 'why' questions about the world," Wilcots says. "Somewhere along the line, that curiosity can get lost. We've got to bring back that natural curiosity for people, and festivals are one way to get science to the public."
Wilcots will be featured at a few science festival events himself, including this year's "Big Ideas for Busy People: Big Data Edition" in Madison from 7 to 8 p.m. Saturday, Nov. 4, at the Discovery Building, 330 N. Orchard St.
The Big Ideas events involve high-energy, 5-minute flash talks, and a ringing gong that calls out anyone who goes over the allotted time. Laura Heisler, director of the festival and programming for the Wisconsin Alumni Research Foundation and the Morgridge Institute for Research, says that "big data" is an organizing theme that transcends specific scientific fields.
"Big data is really interesting, and it's ubiquitous in terms of its impact on all aspects of our lives and of scientific inquiry," Heisler says. "We're featuring a range of experts from English to astronomy and everything in between to talk about the role of big data in research."
Scenes from last year's Wisconsin Science Festival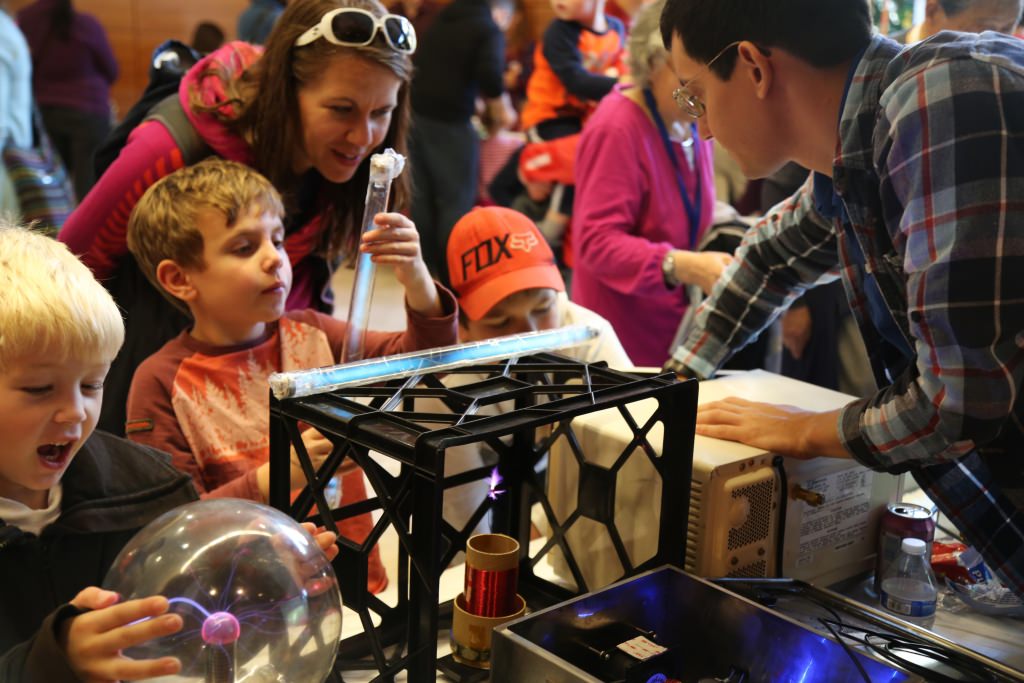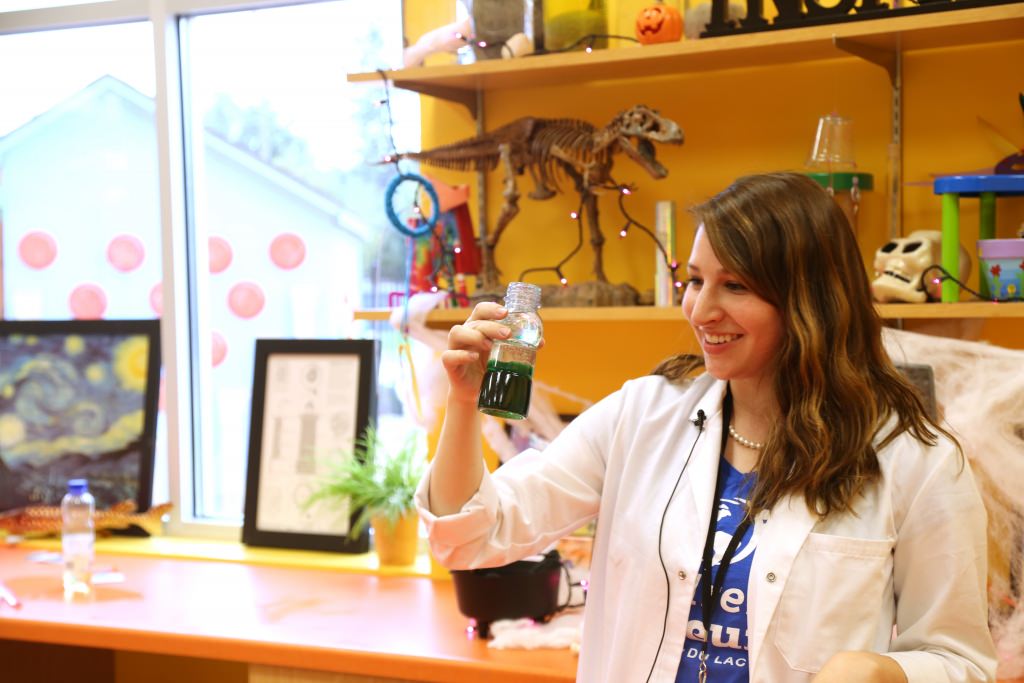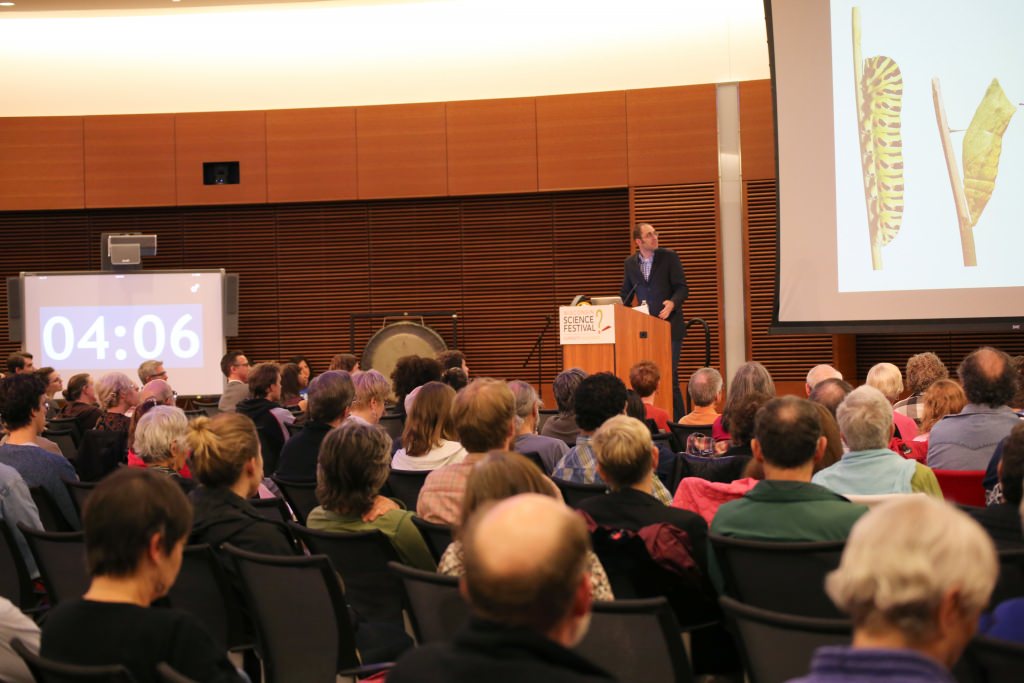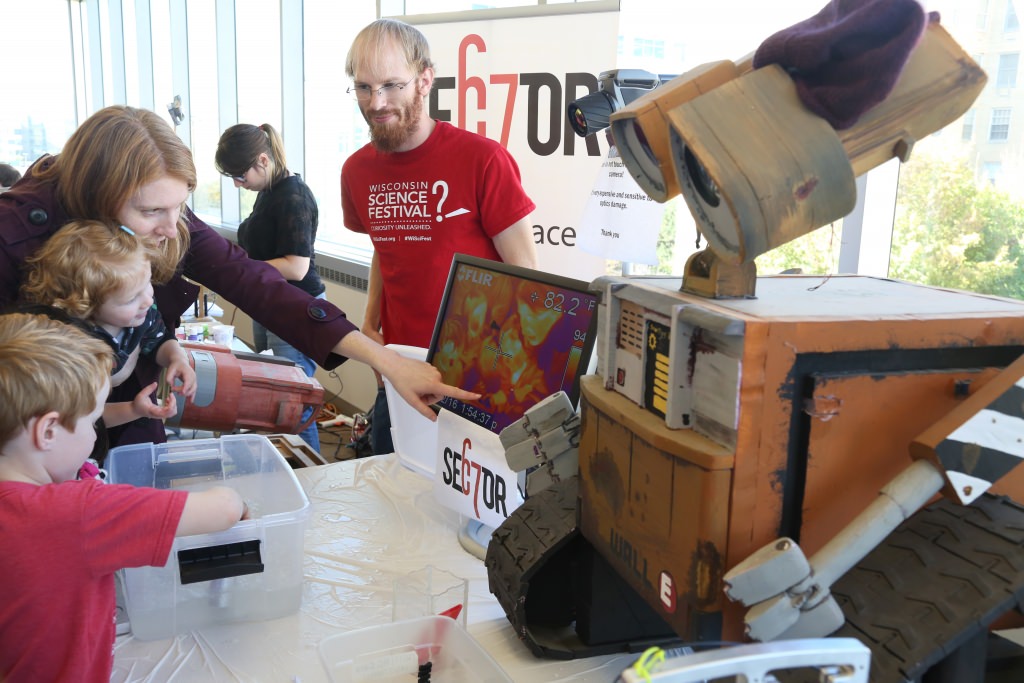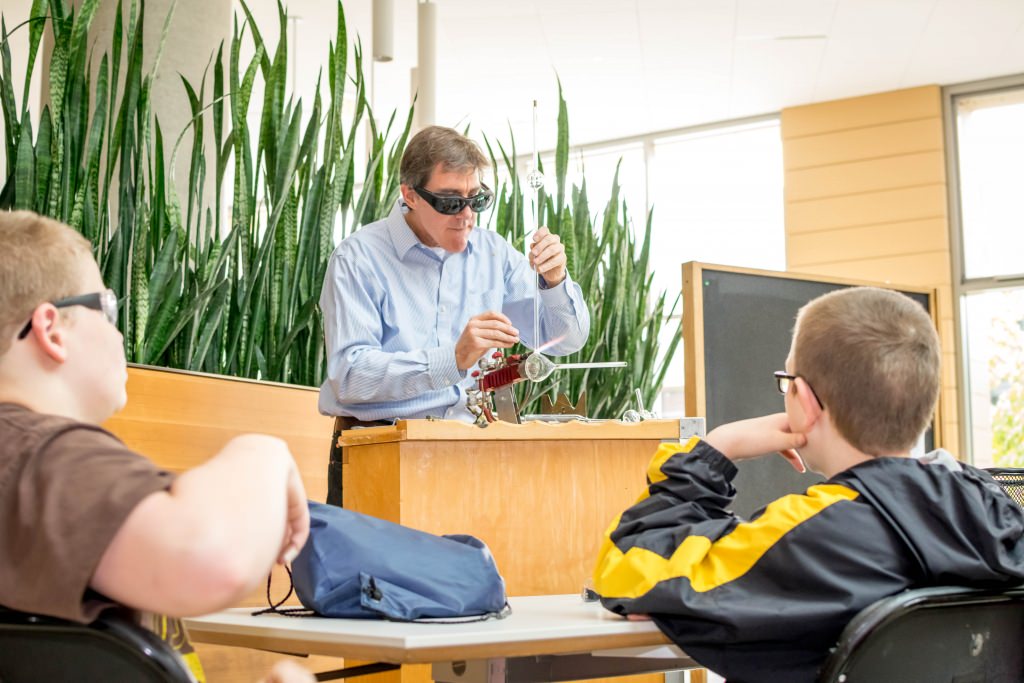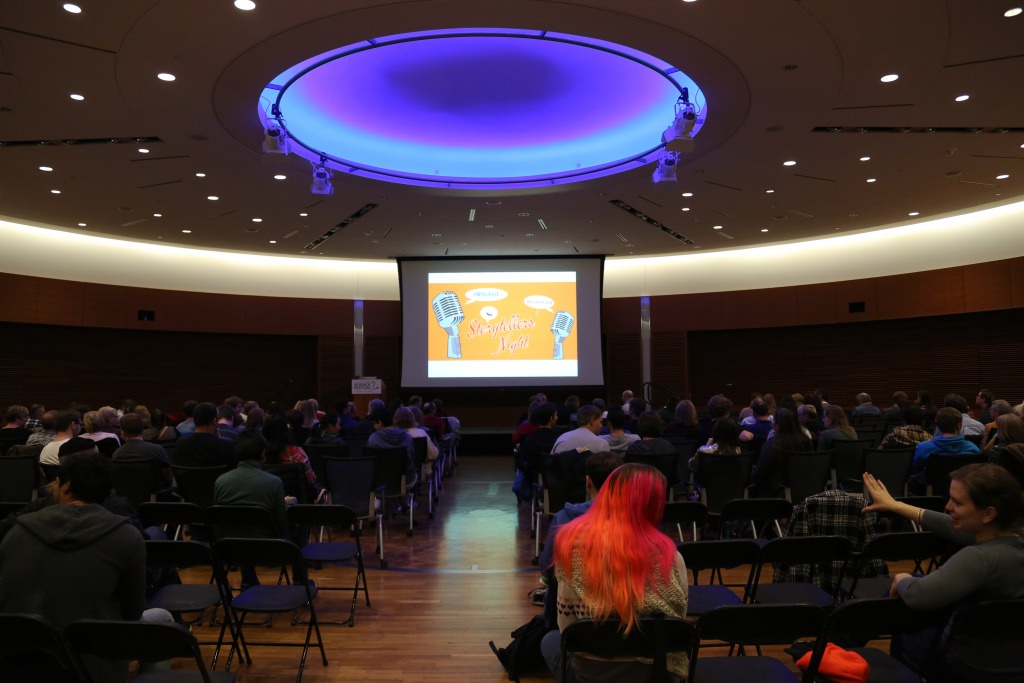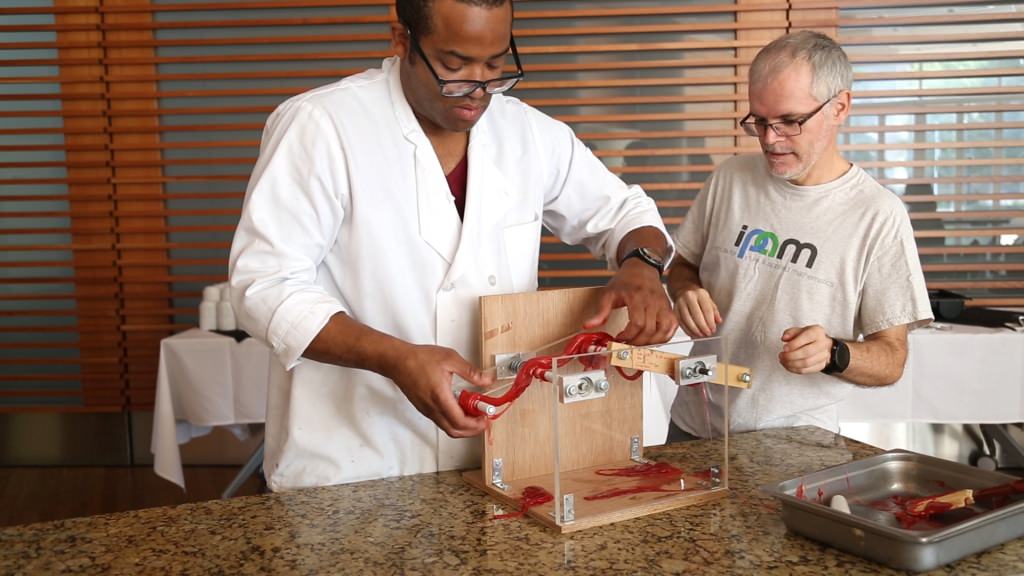 Madison's Friday night hallmark event, "Can You Hear Me Now? 100 Years of Wisconsin Broadcast," held from 6 to 9 p.m. on Nov. 3 in the Discovery Building, will celebrate one of the great scientific firsts Wisconsin bestowed on the world — the birth of public radio — while gazing into the future of radio technology, including the search for extraterrestrial life. Celebrating the 100th anniversary of public broadcasting in Wisconsin, audiences will tune in to a decade-by-decade journey through broadcasting's evolution.
"There's been a lot of great collaboration to bring our festival excitement and experience to the topic of science in radio and TV technology," Heisler says. "Stations will feature both advancements in radio technology and the cultural evolution that came along with it."
Also taking place Friday evening is the free "Science Cab," where guests will jump in minivan cabs at the Discovery Building and play trivia with an assortment of UW–Madison scientists. Participants will be taken to four different downtown and campus destinations — including Washburn Observatory, the Wisconsin Alumni Association's Alumni Park, the Madison Children's Museum, and Wisconsin Public Television — and do a hands-on activity at each stop.
Many activities will be held in the Discovery Building and across the UW–Madison campus, with other events taking place elsewhere in Madison and in communities statewide.
Highlighted events include:
Wisconsin's winters are becoming shorter and warmer, and the state is seeing more intense summer rain events. What do these and other changes mean for hunting, fishing, skiing and other outdoor activities? Experts on climate, wildlife habitat, fisheries, winter sports and mosquito-borne illnesses will discuss what the future looks like in a state of change.
Details: Thursday, Nov. 2, 8–9 p.m. in the Discovery Building.
The Children's Museum of Fond du Lac will feature exciting science, technology, engineering, art and math (STEAM) focused, hands-on activities. Admission fees apply.
Details: Thursday and Friday, Nov. 2-3, 10 a.m.–12 p.m.
From Morse code to the search for extraterrestrials and beyond, explore an interactive decade-by-decade journey. The Discovery Building atrium will be transformed by hands-on stations, including glassblowing, radio telescopes, virtual reality and more.
Details: Friday, Nov. 3, 6–9 p.m. in the Discovery Building.
Tony "The Bug Whisperer" and his Creepy Crawly Zoo show just how cool the world of entomology really is. This show at Discovery World is perfect for young children as they'll learn about the insects in our backyards.
Details: Saturday, Nov. 4, 11:30 a.m.–12:30 p.m., Discovery World, Milwaukee
The Science Storytellers' Jam presents stories that intertwine science with personal experiences. The event will feature a mix of presentations by local science storytellers providing stories about journeys through their various science (or not so science-y) backgrounds.
Details: Saturday, Nov. 4, 8:30–10 p.m. in the Discovery Building.
Check the Wisconsin Science Festival website for more detailed information about the full festival schedule for Madison and statewide events.