Slideshow Through 'Bucky's Classroom,' young students across the state get monthly visits from UW ambassadors, campus tours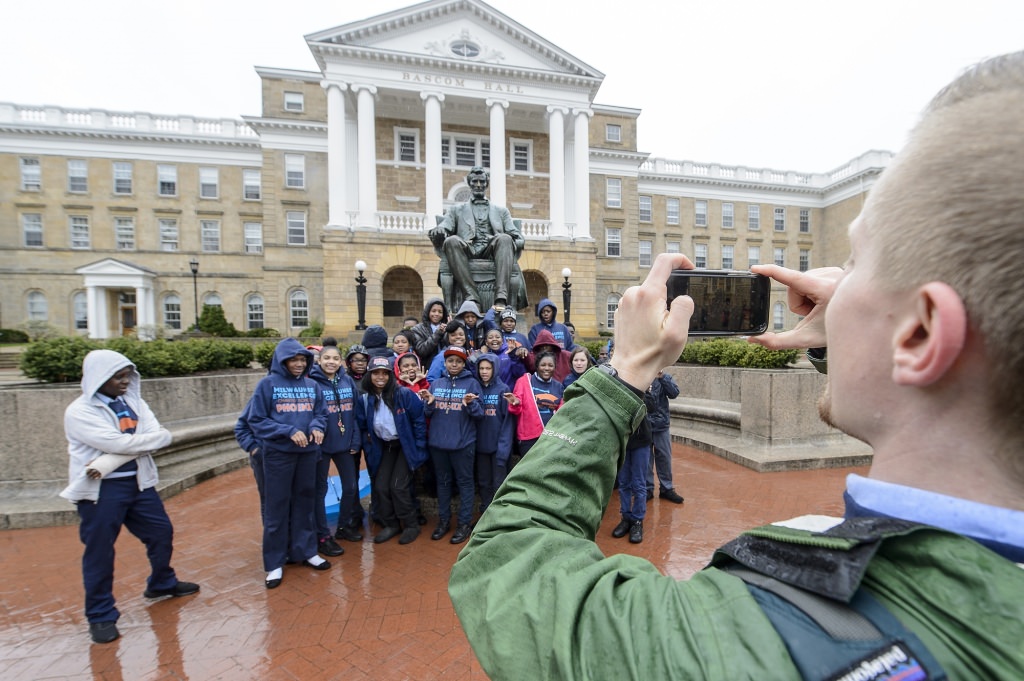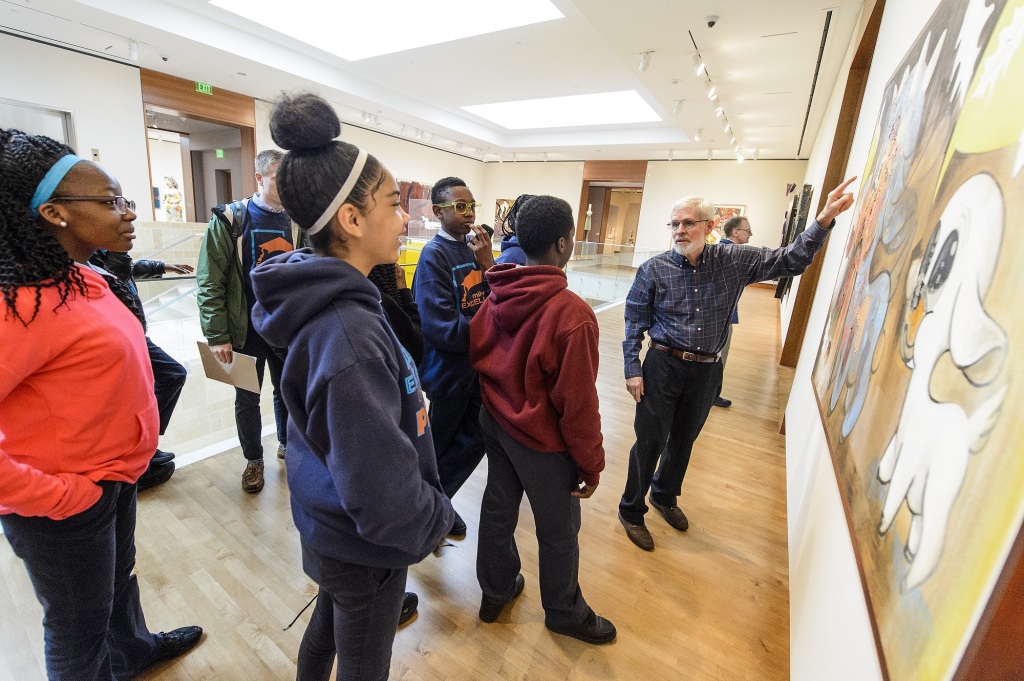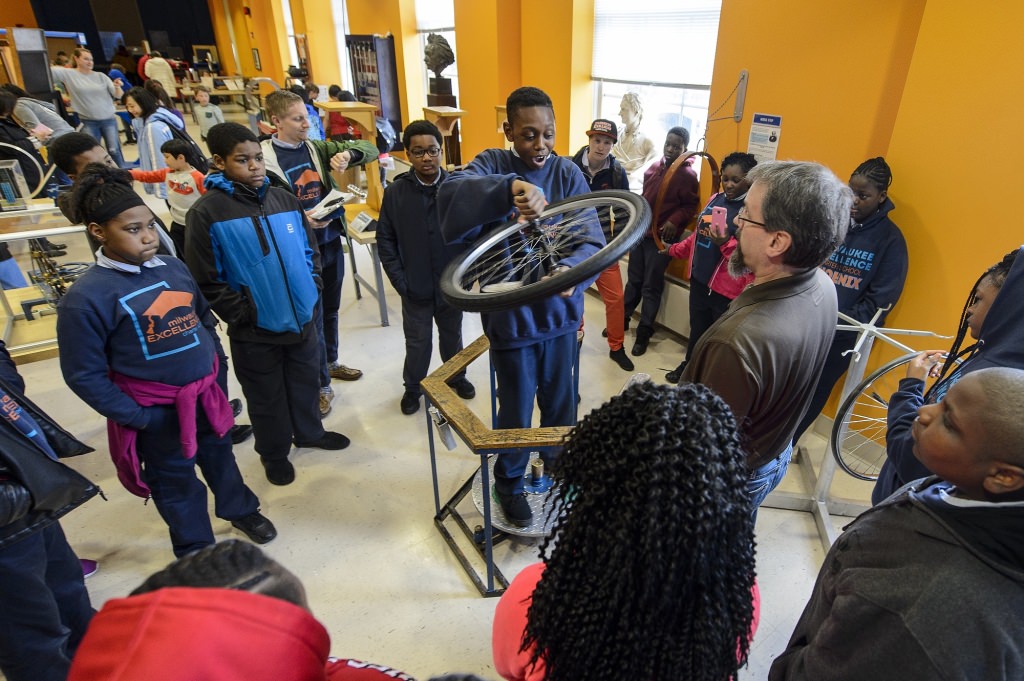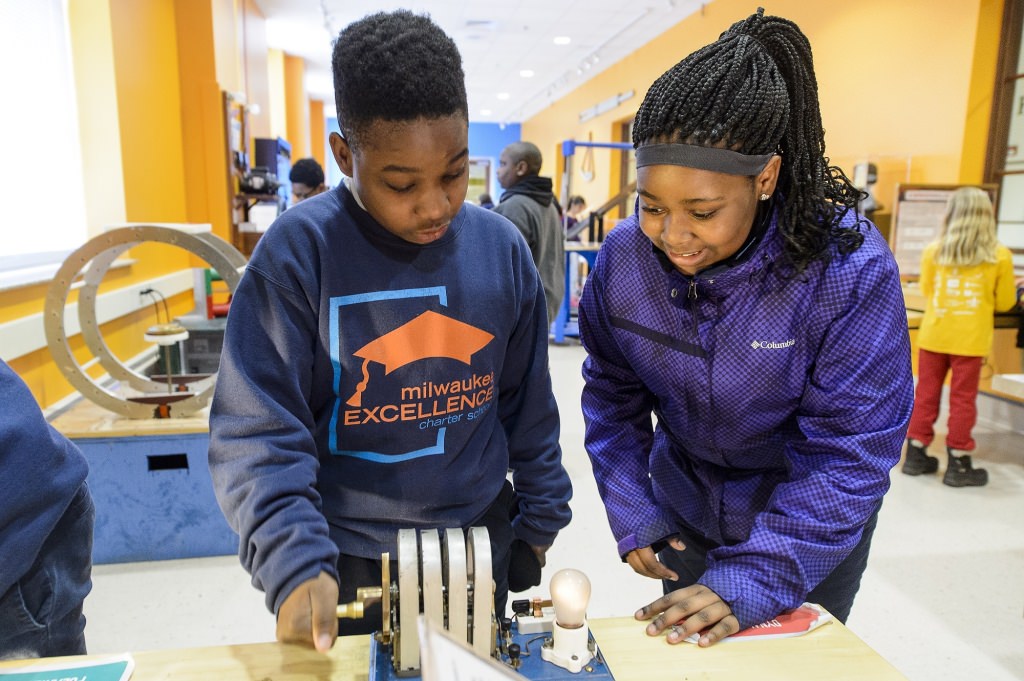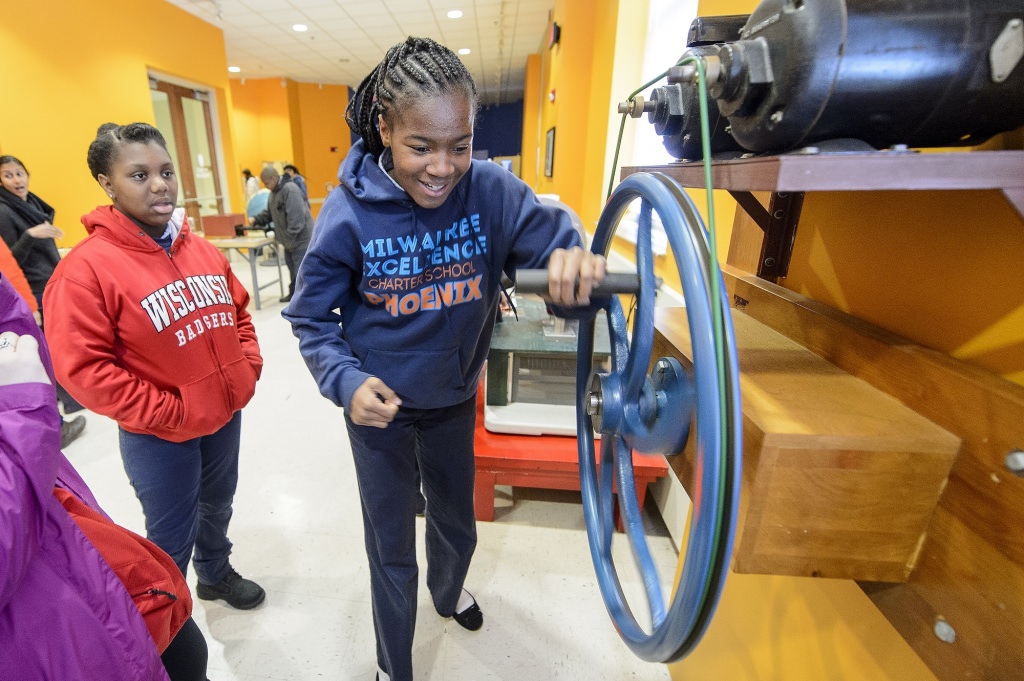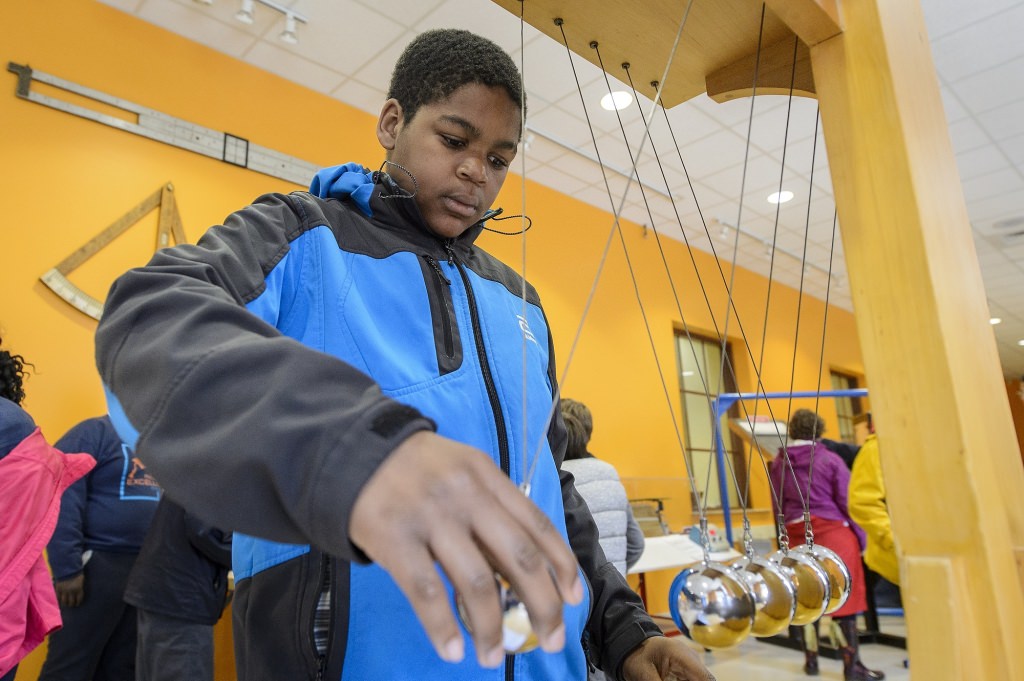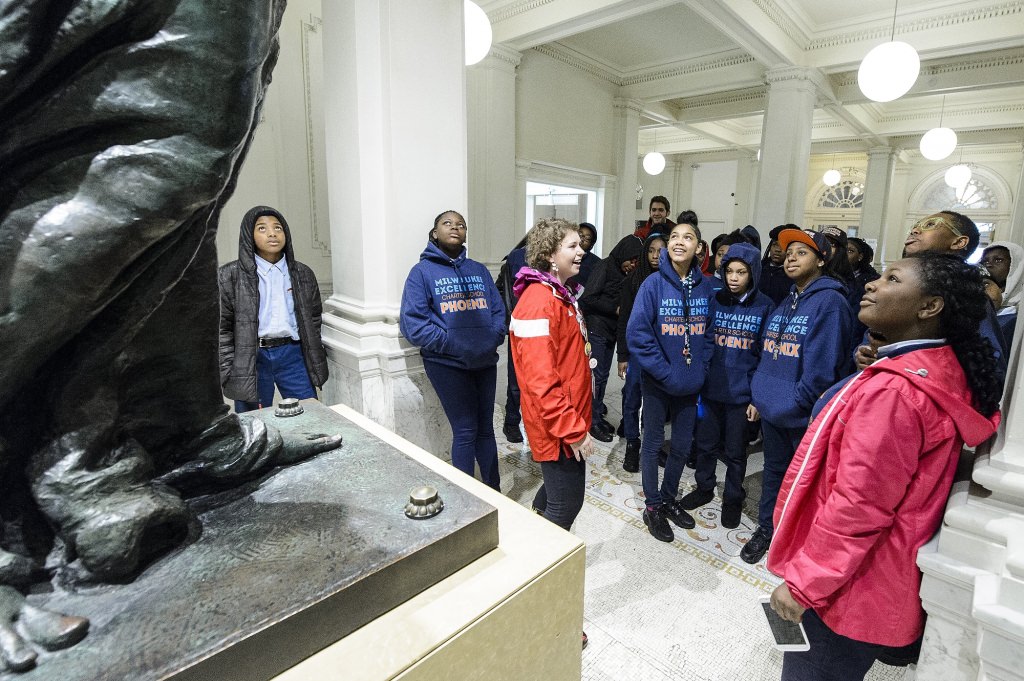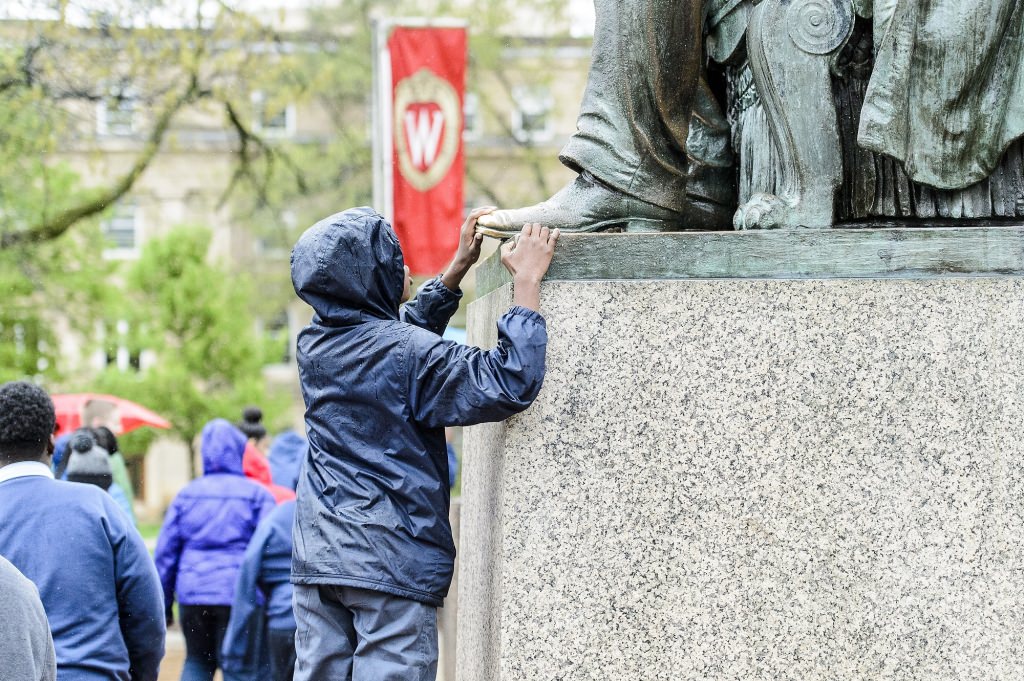 UW-Madison won over 11-year-old Taliya Wilbert not with Babcock Hall ice cream or a Badger football game.
It was a physical sciences lab that captivated the Milwaukee sixth-grader.
"I want to go to this school," she said out loud and to no one in particular after observing a device that produces hot plasma for research.
Taliya was one of 78 students who toured campus Thursday from Milwaukee Excellence, a charter school that is part of Milwaukee Public Schools.
Seven schools from around the state participated this academic year in a new UW-Madison outreach initiative. The effort, part of the "Bucky's Classroom" program, sent UW student ambassadors into middle schools to lead monthly classroom activities. This final month, all 300 or so students are coming to campus for tours.
The goal of the program is to provide classrooms with direct access to UW-Madison, increase college awareness, and help young people explore career options.
"Every classroom activity has been focused on, What do you want? What's your end goal in life? And is college going to be a part of that?" said UW-Madison sophomore Chris Lueneberg, of Hudson, Wisconsin, one of the student ambassadors who traveled monthly to the Milwaukee charter school.
His classroom partner this semester, Jenni Geurink, a junior from Rothschild, Wisconsin, said it was gratifying to help young people think a little more deliberately about future goals.
"At first, a lot of the kids, when you'd talk about college readiness, said they wanted to be basketball players," she said. "It was interesting to try to reframe that and to get them to think about more practical aspects of college."
The program is administered through Campus and Visitor Relations, in partnership with the School of Education. Matthew Freid, an outreach specialist with the Education Outreach and Partnerships Office, designed the monthly college and career exploration activities with input from colleagues.
Luke Muentner, a UW-Madison senior from Fond du Lac, Wisconsin, coordinated the program. He said he was particularly pleased that the outreach effort included schools from communities that perhaps haven't had many opportunities to connect so directly with UW-Madison, such as Green Bay, Beloit and Elkhorn.
Bucky's Classroom was a great fit for Milwaukee Excellence, said Joe Gallagher, the school's student supports coordinator. The school, which opened last fall, is a tuition-free, public charter school with a goal of sending 100 percent of its students to college.
"As much as the classroom activities were top-notch and very interactive, the relationship piece was really key," said Gallagher, a 2014 graduate of UW-Madison and former campus tour guide coordinator. "Our kids got to ask questions to actual college students. They now each know a current college student, which makes it easier for them to see themselves on a campus like UW."
Taliya Wilbert said Thursday's trip to UW was her first visit to any college campus. Classmate John Hayes, 12, said he's narrowed his list of dream colleges to Harvard, Yale and UW-Madison. Bucky's Classroom "is helping me get my life together," he said.
"One of the things I've learned is that there will be a lot of homework at college — it just keeps coming and coming — but that if you build good study habits, it doesn't have to be overwhelming," he said.
Maurice Thomas, the charter school's founder and executive director, also is a UW alum (Class of 2008). On campus Thursday with his students, he said UW-Madison "prepared me for this moment."
"I wouldn't be standing here in this position if not for this university," he said, adding that his personal mission is "to turn all of these kids into Badgers."
Through Bucky's Classroom, the university has been able to build genuine and lasting connections with teachers and young learners throughout the state, said Nick Gonzales, an assistant director with Campus and Visitor Relations. The university plans to continue the program this fall, he said.
"By providing students with an opportunity to experience UW-Madison within their communities and on campus, the program has taken a step towards making the university community, its resources and higher education accessible," he said.
See more photo stories