"Science is Fun" offers two shows in July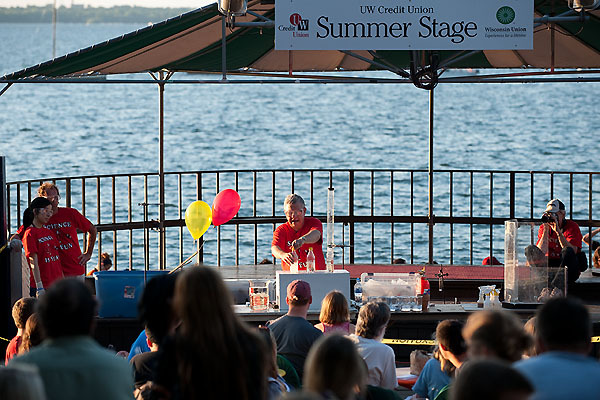 Chemistry professor Bassam Shakhashiri entertains the crowd during a free demonstration about the science of fireworks held on the Memorial Union Terrace in 2009. Shakhashiri returns to the Terrace for another show July 3, followed by one July 6 at the Wisconsin Institutes for Discovery.
Photo: Jeff Miller
Chemist and stage-master Bassam Shakhashiri will present two free shows on the UW–Madison campus in early July. Tickets are not required, but space may be limited, says Shakhashiri, a professor of chemistry who has entertained and enlightened the public for decades at standing-room-only demonstrations.
July 3, Science and Fireworks: Sights and Sounds for Independence Day, Memorial Union Terrace, 8 p.m. Shakhashiri and Rodney Schreiner, a senior scientist in the chemistry department, with director Mike Leckrone and members of the UW Band.
July 6, Science of Flashes and Bangs: Saturday Science at Discovery, The Forum at the Wisconsin Institutes for Discovery, 10:30-11:30 a.m., also with Schreiner. Discovery is located at 330 N. Orchard St., at the corner of Orchard and University Avenue.
"Celebrating Independence Day is a great American tradition," says Shakhashiri, "and it's also a great time to learn some fascinating scientific lessons. Let's face it: Fireworks are so captivating that people can't resist learning about them!"