Science Expeditions opens doors to UW-Madison research March 20-22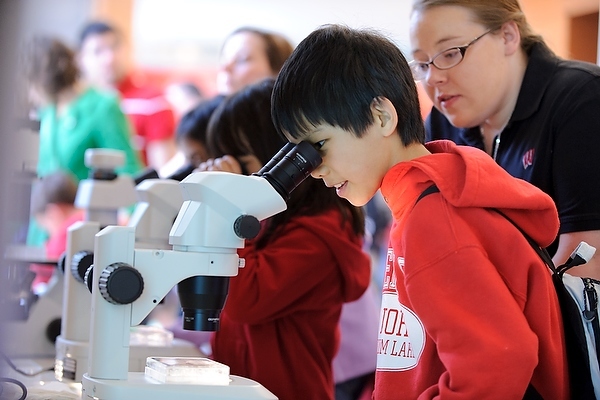 Children look into microscopes to learn about stem-cell research at a hands-on exploration station at the Discovery Building (Wisconsin Institutes for Discovery) during Science Expeditions 2011. This year's Science Expeditions events take place March 20-22.
Photo: Jeff Miller
Science Expeditions, the University of Wisconsin–Madison's 13th annual science open house, will open the doors of dozens of campus attractions — and the expertise of scores of researchers — to thousands of curious visitors March 20-22.
Campus laboratories, museums, greenhouses and medical and animal research centers will be open to visitors over the course of the weekend, offering the public the opportunity to mix with the university's scientists and students and learn about their work.
"The people of Wisconsin are vital partners — as citizens and as taxpayers — in driving the research done here," says Tom Zinnen, outreach specialist at UW–Madison's Biotechnology Center and UW–Extension, and a Science Expeditions organizer. "That's why we are delighted that Science Expeditions continues to welcome the public to share in the discoveries at their land-grant research university. That's also why over 300 volunteers are sharing their science over these three days, and connecting visitors to UW–Madison's science places and programs all year-round."
Science Expeditions starts bubbling Friday at the Genetics-Biotechnology Center Building, 425 Henry Mall, with an evening focused on ancient DNA and a biological process that's deeply ingrained in Wisconsin's genes: fermentation.
Starting at 6:30 p.m. with a scientifically inclined art show (and a cash bar featuring Wisconsin beer and wine), researchers will talk about their work with fermentation science, winter-hardy grapes, and tracing the genetics and family history of yeast used in brewing. They will offer tours of DNA facilities — including some used to recover and analyze DNA from ancient artifacts recovered in archeological digs — in the building.
At the same time, the UW Arboretum, 1207 Seminole Highway, will celebrate the spring equinox with a night walk led by a naturalist.
The Discovery building (Wisconsin Institutes for Discovery), 330 N. Orchard St., serves as the hub for Saturday's campuswide activities, hosting exploration stations where (from 10 a.m. to 2 p.m.) kids and adults can partake in hands-on experimentation with the help of volunteer UW–Madison educators and researchers.
The Ingersoll Physics Museum in Chamberlin Hall, 1150 University Ave., and the Geology Museum in Weeks Hall, 1215 W. Dayton St., will be open for visitors from 9 a.m. to 4 p.m., and researchers are inviting the public in for special tours of facilities such as the weather and climate research labs in the Atmospheric, Oceanic and Space Sciences building, 1225 W. Dayton St., the leaf-cutter ant colony in Microbial Sciences, 1550 Linden Drive, and the warm and humid growing spaces in greenhouses across campus from 10 a.m. to 2 p.m.
The free Science Expeditions Trolley will carry visitors and UW–Madison Campus and Visitor Relations tour guides to the event's venues and campus parking lots on Saturday, circulating every 15 minutes from 9:30 a.m. to 4:30 p.m.
On Sunday from 10 a.m. to 2 p.m., Science Expeditions shifts to the Health Sciences Learning Center, 750 Highland Ave., and the neighboring School of Nursing's new Signe Skott Cooper Hall, 701 Highland Ave., for more exploration stations and tours of UW Health's Clinical Simulation Program, a training center where students, nurses and doctors practice and learn procedures in simulated hospital and clinic environments.
Several outdoor events are planned, as well. At 2 p.m., a tour of Picnic Point guided by Friends of the Lakeshore Nature Preserve begins near Parking Lot 129, 2004 University Bay Drive, and the Arboretum will host a pair of afternoon activities related to the coming of spring.
For a full look at the packed schedule for Science Expeditions, with parking and maps of campus locations, visit the event's website.
Other highlights of Science Expeditions' Saturday schedule include:
A special premiere of "Honoring a Commitment," a documentary telling the story of U.S. Army Pfc. Lawrence Gordon, killed in combat in France in August 1944, and the struggle his family and friends endured to find and identify his remains. Middleton filmmaker and investigator Jed Henry and UW–Madison DNA Sequencing Facility researcher Josh Hyman at the Biotech Center will be on hand at the 3:30 p.m. screening in Room 1111 of the Genetics-Biotechnology Center Building to talk about the successful effort to bring Gordon home.
Tours of the Glass Shop, where specialized scientific instruments are conceived and handcrafted, from 10 a.m. to 2 p.m. in the Chemistry Building, 1101 University Ave.
"Sweet Scientists, Sweeter Research," a presentation by Amy DeJong, recent winner of TV's "The Amazing Race," at 2:30 p.m. in Room 1111 at the Genetics-Biotechnology Center Building. DeJong will share her candy research, her "Amazing Race" experience, and her work with teammate Maya Warren to help change how people view scientists and to inspire girls to consider science careers.
Guided tours of the massive plant collection at the Wisconsin State Herbarium in Birge Hall, 430 Lincoln Drive.