Q & A: Van Matre reflects on expanding and protecting the UW brand
Over her 17 years as the University of Wisconsin–Madison's trademark licensing director, Cindy Van Matre has protected the UW trademark and helped expand it into a nationally recognized brand. She will retire on Jan. 6, 2017.
Van Matre's UW roots, and her ties to college athletics, go way back. As a student, she worked in the women's sports information office with former UW Athletics communications director Tam Flarup. After graduating in 1983 with a degree in journalism, she departed for Michigan State University, where she was assistant sports information director. Current UW Associate Athletic Director Justin Doherty was one of her student workers.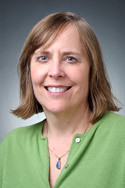 In fall 1987, Van Matre left MSU to work for the National Collegiate Athletic Association, serving as media coordinator for the Women's Final Four from 1988 to 2000. She also served as media coordinator for Division I women's volleyball, Division I men's and women's track championships, and the Women's College World Series. Her responsibilities also included serving as editor of NCAA championship game programs and getting promotional materials produced and delivered to all rounds of 88 NCAA championships.
Van Matre took over as the university's second-ever full-time licensing director in June 1999. As she exits, we asked her some questions about the job and how it has changed over the years.
Q: What has been the biggest change in the way universities approach trademark licensing?
A: In the early days, just about any company that wanted to get licensed was accepted and then the university waited for the royalty checks to come in.  Artwork was either faxed to us to review for approval or mailed to us by our licensing agency. Either way resulted in poor quality reproduction and no color options. There were no online sales because the internet was in its infancy. The University Bookstore and local fan shops were the primary places for Badger fans to purchase collegiate products. We were happy to surpass $1 million in gross royalties for the year.
Today, collegiate licensing decisions are very strategic and data driven. Sales and royalty reports can be tracked on a daily basis, and the information can be analyzed via various reports. Licensing rights are awarded by product categories — 220 different ones for apparel and 476 for hard goods — and by 10 different retail channels, plus the licensees' commitment to corporate responsibility is carefully scrutinized. Art approvals are reviewed online with same-day approvals.
University of Wisconsin licensed products are available online and in more than 3,200 stores nationwide. From July to September of 2016, Wisconsin earned more than $1.8 million in gross royalties. We set a royalty record of $4,411,855 in 2015-16.
Q: How has the UW kept up with trends in collegiate licensing? 
A: The University of Wisconsin has always worked with a licensing agency that helps advise our office on various trends and makes recommendations on how the UW can best capitalize on them.
Q: What segment of licensing has seen the largest growth trend during your time? Is there potential for growth in new areas?
A: Women's apparel has definitely been the largest growth trend during my time. In the early years, most licensed apparel was geared for men, so women ended up buying men's sizes, which rarely fit well. Very few items were made with a women's cut, and what was made was all categorized as "women's apparel." Now the women's section in stores is sometimes as large as the men's section, and women's apparel is now reported under 159 different product categories.
In the last couple of years, there has been a big increase in licensed products for pets.
Q: How has the UW succeeded in ensuring that the branded apparel and merchandise meets with our standards for fair labor and anti-sweatshop manufacturing?   
A: One of my proudest accomplishments is knowing that the University of Wisconsin's efforts regarding corporate responsibility have had a positive impact in collegiate licensing. Sharing efforts with other universities like Michigan, UCLA, North Carolina, Georgetown and Notre Dame, Wisconsin has required companies to meet higher standards in order to get and keep a Wisconsin license.
All applying companies must complete a survey that reveals their knowledge of their supply chain and their commitment to making sure the workers who make their products are working under safe and fair conditions. This process has helped us cancel the less committed companies and build stronger relationships with the best licensees. It has sent a strong message to others that they need to improve their efforts in order to keep their Wisconsin license.
Since about two-thirds of Wisconsin licensees are also licensed with other major universities, our efforts have had a trickle-down effect on universities that are not as engaged in workers' rights issues. Also, when an issue does develop at a facility, licensed companies are now more engaged in resolving the issues and are aware of their financial obligation to right the wrong.
With the complexity of the supply chains, it will never be perfect, but knowing the processes that Wisconsin trademark licensing requires, I like to say that the UW's licensed collegiate products are among the most socially responsible products people can buy.
Q: How has the mission of "protecting the brand" changed over time at UW?  
A: The World Wide Web has made it much more difficult to protect the brand. It is like a game of "whack-a-mole." As one site selling unlicensed products gets shut down — a frequent occurrence on social media sites like Facebook — another one seems to pop up.
We've also dealt with websites originating in China selling fake game jerseys and even a Bucky Badger mascot costume. Then there is still the issue of high schools using either the Motion W logo or Bucky Badger logo without permission, which can create public relations consequences when they are contacted. "Protecting the Brand" has become a more time-consuming part of the job, especially in the past few years.
As I reflect on my career, I've been very fortunate to work at places like the NCAA and my alma mater in roles that have made a positive difference. While at the NCAA, I was able to work alongside the early pioneers who fought for equal opportunities for women and girls in sports. It is very gratifying to have been a behind-the-scenes person and see the acceptance and growth in popularity of both today. At the UW, it's been rewarding to see the Wisconsin Badgers grow from a regional to national brand and know that the success has translated into $17 million in scholarship aid to hundreds of students, many of whom are the first in their families to attend college.
Q: What are your plans for retirement?
A: I don't currently have any firm plans for retirement and will wait to see how I adjust to it. I do plan on staying in Madison. From my time with the NCAA and here, I have lots of connections both locally and nationally. So I'll have opportunities, if I want to work some more, through those contacts.