PEOPLE high school students celebrate completing pre-college program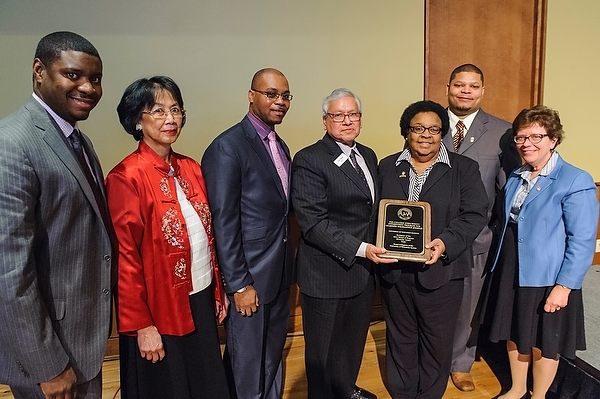 PEOPLE receives a Regents Diversity Award during a UW Board of Regents meeting in February. Pictured are Jacqueline DeWalt (with award right), Patrick J. Sims (third from left) and Chancellor Rebecca Blank (right). 
Photo: Bryce Richter
Scholars from one of the most successful long-term diversity pipelines to higher education in the nation, the University of Wisconsin–Madison's PEOPLE (Pre-College Enrichment Opportunity Program for Learning Excellence), will be recognized for their accomplishments at an annual banquet on Friday, Aug 1., at noon.
The program, which continues to increase the number of college-ready students applying to the state's flagship campus, will honor 118 PEOPLE high school scholars from across Wisconsin at the Marriott West Conference Center in Middleton.
"Our annual celebration for PEOPLE is a proud moment when we pass the torch to the next generation of leaders, innovators and change agents. "
Patrick J. Sims
The event will also feature several keynote speakers, including Erik Brodt, assistant professor at the UW School of Medicine and Public Health and director of its Native American Center for Health Professions; state Rep. JoCasta Zamarripa; Minerva Mitchell, associate director of staffing for AT&T's Retail Leadership Development Program; and Floyd Rose, president of 100 Black Men of Madison Inc.
For some PEOPLE scholars, the program is a culmination of up to 10 years of sacrificed summers; extra studying, testing and tutoring; and contemplation about what it takes to not only get into college, but to also earn a scholarship.
"This is just one of the ways the University of Wisconsin–Madison invests in our state's youth, and our PEOPLE scholars are drawn from every corner of the state — from Ashland to Racine," says Patrick J. Sims, UW–Madison interim vice provost for diversity and climate and chief diversity officer.
"Our support as a division — the Division of Diversity, Equity and Educational Achievement — is home to some of the most unique, comprehensive, diverse and successful pipelines and scholarship programs in the nation, which is why our base of support from educators, educational agencies, Wisconsin alumni and donors is equally broad. Our annual celebration for PEOPLE and our other campus diversity programs are proud moments when we pass the torch to the next generation of leaders, innovators and change agents in our community."
"Every student PEOPLE serves — from the second grade to graduate school — makes Wisconsin a better state through education."
Jacqueline DeWalt
PEOPLE's longitudinal academic support and skills enhancement approaches are resulting in clear gains. Ninety-five percent of students who complete the pre-college enrichment program enroll in higher education. Further, 71 percent of PEOPLE's college scholars at UW–Madison complete undergraduate degrees, far exceeding the national college graduation rate for minority students of around 40 percent. Many PEOPLE scholars have also earned advanced degrees from graduate and professional schools within UW–Madison.
"PEOPLE pre-college scholars are students with great potential whom the program helps to develop and prepare for success in college," says Jacqueline DeWalt, executive director of PEOPLE. "This celebration of being college-ready (students) and applying to cross the finish line into college admission is truly joyous for families who have literally invested years to reach this goal. We also invite our incoming freshman class of PEOPLE college scholars to make the process and results very real for our rising high school seniors."
While the primary purpose of PEOPLE is to help prepare students for the application, enrollment and graduation processes at UW–Madison, there is a broader ideology tied to the founding precepts of the university, DeWalt adds: to use UW–Madison's learning base to reach every border of the state.
"The beauty of the program is (that it's) where the Wisconsin Idea happens," DeWalt says, "meaning that every student PEOPLE serves — from the second grade to graduate school — makes Wisconsin a better state through education."