Nine honorees receive Academic Staff Excellence Awards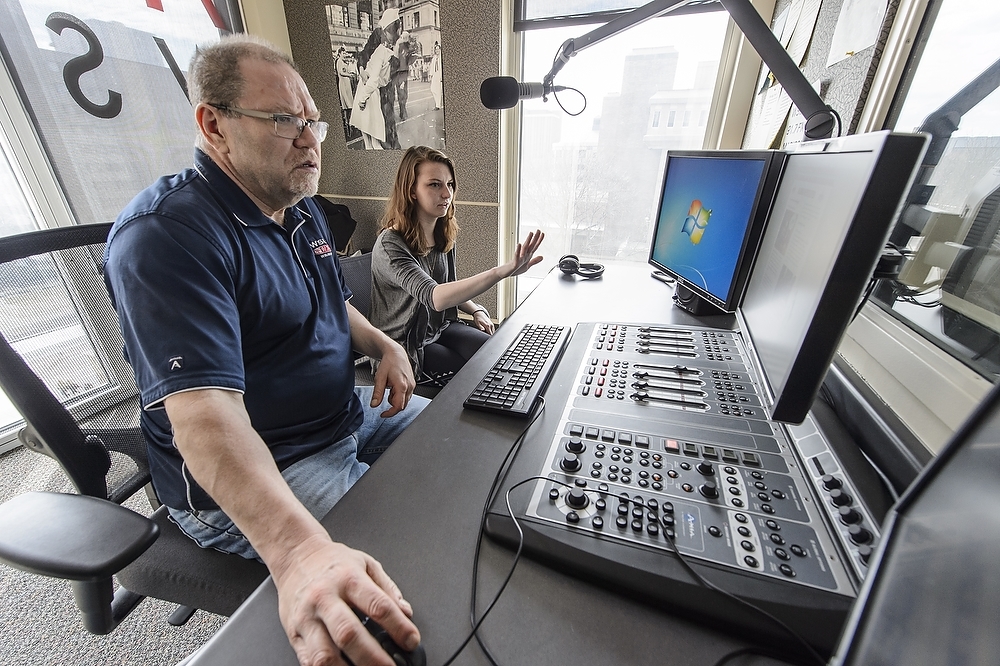 As a hands-on educator and mentor, Dave Black has extended WSUM's service mission to the campus and wider community.
Photo: Bryce Richter
The University of Wisconsin–Madison has recognized nine outstanding members of the academic staff for achievements in leadership, public service, research, teaching and overall excellence.
"Every one of the nominations for these awards made clear that these individuals know their jobs and do them well," says Chancellor Rebecca Blank, who honored the recipients in a ceremony at the Fluno Center April 7. "But the nominations conveyed something else, too: a sense of joy and passion for the work. They used words and phrases like 'enthusiastic,' 'motivated,' 'shows empathy and compassion,' and 'truly cares.'"
The Academic Staff Assembly recognized this year's honorees at its meeting April 13.
This year, in a rare occasion of two individuals receiving the same honor, both Tom Cook and Jun Li received the Chancellor's Award for Excellence in Research: Independent Investigator.
The recipients are:
Ron Russell, senior lecturer in the Department of Animal Sciences
Chancellor's Hilldale Award for Excellence in Teaching 
Ron Russell
Ron Russell's courses span livestock production from conception through consumption and virtually every aspect in between. His direct approach to science reaches students where they are, whether he's leading the Meat-Animal Evaluation Team or teaching students who question the use of animals in the provision of food.
Students describe how Russell eliminates the intimidation factor of contributing in class, helping them understand incorrect answers in a way that encourages them to not just learn the right responses, but understand the science and basis behind them. He uses his relationships with livestock producers and meat processors from across the state to supplement teaching, provide hands-on experiences and contribute to student development.
Russell's expertise has led to him becoming a passionate ambassador for his program and the UW System, both on and off the job. He has taught and consulted in Costa Rica, St. Vincent and Russia, covering the full realm of livestock and meat processing.
"He's more than just a teacher," says Bob Kauffman, emeritus professor of animal sciences. "He's a wonderful example of a coordinator of organized learning in its finest format."
Thomas Cook, senior scientist in the Department of Biostatistics and Medical Informatics (BMI)
Chancellor's Award for Excellence in Research: Independent Investigator
Thomas Cook
Tom Cook had a "baptism by fire," starting at UW–Madison in 1993 during a clinical drug trial with very public highs and lows. He rose to the challenge. Today, he is nationally recognized as an expert on the design and analysis of clinical trials.
Reports created by the Statistical Data Analysis Center are critical
 to the success and integrity of a trial. They can help data monitoring committees evaluating patient safety and treatment benefits, ultimately playing a key role in determining whether or not a trial should continue.
Much of Cook's research has focused on developing statistical methods for addressing important methodological problems. He was the primary editor and contributor to the 2008 textbook "Introduction to Statistical Methods for Clinical Trials," now the basis for the department's graduate clinical trial course and similar courses taught around the world.
"Tom is well recognized in the clinical trial community for his talent, insight and leadership," says David DeMets, professor of biostatistics in the School of Medicine and Public Health. "While soft spoken, when Tom speaks, colleagues listen."
Jun Li, senior scientist at the Cooperative Institute for Meteorological Satellite Studies (CIMSS) and Space Science and Engineering Center (SSEC)
Chancellor's Award for Excellence in Research: Independent Investigator
Jun Li
When a colleague says that Jun Li's work on satellite meteorology has made the world a better place, it may sound like hyperbole. Improving the accuracy of local, national and international weather forecasting, however, saves lives.
Li develops algorithms that can assist in satellite data analysis. He is one of the few scientists in the world with a strong background in both satellite meteorology and numerical weather prediction (NWP), a type of model relied on heavily by forecasters.
Colleagues inside and outside of the university praise Li for his forward-thinking vision, his mentorship of younger scientists and his commitment to international collaboration, calling him an important ambassador for the field.
"He once told me, 'Our ideas and our work are not to keep, but to share. Sharing will not put us behind, but motivate us to think harder and work harder, so that we can always stay ahead,'" says Fang Wang, a former student now working at Colorado State University. "What I learned from him will be beneficial to me for the rest of my life."
Aaron Bird Bear, recruitment and retention specialist and American Indian Curriculum Services consultant in the School of Education
Chancellor's Award for Excellence in Service to the University
Aaron Bird Bear
For people who know campus through tours and photographs, Aaron Bird Bear digs deeper, using the 12,000-year history of the land and people of Dejope ("Four Lakes" in Ho-Chunk) as a lens for all undergraduates to address learning goals.
A member of the Mandan, Hidatsa, and Dine' Nations, Bird Bear "carefully balances his role as Native American advocate and campus representative," says Julie Underwood, dean of the School of Education.
Bird Bear has partnered with Wisconsin's American Indian nations and Wisconsin Public Television to integrate history, culture and tribal sovereignty into all levels of public education. He helped launch www.WisconsinAct31.org with support from a competitive Ira and Ineva Reilly Baldwin Wisconsin Idea Grant, providing tools for educators statewide.
"I appreciate his courage to push all of us to think critically about how we serve American Indian students on our campus and around the state," says Dang Chonwerawong, assistant dean for diversity programs in the School of Education. "I consider his act of challenging the status quo one of the most important services Aaron provides to our campus."
Doug Rose, director of the Office of Space Management in Facilities, Planning & Management
Wisconsin Alumni Association Award for Excellence in Leadership: College, School or the Larger University Community Level
Doug Rose
Since 1993, Doug Rose has led the often delicate negotiations for campus space allocation, balancing limited resources with the needs of many groups and departments.
The office has expanded in scope to include such functions as classroom media support and university real estate. Rose serves as a consultant to both the Campus Space and Remodeling Committee and the Campus Planning Committee, identifying needs and trends in order to prioritize improvements.
As classroom utilization changes, Rose helps identify and convert outmoded classrooms into innovative and flexible learning spaces. He has also overseen the Instructional Technology Improvement Program (ITIP), upgrading lecture halls and renovating various general assignment classrooms across campus to provide contemporary learning environments.
"Space negotiations can often be contentious, but Doug has a temperament and style that brings people together to work in a collegial manner," says Chris Bruhn, assistant dean for facilities and space assignments in the College of Letters & Science. "He has an encyclopedic memory of prior space allocation deals, and the ability to weave that information into the negotiation process at critical junctures."
Dave Black, general manager of WSUM Radio
WAA Award for Excellence in Leadership: Individual Unit Level 
Dave Black
Dave Black has had his hands on every part of WSUM Student Radio's operations since well before it flipped the switch. He has secured its funding, built its personnel and policy infrastructure, guided its technological development and more.
Most importantly, Black's work has built a foundation for students to manage the station themselves, not simply rely on his considerable knowledge. Although the station has only operated for a decade, several of its alumni now hold broadcasting jobs in top markets nationwide.
As a hands-on educator and mentor, Black has extended WSUM's service mission to the campus and wider community. The station has supported classroom activities in several departments, and he has made the facility available to student groups and precollege programs. He is committed to diversity and social justice, building pathways to encourage high school students from disadvantaged backgrounds to explore media careers.
"The title of GM still does not sit well with him," says former student Jason Cohen, now an Academy Award nominee. "He sees himself as collaborator first and foremost with the students."
Karen McShane-Hellenbrand, faculty associate in the Department of Dance
Robert and Carroll Heideman Award for Excellence in Public Service and Outreach
Karen McShane-Hellenbrand
Karen McShane-Hellenbrand has taught football players, senior citizens, dance majors, doctoral candidates in computer science and many others. This breadth in both teaching and outreach is one reason a nominator calls her "the face of the Dance Department."
She is nationally recognized for her innovative curricular framework, integrating the arts with academics in pre-K–12 schools. Her residency at a Janesville elementary school united over 400 students of all abilities under a thematic umbrella of "water." Each grade level focused on specific academic objectives, using movement as a vehicle to explore topics such as the water cycle, the five senses and water in the body. Analysis of post-test data suggested that residency participation maximized students' academic achievement.
The Dance Department's size and mission has grown to the point where it is reinstating its MFA program, writes Jin-Wen Yu, department chair.
"[Building] a stronger connection with the community is a national trend for the contemporary dance MFA program," says Yu. "It will also be one of our emphases. I believe Karen will play an important role in this new juncture of the Dance Department."
Julie Graf, senior administrative program specialist in the School of Veterinary Medicine
Martha Casey Award for Dedication to Excellence
Julie Graf
When Julie Graf joined the Department of Pathobiological Sciences (PBS) in 1983, it consisted of the chair and one faculty member within the brand new School of Veterinary Medicine.
Today, more than 125 faculty, staff and graduate students work in multiple buildings. Graf's responsibilities now encompass departmental and grant budgets, personnel and anything else needing attention relating to research, teaching, outreach and diagnostic veterinary medicine.
"The array of duties that she performs, and the aplomb with which she does so, are extraordinary," say Chuck Czuprynski, professor and chair, and Ron Schultz, professor emeritus and founding chair. "The Department has very few administrative staff, with Julie and one secretary being responsible for coordinating [much of our] departmental activities for the past 31 years. She is the glue that makes the Department an effective, efficient and productive unit."
Graf 's nominators all mention the personal component that she brings to the role.
"I owe so much to Julie," says Chris Olsen, professor of public health, citing her help in setting up his first lab and the years that followed. "I always knew it was important to her that I was successful."
Steve Lund, director emeritus of the Academic Personnel Office
Ann Wallace Career Achievement Award 
Steve Lund
Steve Lund spent the first months of his career in the Bascom Hall basement, analyzing the job descriptions of all academic staff to help develop a more defined titling and compensation system. Thirty-five years later, he finally left the Office of Human Resources — in retirement.
Lund's straightforward manner, honesty and good humor smoothed the negotiations of hundreds of thorny and tedious personnel issues. In doing so, he became a role model for campus colleagues and staff across the UW System.
At times, Lund represented UW–Madison's administration in explaining policies and planned actions — often a thankless task. On many occasions, he turned the lens around to his colleagues, recognizing inequities and taking steps to address them.
With humility and a strong institutional memory, Lund kept a big-picture view of the university, ensuring consistent treatment across units. At the same time, he worked with employees in a way that respected individual needs.
"Steve never avoided a challenge," says Carla Raatz, former director of human resources. "His first priority has always been customer service; he was very approachable and helpful to anyone who contacted him."