Madison schools, UW-Madison strengthen partnership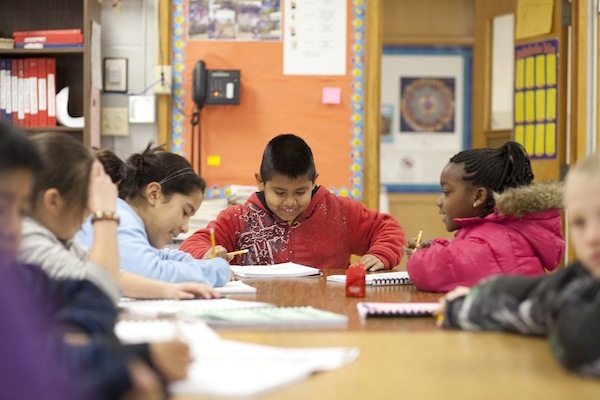 A new partnership between UW–Madison and Madison Metropolitan Schools is designed to help provide the best educators to help boost student achievement.
Photo: Madison Metropolitan School District
The University of Wisconsin–Madison's School of Education and the Madison Metropolitan School District (MMSD) agreed to strengthen their partnership to ensure that every school has the very best educators to bolster student achievement for all.
MMSD's Board of Education voted to approve the Forward Madison initiative at its meeting Monday night.
Julie Underwood
"Many people offer ways to close opportunity gaps for children, but we know that effective educators are one of the most important factors in student learning," says Julie Underwood, dean of the School of Education. "So we believe that we will help all children by working together to ensure that every child has a great teacher in the classroom and a great principal in the building."
This partnership consists of a multi-year effort to co-design and implement three components of educator preparation focused on skills development and supplying a high-quality workforce to MMSD schools – starting with new educator induction and mentoring this fall.
The three components of "Forward Madison: A UW–Madison School of Education and Madison Metropolitan School District Collaborative for Learning and Leadership," include:
New educator induction: Research clearly shows that teachers and principals play a crucial role in student learning, but national statistics indicate that 50 percent of new teachers drop out of the profession by their fifth year. National research also shows that high quality induction results in improved teacher practice and lower teacher turnover. For this reason, the School of Education and MMSD's partnership will focus on how new educators are prepared to thrive professionally in an urban school district. This induction program for new educators will begin for the 2014-15 school year.
Commitment to continued professional learning: While new preparation and induction models will help set a standard of excellence, enhanced professional development opportunities will be vital to keeping MMSD educators on the cutting edge of their profession. The School of Education will work to implement innovative programs that will lead to professional learning communities that create an atmosphere of continued professional growth for the district employees.
Exploring efforts to improve workforce diversity: MMSD and the School of Education will collaboratively plan and develop a program for supporting MMSD high school students who want to become teachers. This strand of the partnership may include coursework and job shadowing opportunities during high school, as well a preliminary exploration of MMSD scholarship opportunities for high performing students to enter into higher education.
Jennifer Cheatham
"Together with our community, we are committed to closing the opportunity gaps that produce different results for our students," says MMSD Superintendent Jennifer Cheatham. "Central to making our vision a reality is having talented and well-equipped educators serving children throughout the district. This partnership, which will help our district stand out among the rest, will ensure that all new educators in MMSD will be fully prepared to teach our students successfully."
The School of Education's efforts will be led by Gloria Ladson-Billings, UW–Madison's Kellner Family Professor of Urban Education. Ladson-Billings is an award-winning scholar whose work centers on examining the practices of teachers who are successful with struggling students.
Gloria Ladson-Billings
"When it comes to education reform we, as Americans, have a short attention span," says Ladson-Billings. "We are great thinkers and innovators, and we have great ideas all the time. But we are poor at implementing our ideas. We need to focus — and that's what this partnership does."
After implementing this pilot initiative with MMSD, the School of Education will then be able to use the model for other districts and university partners to follow or build off of in the future.