Lost since 1943 crash, WWII pilot returned to Alabama family
Mark Stone was on his way to the tractor supply store near Pensacola, Florida, in February when his father called and asked him if he was sitting down.
"He was so excited. I said, 'Of course I'm sitting down. I'm driving!'" Stone recalls. "And he said, 'They found Uncle Buster.' I just couldn't believe it."
It had been more than 75 years since 2nd Lt. Walter B. "Buster" Stone, a 24-year-old pilot from Andalusia, Alabama, disappeared with his P-47 Thunderbolt into a cloud bank 16,000 feet over northern France.
The rest of his World War II bomber-escort mission never saw him again, but in August 2018 a team from the University of Wisconsin–Madison's Missing in Action Recovery and Identification Project unearthed the wreckage of Stone's plane and his remains from a crash site in a national forest near Saint-Omer, France. And the Stone family had Buster back.
Through genetic testing, the Department of Defense POW/MIA Accounting Agency (DPAA) confirmed the remains to be Stone's in February. He was interred May 11 with military honors in Andalusia in a family plot near his mother Lilla's grave.
Four of Lilla's seven sons served in World War II at the same time. Only one of them was killed. Mark Stone, son of one of Buster's nephews, was told Buster became a fighter pilot because the P-47s protected bombers, and one of Buster's brothers was a navigator on a bomber in the European theater.
"In his mind, his brother was in one of those bombers he was escorting. Everybody in the family has heard stories like that about Buster," says Mark Stone, now 55. "Mama Stone, my great-grandmother, died when I was in my 20s, but we all knew she always thought he would come home. I can't tell you how it feels to be able to do that for her, and the day before Mother's Day. We couldn't be more grateful."
After months of preparation, members of UW–Madison's MIA Project spent three weeks in the woods near Saint-Omer, carefully clearing trees and tons of earth from a site where in 2017 DPAA investigators had found Walter Stone's identification tags.
Digging for clues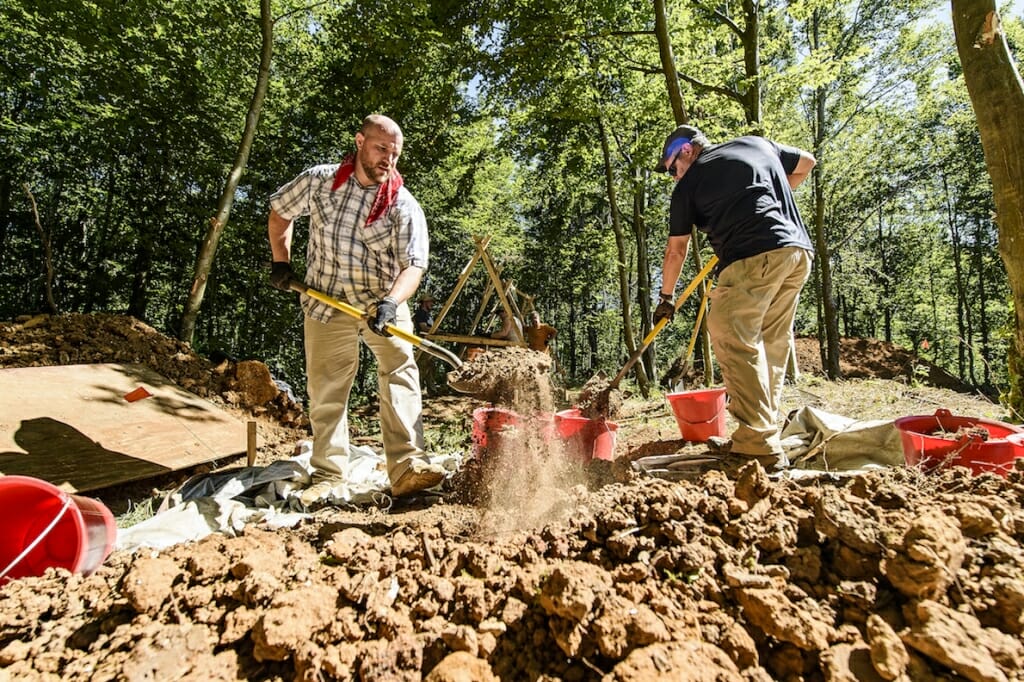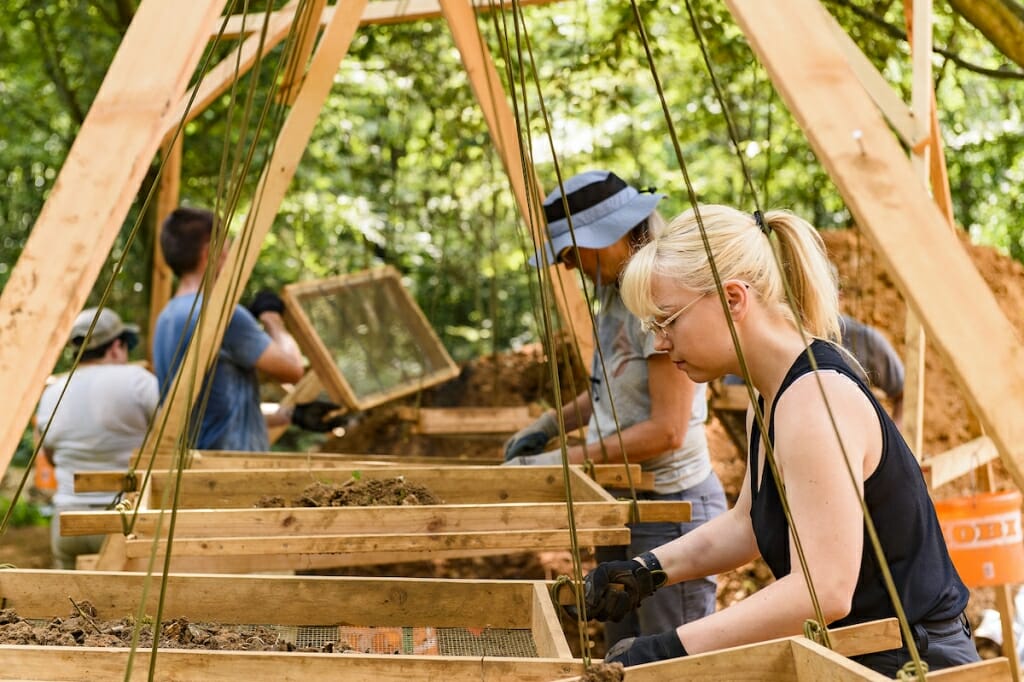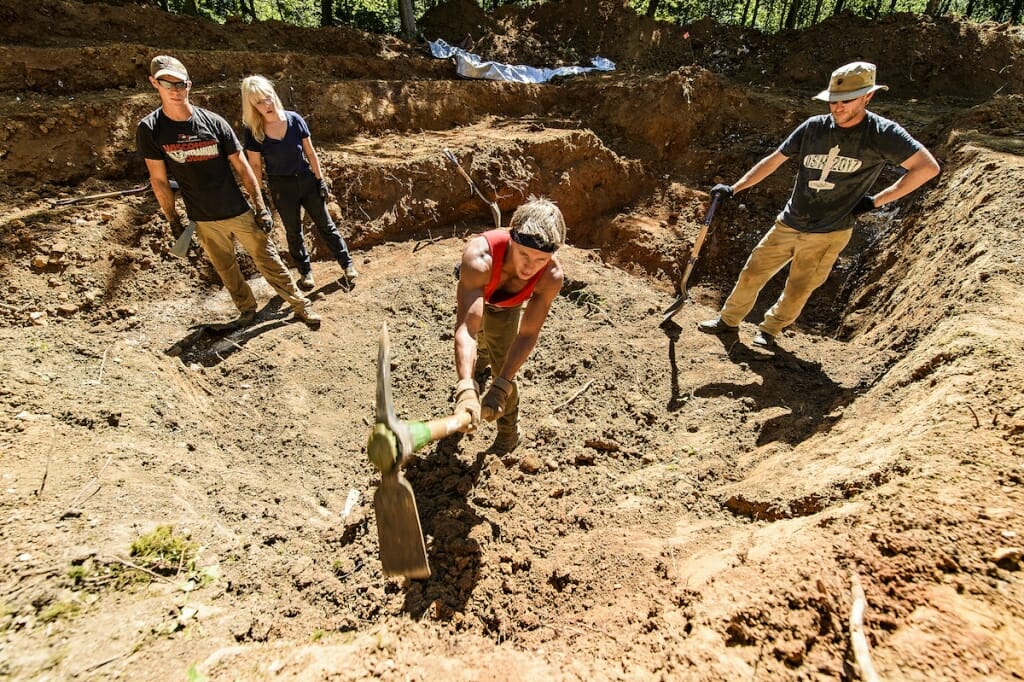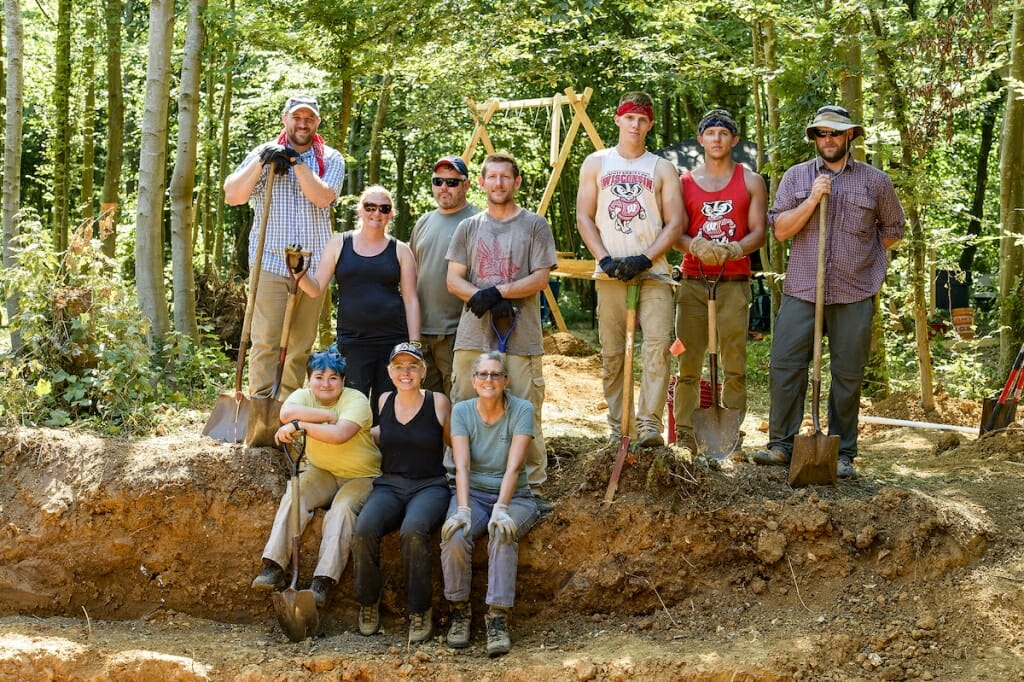 Using picks and shovels they carried into the forest every day, hauling dirt by buckets to sifting stations they built alongside the dig, the MIA Project group worked 10 to 12 hours a day, six days a week. They recovered identifying parts of Stone's plane (like .50 caliber machine guns, gnarled by the force and heat of the crash) along with the pilot's remains and some of the personal items he was carrying.
"It's hard work and long hours, but everyone is so careful," says Charles Konsitzke, associate director of the UW Biotechnology Center and facilitator for the MIA Project. "The reason you're there and what you're looking for is always on your mind."
UW–Madison's first search was in 2013, and the university became DPAA's first academic partner in 2016. Stone is the third missing member of America's armed forces the MIA Project has successfully removed from the rolls of WWII missing — a list that still runs more than 72,000 names.
"It's been almost 75 years since these soldiers were lost, and that means every day there are fewer people left who have personal connections to them," Konsitzke says. "That's motivating. It makes us want to do what we can to help find people, so we can bring them home to families that remember them."
This year, as many as 30 colleges and universities will follow UW–Madison's lead, lending expertise in disciplines including history, languages and archaeology to DPAA's search efforts.
Key to UW–Madison's success in Lt. Stone's case, according to Konsitzke, were students who joined the MIA Project as undergraduates, like recent grads Tristan Krause, Torrey Tiedeman and Samantha Zinnen. But help comes from across campus and Wisconsin.
Ryan Wubben, medical director of UW Med Flight, is a mainstay on excavations. Daniel Hummel, a postdoctoral fellow in history, contributed research before the team left for France. Erin Womersley of Sun Prairie served as interpreter. Gregg Jamison, a UW–Milwaukee at Waukesha anthropology professor, was the principal investigator on site. Even DPAA lead forensic anthropologist William Belcher — a professor of anthropology who brought some of his students from the University of Hawaii–West Oahu to France — earned his doctorate at UW–Madison.
While many of them have familial ties to the military, none of them are from Andalusia. And none of them are members of the Stone family, as large and close-knit as it may be.
"It means so much that there are people out there in this country — from Wisconsin, from the military — that would work so hard to do something like this, to do right by someone who served his country, and for his family," says Mark Stone. "We owe them a lot. It makes us proud we're all Americans."