Lifting from the center: Lac du Flambeau partnership rethinks preventative health
Throwing snow-snakes is kind of like bumper bowling. Except instead of a wooden lane, there's a narrow path of ice. And instead of a bowling ball, there's a spear.
Snow-snake throwing is a Native American game that was played in the Midwest for centuries before missionaries discouraged it in the late 19th century. It's one of many traditional activities that have reappeared in Wisconsin, thanks in part to the Ojibwe Winter Games. Organizers are preparing for the fifth anniversary of the games, which will be held in Lac du Flambeau in February.
But the partnership behind the event's growth has a mission that goes far beyond a week of winter entertainment each year.
Tim Frandy is an outreach specialist at the Collaborative Center for Health Equity, based at the UW–Madison School of Medicine and Public Health, and an affiliate in the Department of Comparative Literature and Folklore Studies. He works with Wisconsin's tribal communities to develop innovative approaches for improving Native American health statewide.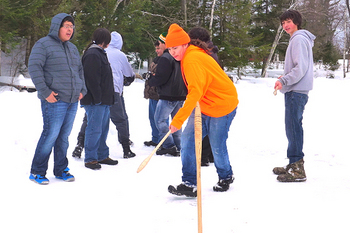 Middle-school students throw snow-snakes at the Ojibwe Winter Games in Lac du Flambeau. Photo: Marcus Cederström
Frandy spends most of his time with the Lac du Flambeau Band of Lake Superior Chippewa, or the Waaswaaganing Anishinaabeg. In 2012, tribal educator Wayne Valliere invited Frandy to the first-ever Ojibwe Winter Games. "As a folklorist, I said absolutely," Frandy says. "The games offer a form of healing and create a strong sense of identity for the kids that connects them, in healthy ways, to their ancestors."
Frandy and Valliere began working together to expand the games and the core idea behind them — that culturally relevant knowledge could be used to improve the health and well-being of Native children — into a wide range of community projects. In 2013, Frandy helped Valliere lead middle-school students through the entire process of building a birchbark canoe, all the way from harvesting trees to launching the canoe into Lake Mendota. (Watch a new short film about the canoe project below.)
"Building a canoe is good for physical health for sure, because you'll definitely be sore after hauling timber out of the woods, but it's more than that," Frandy says. "Emotionally, the kids build relationships with each other and with elders. Mentally, they're problem solving, using math, physics and ecological science. Spiritually, they're relearning ceremonial harvest rituals that are central to traditional culture, belief and worldview."
This holistic perspective is rooted in a Native American concept called the medicine wheel, says Frandy. Looking at health through the lens of a medicine wheel gives it four parts: physical, emotional, mental and spiritual. Overemphasizing one part at the expense of the others puts the wheel out of balance. "You have to lift it from the center," Frandy says. "If you remove environmental barriers to health and give kids the tools to overcome historical trauma, their whole health improves. You raise all four parts up together."
"If you remove environmental barriers to health and give kids the tools to overcome historical trauma, their whole health improves."
Tim Frandy
The work is gaining attention from national health care advocates. In October, the Robert Wood Johnson Foundation presented the tribe with a Culture of Health Prize, a significant award and grant that will help Frandy, Valliere and other community advocates scale up their work. They're currently partnering with the Lac du Flambeau Public School to incorporate more cultural projects, such as building canoes and wigwams, into the curriculum and to encourage more family and community engagement at the K-12 school.
"Our partnership with UW–Madison is mutually beneficial and a win-win for both communities," says Valliere. "The university has been a great partner in all of our work, from writing grants and helping with implementation of our programs, to documenting the work we're doing and pushing the effectiveness of culturally responsive programs out to a wider audience. Our young people are being exposed to some of the many good people at the university, and they're learning that they don't need to give up their Anishinaabe identity to get an education."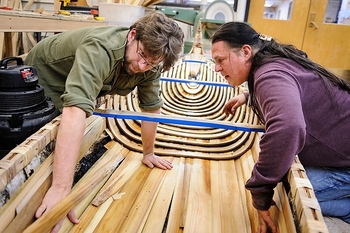 Frandy (left) helps Valliere install cedar wood slats into a traditional Ojibwe birchbark canoe.
Photo: Jeff Miller
Many of the ideas being explored in Lac du Flambeau could also translate to nontribal communities, says Tom DuBois, the Halls-Bascom Professor of Scandinavian Studies. "More and more, researchers in health care and scholars of culture are finding common ground, realizing that one of the key elements of health for any person is a sense of integration, of bonding with other people, with animals, with one's environment, with one's history and identity," he says.
"People who feel connected, supported and validated in their existence lead healthier lives. They make better choices about behaviors, they display greater resistance to disease and greater resilience after sickness, and they help spread a sense of health in their families, their communities and the wider society," says DuBois.
"Human beings are social animals, and a sense of connection is integral to our achievement and maintenance of health."